Friday5 With Team Driver Xavier Belanger
In this edition of the JConcepts Friday5 we talk to Canadian team driver, Xavier Belanger!
1. When you first got into RC racing, what pro driver did you look up to and why? Or maybe there was a local/regional driver that you followed?
When I first started RC I immediately loved Spencer Rivkin. He was and still is a young driver and his stuff was just so clean and would always look good. When I started racing seriously I met Damian Lamy, a local fast guy and JC driver. At each race I noticed that his pit would always be dialed and organized. After a season, I was older and better and wanted to look dialed too so now my pits and my cars are looking like a sponsored driver should.
2. In your opinion what needs to be done to increase particpation in RC racing, or RC in general?
I think that the basher community is afraid to race because they think it is very strict. They are not completely wrong but I would say it is more structured than restricted. A club race is very fun and it can be very relaxing. I think we should help bashers integrate into the racing community.
3. Name a RC class that you would like to see increase in popularity and why?
E-Truggy. There is something awesome with 'em. They are so powerful, easy to drive, easy to whip and to jump. In my area a lot of the top guys are more into the buggy scene. That is why I will race nitro buggy instead of E-Truggy in the future.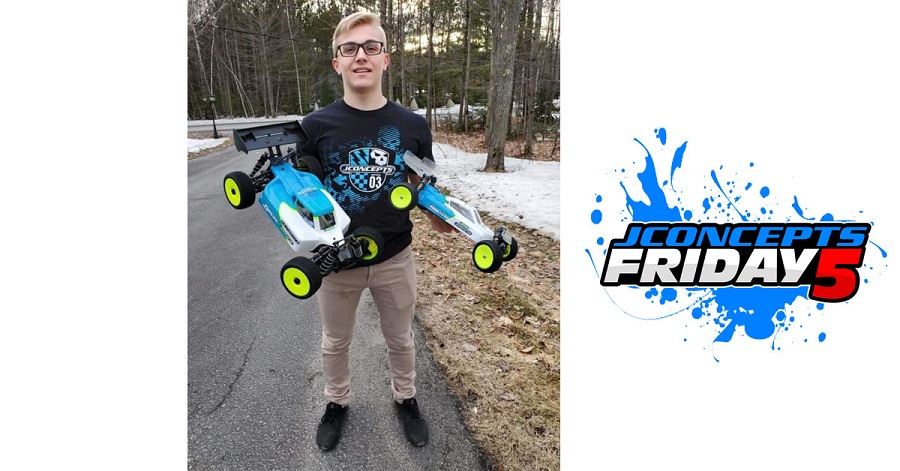 4. In your opinion, when heading to the track what is the JConcepts product that is a must have on race day and why?
I think the must have tool from JConcepts is a set of camber and ride height gauges. It makes setting your cars so much easier and it looks awesome!!
5. You are obviously highly skilled when it comes to RC cars, but what is one skill or hidden talent that folks might be surprised to find out about you?
One thing that the people might not know about me is that outside of RC I do "Crossfit" training and I'm in with the best athletes here in Canada.