Friday5 With Team Driver Tim Rothenberger
In this edition of the JConcepts Friday5 we talk to long time Pennsylvania dirt off-road & oval racer, Tim Rothenberger!
1. When and how did you get started in RC?
I have always had a passion for all things RC related. I got my first RC car when I was 7 and ran it till it fell apart. It was a RadioShack Fierce Warrior truck.

Here is an example of what the Fierce Warrior truck looked like.

My Dad took me to an off road track in Leesport, PA when I was just a kid. Watching everyone race I always wanted to do it but coming from a large family did not leave much of an opportunity to race. Since then I built a bunch of cars from the Losi Mini-T up to current cars for myself and customers. With my kids getting bigger it has given me the opportunity to race more regularly and have been doing so for about 5 years. I'm absolutely loving it. I look forward to the future and developing myself, my kids, and others around me going forward.
2. What is your favorite class to race and why?
Mod 2wd Buggy (Off-Road) and Mod Sprint (LD Oval Sprint).
3. Dirt Oval has really grown in popularity over the past few years. In your opinion what is the main cause of this increase of left turn drivers?
In my opinion as a guy coming from Off-Road to Oval, the appeal for me started when an Oval track opened near me. I was very skeptical about just going in circles but I gave it a try and having the love that I have for RC I was hooked instantly. I love the constant pressure of turning 6 to 10 second laps and having someone always in striking distance. One mistake and your a lap down. Setup, working traffic, and consistency is the key to success. I think everyone should give it a go. If anyone is in the Philadelphia, PA area and wants to try (it out) hit me up.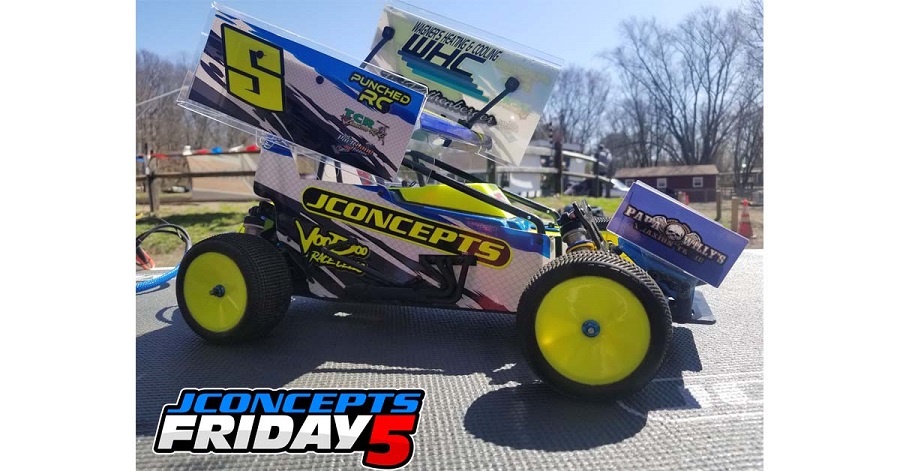 4. Name one thing people might be surprised to know about you.
Honestly no surprises here. I'm pretty much an open book. (Just ask my wife)??
5. To date what is your favorite JConcepts product of all time and why?
All of them. I have been a fan of JConcepts products since I was a little. Always tried to use Jason's products as upgrades if they were available. I just like the thought and quality put into each design. Racing for the team and still using JConcepts products is a great opportunity.