Friday5 With Team Driver Stuart Lewis Jr.
In this edition of the JConcepts Friday5 we talk to Maryland racer, Stuart Lewis Jr.
1. When and how did you get started in RC?
I saw a commercial for the new Traxxas Slash. I went down to the local hobby shop & purchased my first truck.
2. What is your favorite class to race and why?
Short course truck, 2wd & 4×4. I love the scale & realism of the trucks.
3. To date what is your favorite JConcepts product of all time and why?
That's a close one (so) I have 2. 1st the Dirt Webs tire because they are the most versatile tire I have ever used. It works for so many different surfaces and they are very durable. 2nd is the Hi-Flow SCT body. It's by far the most popular SCT body and the design allows for a light nimble feeling truck with excellent steering & side bite and doesn't parachute like some other bodies.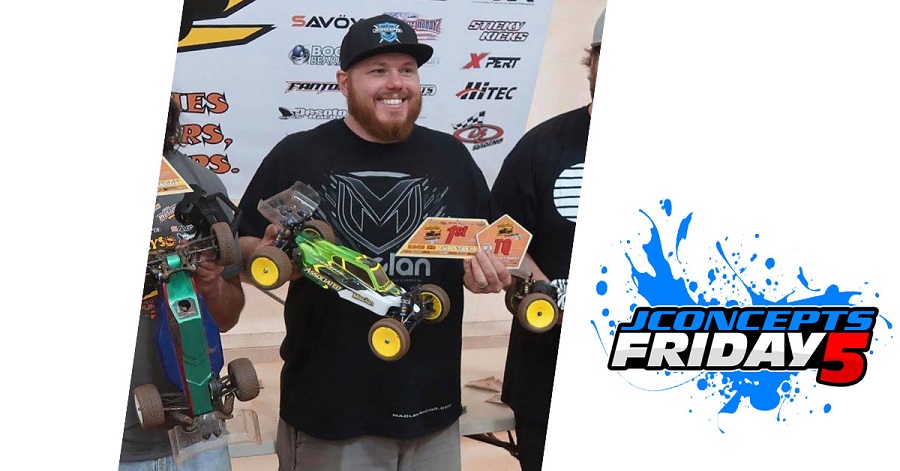 4. If you have been racing for a while now you have probably glued up 100s of tires. So what gluing tips do you have for beginning racers?
Make sure you are in a well ventilated area. Use a medium glue so it doesn't dry too fast & your able to correct mistakes. Also if you use too much you will be able to easily clean it up. Keep plenty of shop towels near by. Lastly, work small sections and take your time.
5. Name one thing people might be surprised to know about you.
I'm a father of 3 daughters.