Friday5 With Team Driver Shane Wheeler
In this edition of the JConcepts Friday5 we talk to long time Oklahoma racer, Shane Wheeler!
1. When and how did you get started in RC?
I started racing in 1999 at Competition RC in Oklahoma City. Since then I've ran on-road, off-road, paved oval and found my home in dirt oval in the mid 2000's.
2. Name a RC class that you would like to see increase in popularity and why?
In the dirt oval world, the class I'd like to see grow is the Midwest modified class. It has some of the closest racing around.
3. Dirt Oval has really grown in popularity over the past few years. In your opinion what is the main cause of this increase of left turn drivers?
There's a few reasons I believe it has grown. The first is the realism of the cars . They look just like what we see at the dirt tracks on Saturday nights. Another thing is the racing itself. Where else can you race centimeters apart while sliding sideways in the corners? Race promotions itself has helped get our racing out into the mainstream of our hobby.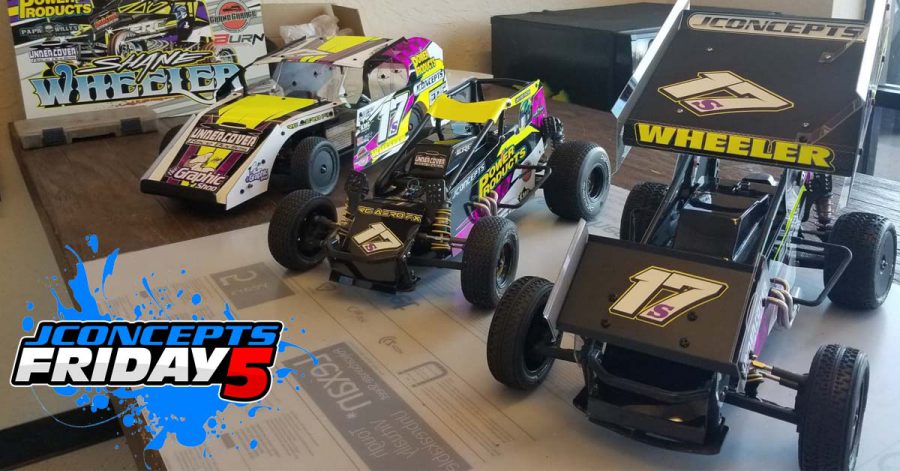 4. If you have been racing for a while now you have probably glued up 100s of tires. So what gluing tips do you have for beginning racers?
First make sure the surfaces are clean. Use quality glue like the JConcepts medium glue. A little goes a long way and take your time. Nothing worse than a tire coming unglued during a race.
5. You are obviously highly skilled when it comes to RC cars, but what is one skill or hidden talent that folks might be surprised to find out about you?
Well since my cars are wrapped by the best in the biz, some may not know that i can do some airbrushing. I used to do helmets and stuff back in the day and still do a little here and there.