FORCE Series Round 3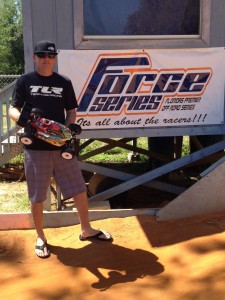 Event: FORCE Series – Round 3
Location : Daytona Beach, FL
Date: March 24, 2012
JConcepts Team Driver JR Mitch headed to Daytona for the third round of the FORCE Series. This was JR's first race with his new Losi 8ight 2.0 Buggy. Pro Buggy was up first and JR went out with JConcepts Cross Bows in Green Compound and qualified third after Billy Easton and Gene Hickerson.
For round 2 JR mounted up some Hybrids for this round and noted that his car was getting better but a bad marshal job left him again with a third for round 2.


Just as it was time for the mains the rain was quickly approaching. With a few set up changes and back with the Crow Bars from round 1 JR was ready to hit the track even though it started to rain lightly. JR started the main in fourth behind Billy Easton, Gene Hickerson and Ryan Eckert.
JR got a good start in the A Main up until the third turn, JR flipped on a jump and was now in tenth place. Billy Easton had a great start and was going good until he flamed out but got started back up quickly and didn't lose a lap. Billy then came back to lead again but flamed out again but still was able to get back out on the same lap. After the third flame out Billy gave up, this put Ryan Eckert in the lead. Ryan flamed out about the 20 minute mark. After Ryan was out JR had a good lap on the current leader, Gene Hickerson and was able to get lap over Gene by the end of the 30 minute main taking the win with his brand new JConcepts equipped Losi 8ight 2.0.