First Ones Here – 2012 Cactus Classic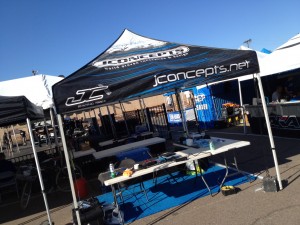 Day 2 Update
By: Jason Ruona
First ones here. I replayed that famous movie quote from the original Vacation movie in my head this morning as I pulled up to SRS Raceway. Not much action to report yet as drivers are just arriving and setting up the pit area. Jörn, Gerd and Hupo from Team Durango made an early appearance. Everyone else is either on the road or sleeping. With the time change I was up at 3:00am…..ouch.

I now have blue carpet in my pit area. Rick Gaynor and the SRS crew hooked me up after they saw me drooling over having a carpet pit area I guess, pretty awesome. So anyways, I met up with some of our drivers yesterday and a handful of our guys hit the track. It started out wet and the track crew would water every so often to keep some moisture in it. Had a couple guys ask for Double Dees but I didn't bring those. By today everyone will forget about Double Dees while we go to dry track and things start getting a little more difficult. I have to give a shout out to Zack Genova as he let me run some laps yesterday so now I have a feel for what the track is like. It wasn't a TQ run but a good run none-the-less. I also quickly remembered how low the drivers stand is here. 1 turn marshal in the track and he was blocking 2 turns for me. That makes it really tough but everyone seems to adjust. I had the party pit area for awhile as most of the teams hadn't arrived yet so my pit area was being used as the official hang-out area and tire mounting station.
Time to load up for the day, vacuum the carpet and setup shop. I'll have more photos of the JConcepts guys as soon as they get their vehicles ready to hit the track.