EN Hobbies St. Patricks Day Race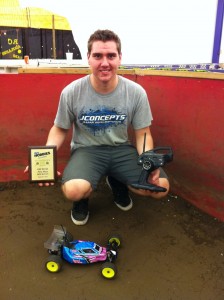 Event: St. Patricks Day Race
Date: March 17, 2012
Track: EN Hobbies – Columbus, OH
This past weekend was the 2nd Annual St. Patricks Day Race held at EN Hobbies. The race was pretty well attended with a little over 100 entires with TLR drivers from PA in attendance. The race was ran in rocket round format with a resort after the 2nd round and a single A Main. JConcepts Team Driver JP Richards was in attendance running Modified 2wd Buggy.
In Round 1 of qualifying JP's JConcepts equipped 2wd Buggy was on rails with V1 Gold Bar Codes and Gold Bar Codes up front. JP set the first round TQ by a little over 6 seconds.

Round 2 JP had a little bit of a cleaner run and reset his TQ by 1.5 seconds.
For Round 3, with the track slowing down and a costly bobble at the start JP ended up winning the round but a couple seconds behind his TQ time.
For the main JP made a few changes to his car to better suit the track conditions. In the main it was JP who led tone to tone unchallenged and set the fastest lap of the weekend.
Products Used:
3016-05 – Bar Codes – 1/10th buggy rear
3017-05 – Bar Codes (fits 1/10th 2wd buggy front wheel)
3206-2 Profiled – 1/10th buggy rear insert – medium – 2pc
0212 Illuzion – B4.1 +8mm Finnisher Worlds body w/ 6.5″ Hi-Clearance wing
3347Y Mono – B4.1 – 12mm hex front wheel – 4 pc.
3348Y Mono – B4.1 | B44.1 – 12mm hex rear wheel – 4 pc.
2091 – JConcepts – 12mm rear hex adaptor for B4.1, B44.1
2135 – JConcepts – 12mm front clamping hex adaptor for B4.1
8/32″ blue locking wheel nut – locking / lightweight