Elliott Boots Wins BRCA National Round 3 With JConcepts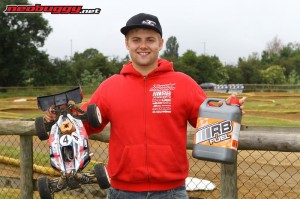 Event: BRCA National round # 3
Date: May 28-29 , 2011
Location: Slough Raceway
Elliott Boots victoriously debuts new JConcepts Hi-Flow DNX408 Durango body.
Elliott Boots debuts new JConcepts Hi-Flow body for the Durango DNX408 to a victory at the 3rd leg of the BRCA National series held at the famous Slough raceway. Elliott was on point during the Semi-Final where he bumped into the A-Final where he would battle with the rest of talented drivers.

Elliott's buggy was hooked up during the A-Final wet conditions and rose to the front of the pack. The JConcepts Subcultures in green compound performed when it mattered the most and endured another long lasting main while powering Elliott to his first BRCA win of 2011.
Elliott had this to say following the main event win.
"The weather wasn't great but the track was awesome with the surface a little like Neo, very slippery but nice and smooth. Qualifying didn't go too great for me ending up in 9th but I wasn't going to get down about, I knew the next day would be a fresh start. I ran the new Hi-Flow shell which looked so sick and everyone loved it. I ran blue Subcultures in the semi which took me to the win."
"Just before the start of the main it began to rain so I checked out the track and knew I would need a softer tire so I quickly glued up some green Subcultures. The tires worked really good with a lot of drive and great side bite. All in all the JConcepts products had a great input on the win and I am greatly thankful for the support. On to round 4 and another win. :)"
Look for Elliott to be a factor all season long with JConcepts tires, wheels, accessories and new Hi-Flow body.