Dustin Evans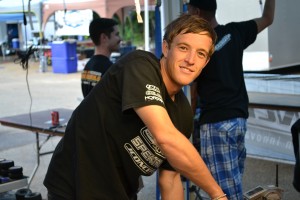 Biography
A passionate racer who began racing in the early 1990's, Dustin Evans started his R/C career as a young teenager supported by his parents. Dustin learned quickly and developed his skills at the MHOR track and facility in Denver, Colorado, where he raced against the best drivers in the state on a weekly basis. A slight detour into go-cart racing put his R/C career on hold during the early 2000's. Dustin chased a professional automobile racing career until another run-in with R/C racing changed his course of plans. When Dustin returned to racing as an adult, he quickly responded with some noteworthy results that captured the attention of Team Losi.
Dustin ascended quickly into a well known driver in Denver and California, racing as a partially sponsored driver by Team Losi. Each year Dustin improved, and took his racing to greater heights where he made the A-main at the ROAR Off-Road Nationals in the 2wd modified class, sparking Team Losi's attention. After returning from the Nationals, Dustin was elevated to a factory travel driver and the subsequent years were spent with the team racing and also secretly testing a project for the re-branded Team Losi Racing (TLR) called the Twenty Two (22).
TLR's Dustin Evans struck early and often in 2011 with an Invitational victory at the Reedy International Race of Champions and maintained his winning ways at races such as the Short Course Showdown, JConcepts Fall Indoor Nationals and Hot Rod Shootout. Dustin peaked during the ROAR Off-Road Nationals where he was able to take home the prestigious 2wd modified National Championship. When TLR opened up their racing team to associate tire sponsorships, Dustin was quickly recruited and signed with JConcepts, starting the 2012 racing season.
During the signing, JConcepts president, Jason Ruona had this to say about Dustin. "It's an amazing time at JConcepts. Signing a driver of Dustin's skill level and character has been a dream come true. Having the opportunity to stable one of the top drivers from both TLR and Team Associated at the same time gives us one of the most potent combinations in the industry. Dustin has the personality, flare and magic that we look for at JConcepts."
Dustin typically spends the winter months racing indoors at many of the annual events and also frequents the European Off-road Series where he races on carpet and Astroturf, learning how to tune to the highest grip possible. The summer months are usually spent in California racing against the elite drivers in the R/C mecca and testing new products for TLR and JConcepts. The relationship between JConcepts and Dustin continues long term, continuing to chase future National and World Championships together.