Double Wins for Rivkin at the Winter Indoor Nationals – SmacTrac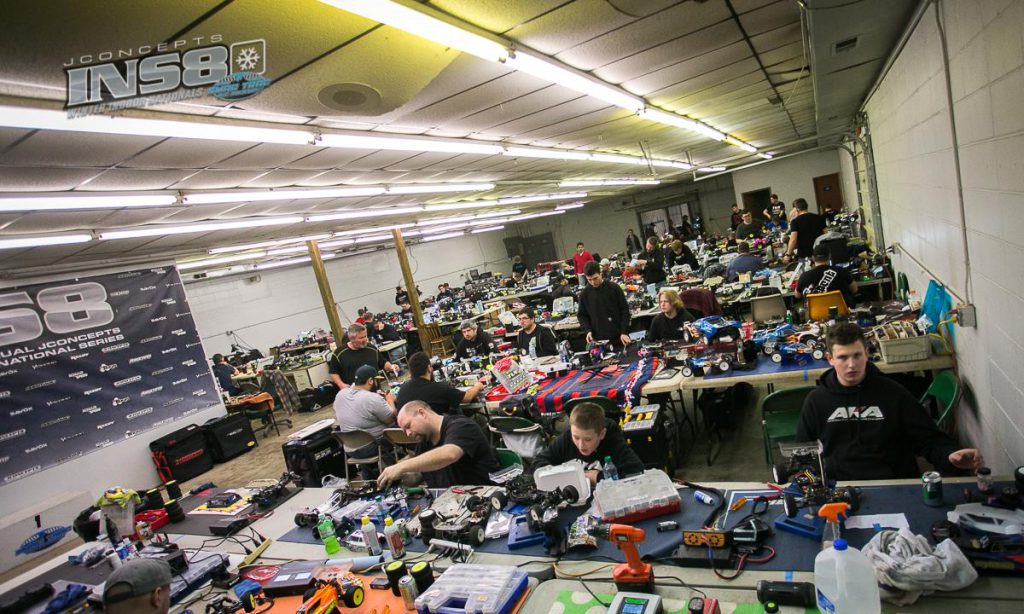 Every year, the excitement of indoor off-road racing builds and finally in February, we kick off another spectacular year of the JConcepts Winter Indoor Nationals hosted by SmacTrac in St. Louis, Missouri. The anticipation flies high for one of the best races of the year and for 2018, there was massive improvements to the clay surface that was welcomed by all.
With the four extra, tandem dump truck loads of clay mixed in, the crew at SmacTrac was able to add more elevation to the layout making it, even more, three dimensional along with upping the grip by a lot. From previous years, the compound was green or soft compound tires, but this year everyone was able to run gold or clay compound tires with very little wear from the harder compound tires. Friday practice was a lot easier to manage with the cars having extra grip and by Sunday, the track came around nicely with more than adequate amounts of traction that made for high-speed, close racing all weekend.
Check out the Friday open practice session in the video below.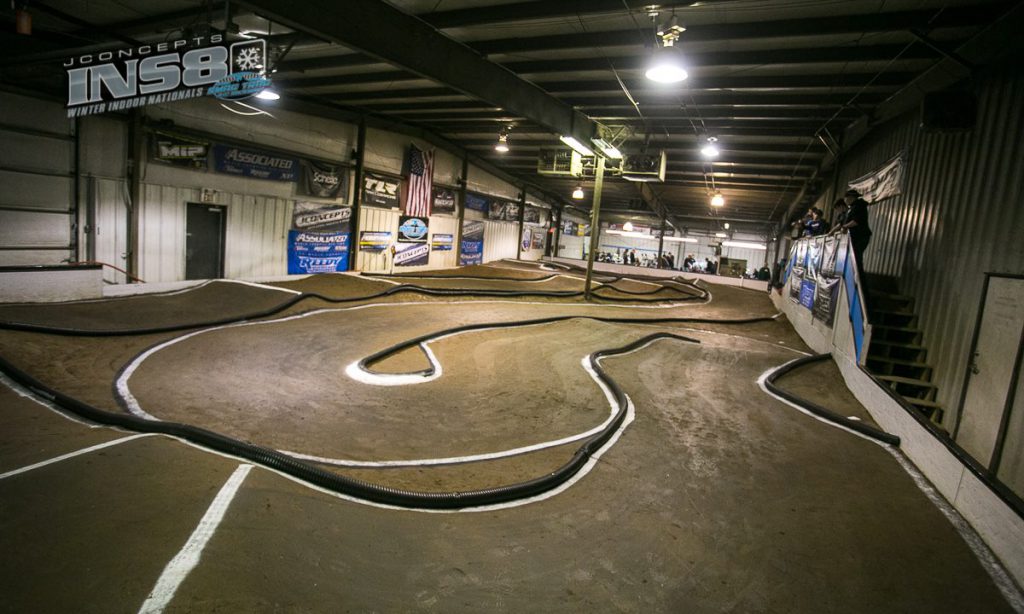 The layout was very unique as the track featured a center-diagonal straightaway that launched into a very tight apex'ing sweeper. The left side of the track showcased the elevation changes with the addition of the new clay dirt. With the double-double being one of the most challenging aspects of the track required drivers to scrub for the fastest lap times, was challenging for all skill levels and perhaps the 'game changing' feature. The right side 0f the track required precision timing and control as the table-table set was easy to do but hard to be consistently fast. Overall, the track was extremely fun and awesome to race on and thanks to the SmacTrac crew for the fantastic job of keeping the track top notch for excellent racing!
New goods from Hobbywing and Schuurspeed
17.5 Independent 2wd Stock Buggy
For 2018, the JConcepts INS8 series decided to promote a new class called the Independent 17.5 2wd buggy class, which features non-sponsored drivers doing battle in a class of their own. With over 35 drivers signed up, Indy 2wd was a huge hit!
During the 8 min single A-Main, it was a 3 car battle between Kevin Day, Lee Conley Jr, and Tim Wiechens that came down to the final lap. However, traffic was definitely the 'X' factor that caused Lee Conley Jr. to give up the lead to Kevin Day on the last lap. Kevin took the win with Lee Conley Jr. 2nd, and Tim Wiechens 3rd overall.
17.5 Expert 2wd Stock Buggy
AE's Matt Cline proved to be too much for the competition as he was able to set the TQ and take the win in a very fast field of expert stock drivers. TLR's Ean Reilley was runner-up with solid performances over the entire weekend and finished 2nd overall. Taking the 3rd spot on the podium was TLR's young Kaden Fuller, who edged out a hard charging TLR's Frankie Prestigiacomo by just .2 seconds!
13.5 Pro 2 Short Course
It was a great race for Factory Tracks Racing's Austin Horne in the 13.5 Pro 2 class, who set the TQ and took home the win. Not making it easy on Austin Horne was AE's young Davey Batta, who ended up only 4 seconds behind, but was the only driver to take his SC into the 15 second lap times. Will Cushing rounded out the top 3, but unfortunately had to leave before the podium shot.
13.5 Stadium Truck
Another FTR star, Aydin Horne was able to set the overall TQ in 13.5 Stadium Truck and went on to win the 8 minute final with relative ease. It was an unfortunate main for TLR/JConcepts' Mason Fuller, as he was able to jump into the lead early on, but fell victim to lapped traffic a few times. Mason would finish 2nd on the podium with AE/JConcepts' local star, Brad Dean rounding out the top 3.
13.5 4wd 
On a level of his own, TLR/JConcepts' Jacob Montgomery was on fire in the 13.5 4wd class with an impressive TQ and win effort. Jacob led from tone to tone and masterfully managed the gap back to 2nd. Moving up a spot from his qualifying position, Serpent's Nick Richards also displayed a lot of speed and fine driving to net himself 2nd overall. Making another podium for the weekend was TLR's Ean Reilley, who also jumped up one spot from 4th to finish 3rd.
Pro 4 Short Course
It was Lee Conley Jr's day in the Pro 4 Short Course class as he took the TQ and win in the 8-minute final. Impressively finishing 2nd was young Gabriel Monteil. Gabriel had a slow start but quickly moved himself into 2nd where he was able to hold onto until the checkered flag. After sorting himself out during the start of the race, Tim Wiechens was able to solidify his 3rd place and finish on the podium.
40+ 2wd Open 
Unfortunately for the class TQ and the King of 40+, AE team manager Brent Thielke was unable to finish his run due to a hard hit coming on the straightaway. This allowed last year's reigning champ, Al Horne, to take the win by just 2.5 seconds over 2nd place finisher, Colton Kiefer. Colton would have a bad start to his race but recovered nicely to finish 2nd. Always a threat to make the podium in the 40+ class, AE's Chad Karstens managed to move himself up to 2nd momentarily but would have to settle for 3rd with a bit of clutch recovery driving.
Some videos worth checking out!
Team Associated B6.1 2wd buggy.
A1 of 2wd and 4wd Modified
13.5 4wd, 13.5 Stadium Truck, A2 of 2wd and 4wd Mod!
A3 of 2wd and 4wd Mod
2wd Modified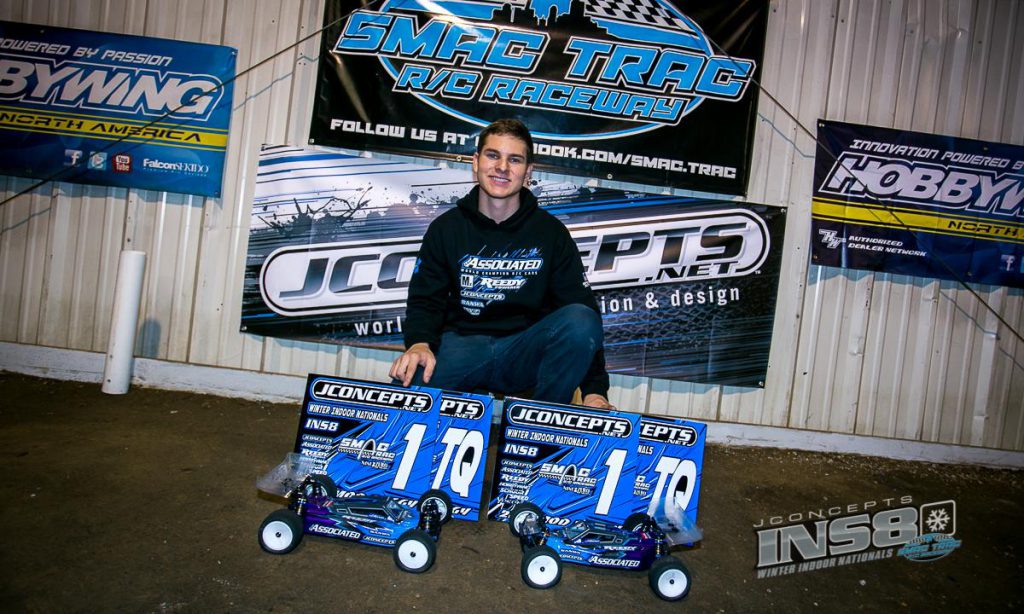 Showcasing the newly announced Team Associated's B6.1 2wd drive buggy at the 2018 Winter INS, AE/JConcepts' Spencer Rivkin, was on fire once he dialed in his setup. After winning the TQ by a 3-way tie-breaker between Spencer, Yokomo's JP Richards, and TLR's Mason Fuller, Spencer found another gear during the triple A-Mains. With near flawless driving in A1 and A2, Spencer was able to lock up the overall in just 2 mains leaving the rest to battle for the podium.
By taking a clutch win in A3, Yokomo/JConcepts' JP Richards solidified his 2nd place and his own near flawless run almost topping Spencer's fastest time from A1. Perhaps the biggest surprise of the weekend came from 3rd place finisher, AE/JConcepts' Tom Rinderkneckt. The Iowa native showed great speed all weekend, but it all came together in A3 as Tom was able to beat Mason in the final main to earn him 3rd overall.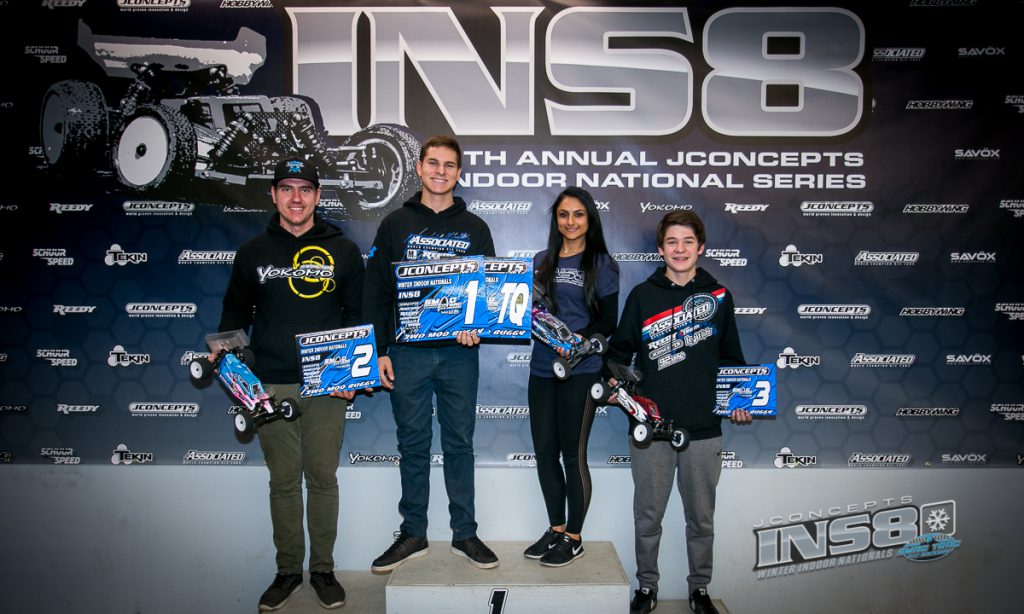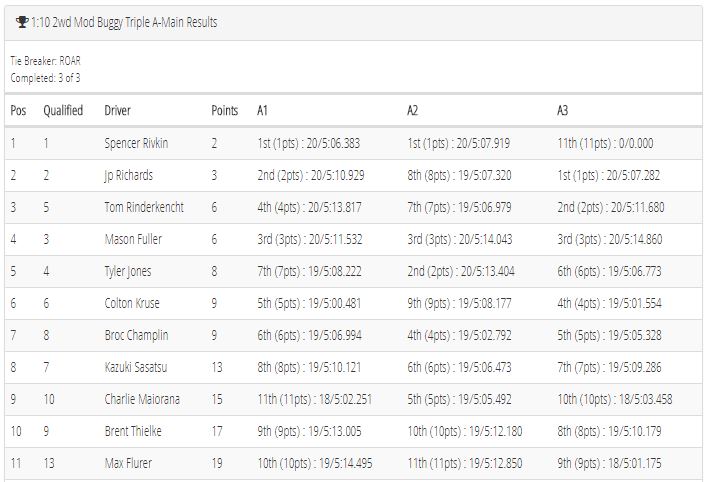 4wd Modified
It was another master-class showing for AE/JConcepts' Spencer Rivkin, who delivered a world-class performance in 4wd modified with two terrific runs to lock up 1st place. AE/JConcepts' Jonathan Burkhalter turned heads this weekend with his amazing speed matched with unreal consistency, which he proved by winning A3 to finish 2nd. Finishing the day off strong, Yokomo/JConcepts' JP Richards was able to net 2nd in A2 and A3 to wrap up 3rd overall and the final spot on the podium.