Double Wins for Cavalieri and Rivkin at the 2018 PNB!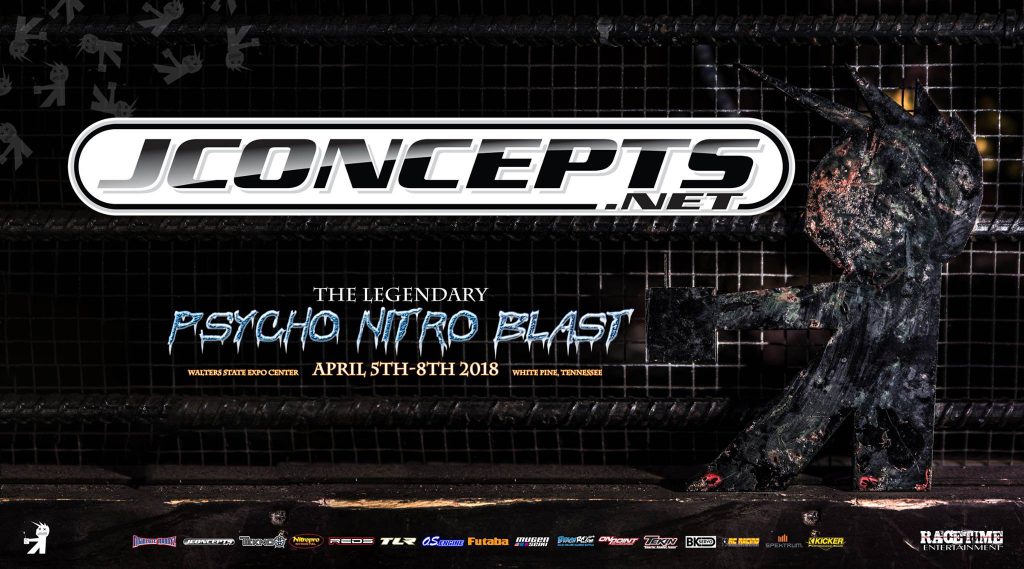 Now in its 10th year, JConcepts has been with the Psycho Nitro Blast since the beginning and we're always excited for another epic round of the legendary PNB event! Dave Leikam and his Racetime Entertainment crew deliver one of the most monumental races of the season that mixes the lines of spectacle and competition.


The Psycho Nitro Blast is never an easy race. With the help of Track Masters, Dave Leikam always creates one of the most unique tracks layouts that provides a special experience for all that attend. The track is huge and feature-rich and filled with the signature wood jumps that create consistent jump faces and unimaginable flow. The massive straightaway requires monster horsepower and the large venue requires accuracy and technical precision. Combine with the near 24-hour racing format from Thursday on, the PNB is not just a race, but an RC experience unlike any other.
Thanks to Jacob Peterson from Racetime Entertainment for the usage of the photos. Cheers to Dave Leikam for always putting on such an epic race event and to his crew of dedicated individuals that help make this happen.
15U Nitro Buggy Podium
It's always a pleasant delight to see a talent filled 15U class at the PNB. This year, two of JConcepts' brightest stars was head of the class with Myrtle Beach resident, Jackson Terrell led the way with an impressive TQ and win effort. JConcepts' teammate, Landon Pickering, would land himself 2nd behind Jackson with Bradley Rupe, Nick Creps, and Chase Garbart rounding out the top 5 respectively.
4wd SCT Podium
It's a tall order to dethrone one of the best 4wd SCT drivers in the nation, as Tekno's Ryan Lutz took the TQ and win by winning A1 and A2 uncontested. However, finishing in the top 3 for JConcepts was Martin and Nathan Harrison. Martin took the A3 win to solidify his 2nd place finish. Jeremy Mcguigan found the 4th spot on the podium with Raece Kar finishing 5th.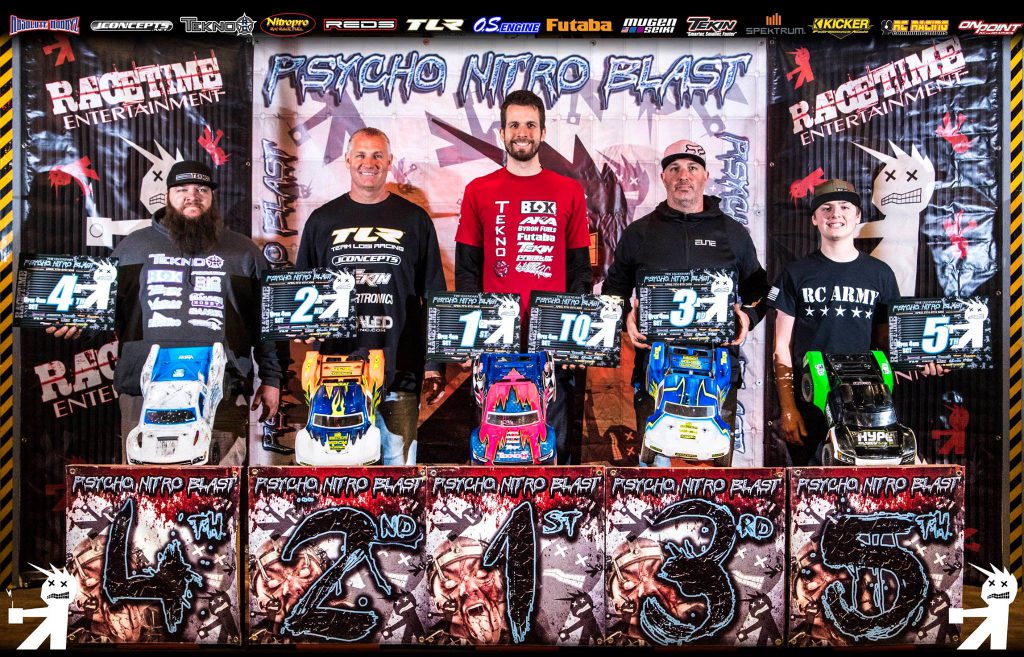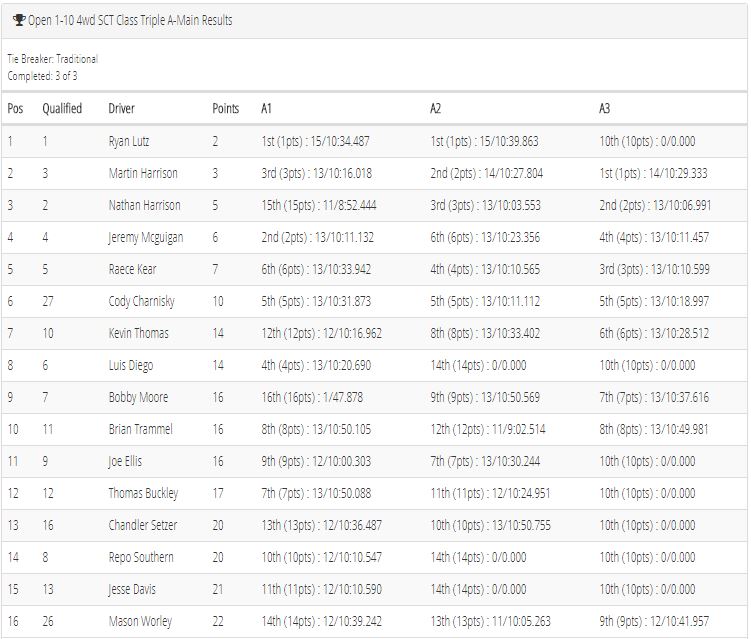 Sportsman Ebuggy Podium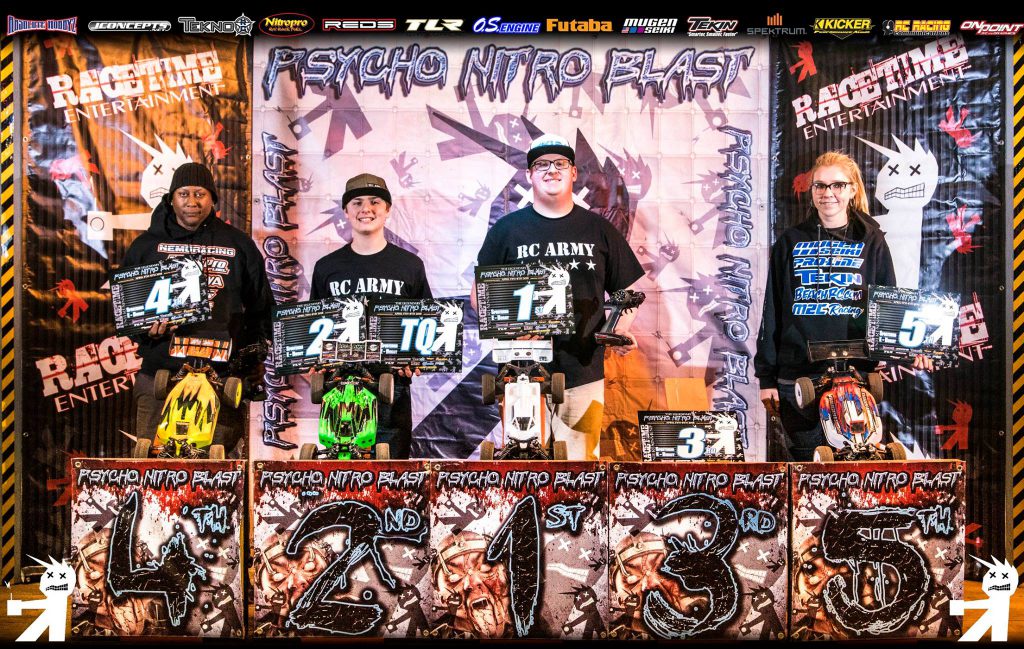 Sportsman Nitro Buggy Podium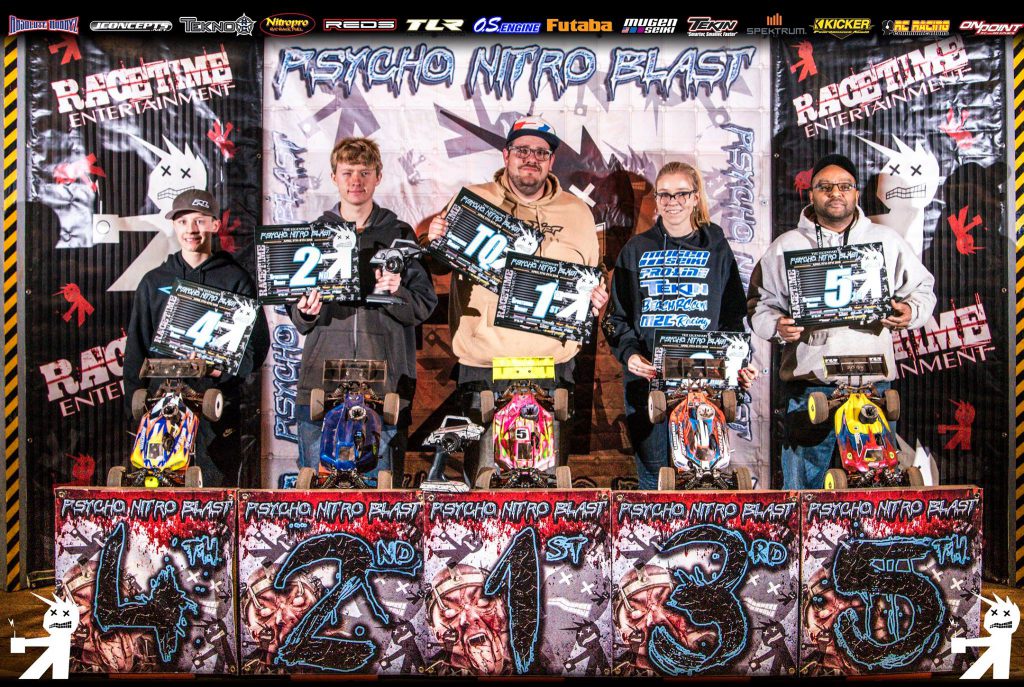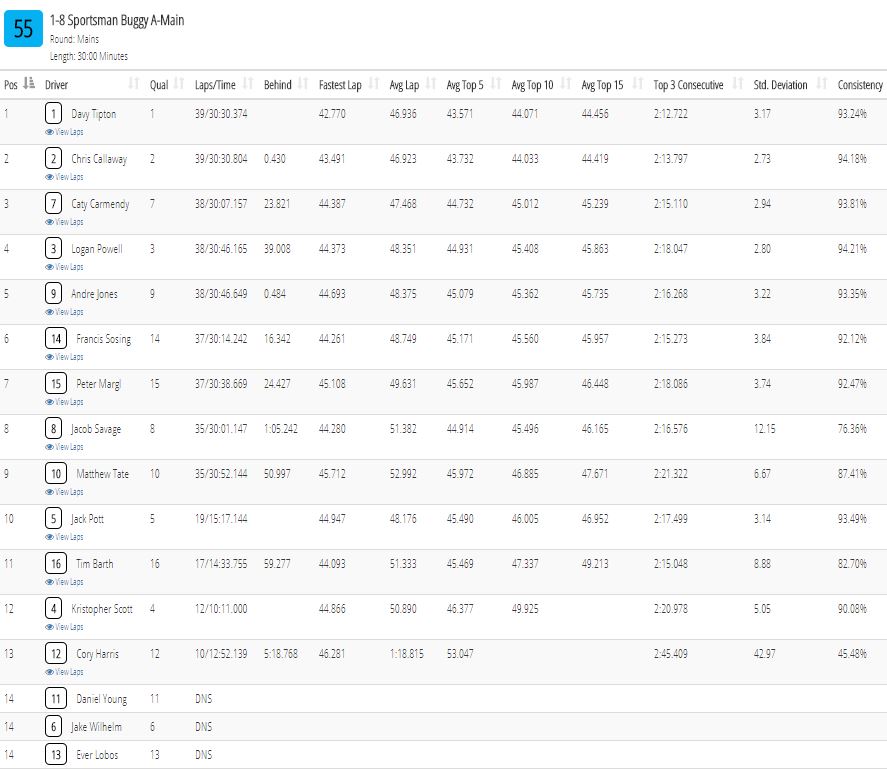 Sportsman Nitro Truggy Podium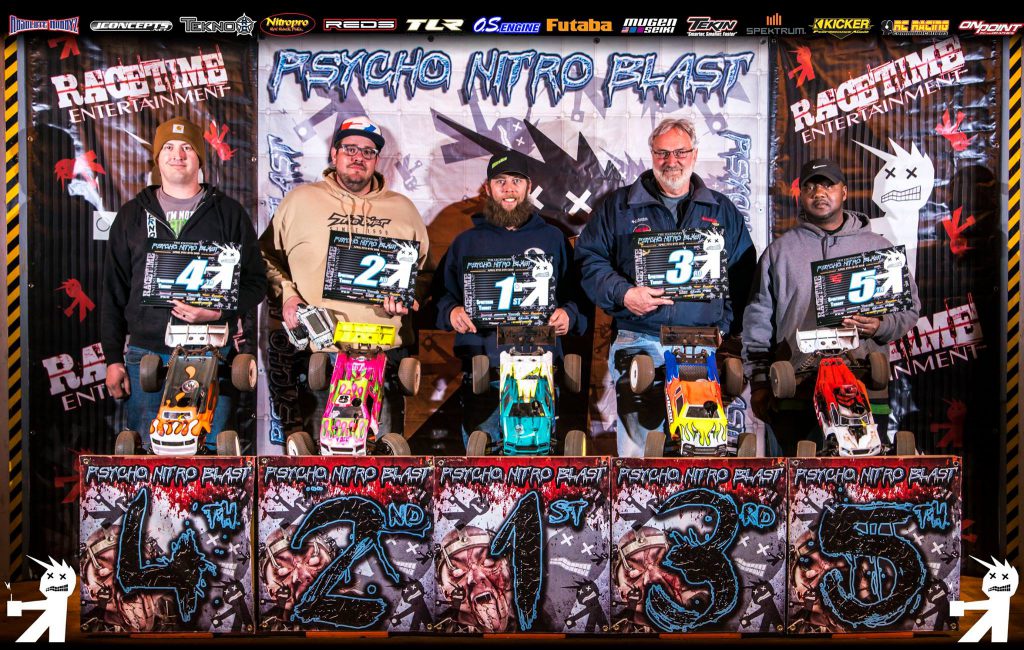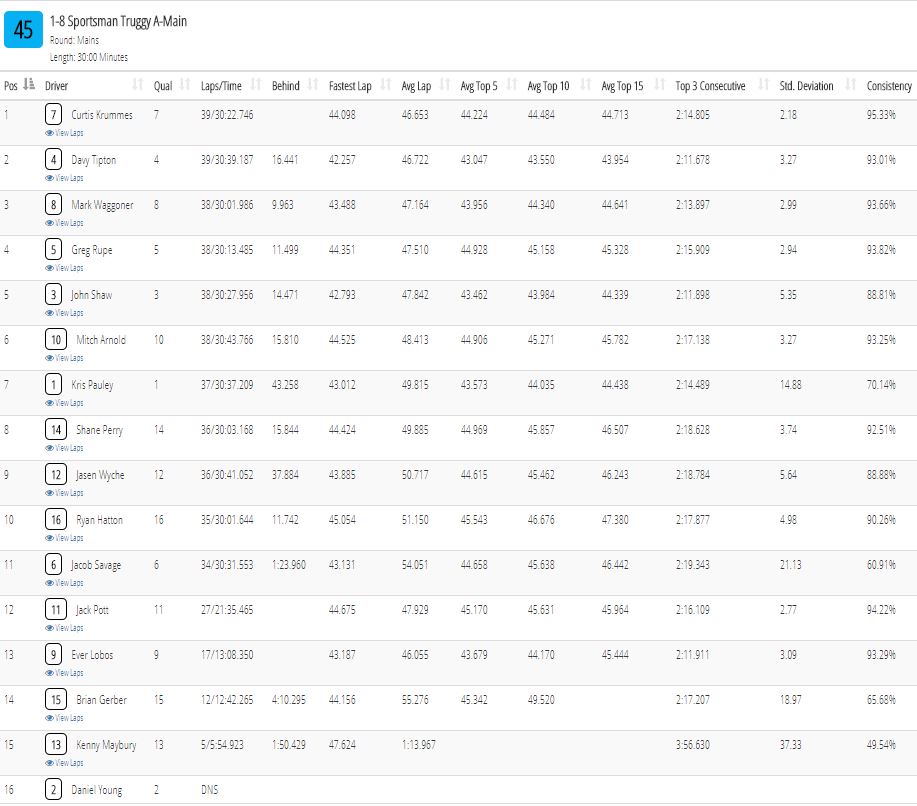 Open Ebuggy Podium
Xray's Evan Jones took the win in the talent-filled Open Ebuggy class with Zach Noia 2nd and Ben Pinover 3rd. JConcepts' Nathan Harrison recovered nicely from a disappointing A1 finish to place 4th overall while Andrew Wiest finished 5th.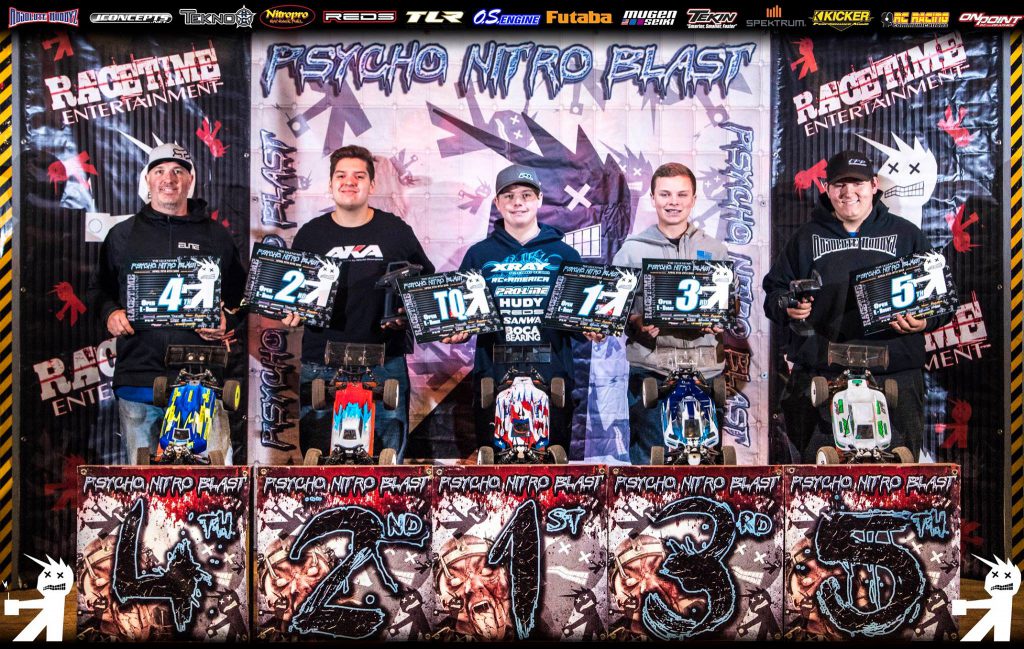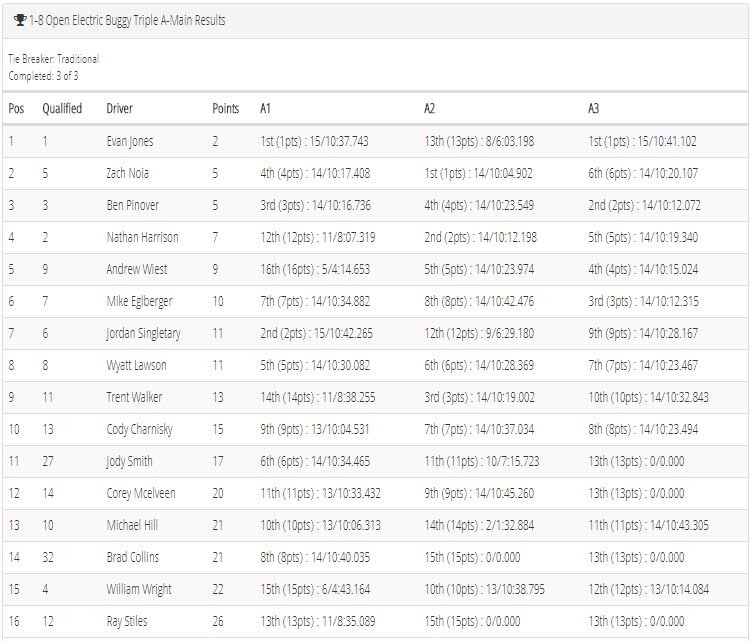 Open Nitro Buggy Podium
In the Open Nitro Buggy class, it was once again Xray's Evan Jones taking the win in the 30 minute A-main while TLR's Ryan Pacheco took 2nd, Mugen's Jordan Singletary and Cowboy Risser 3rd and 4th. Making his mark earlier in the 15U class with a dominant win, JConcepts' Jackson Terrell finished 5th in the Open Nitro Buggy class to cap off a killer weekend.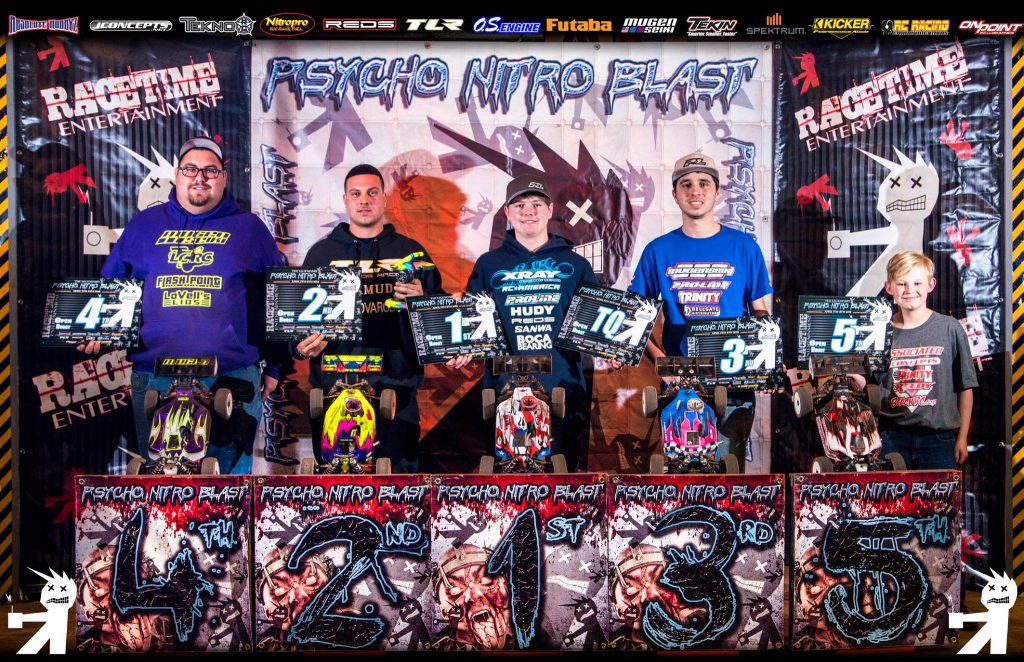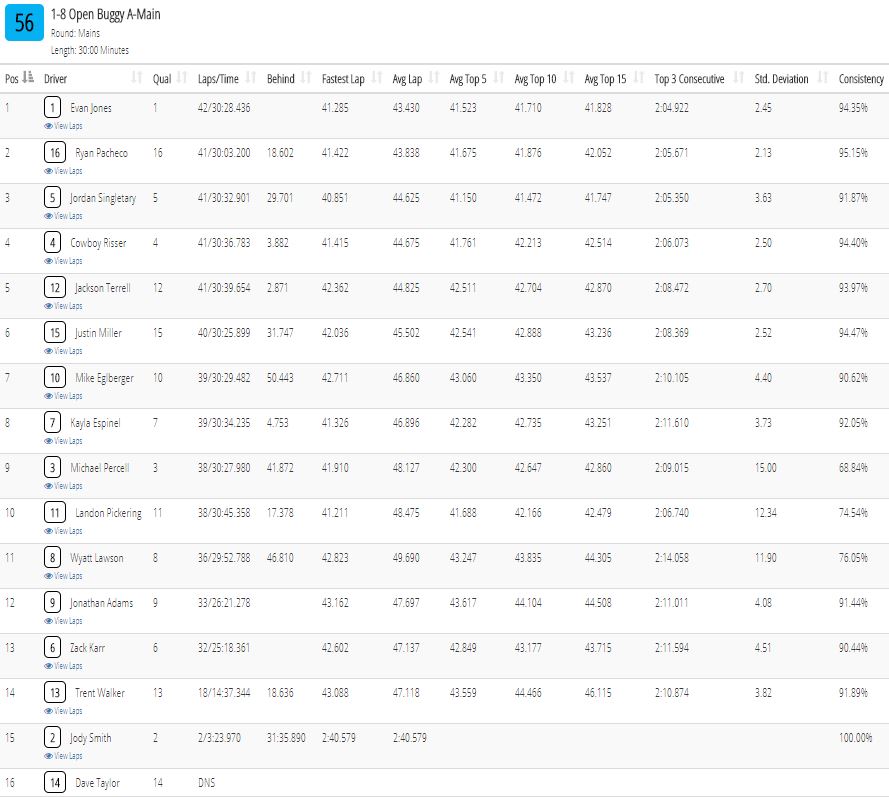 Open Nitro Truggy Podium
Starting 6th on the grid, HB Racing/JConcepts' Kayla Espinel made quick work of her competitors t0 move up the grid and by the 16th lap, Kayla drove her way to the front and never looked back. Kayla drove a smart and composed race and brought home the Open Nitro Truggy win in style. TLR's Ryan Pacheco once again finished impressively in 2nd, Mugen's Cowboy Risser 3rd, Xray's Evan Jones 4th, and Mugen's Jordan Singletary 5th.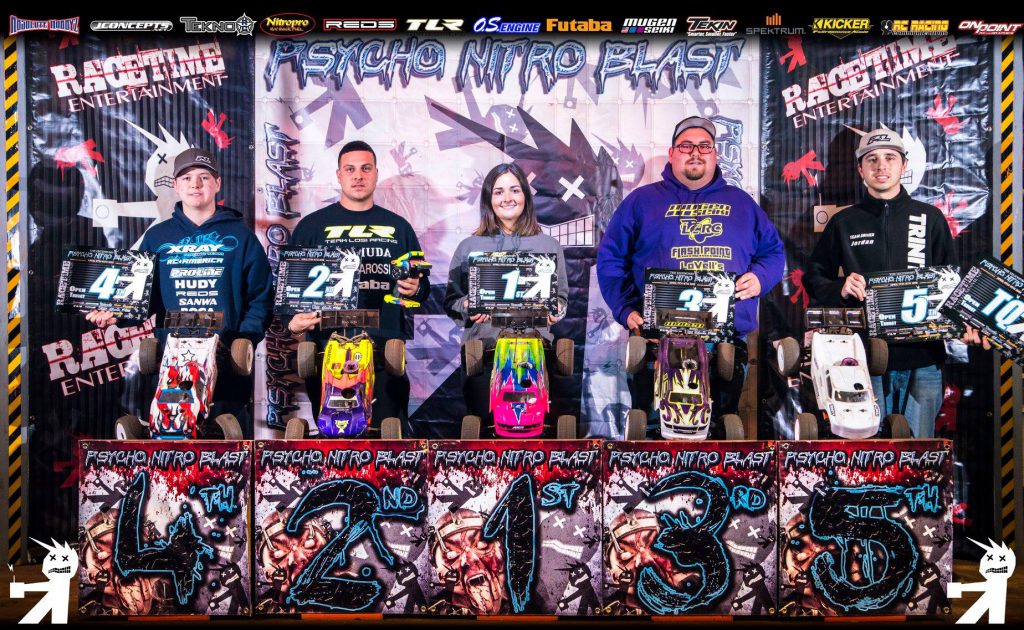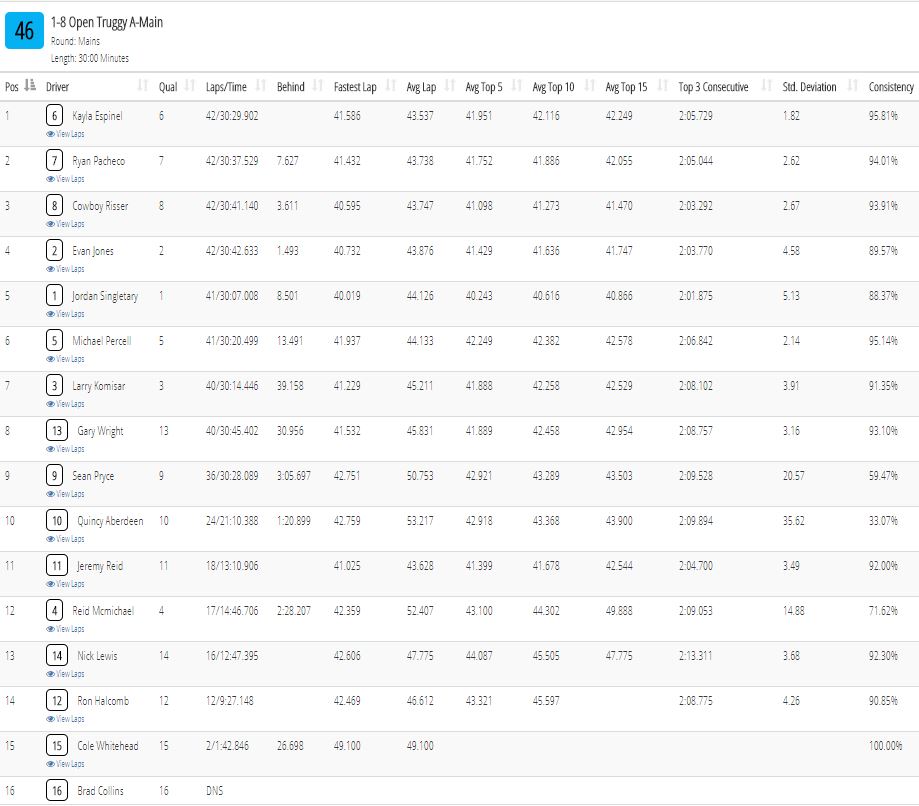 40+ Ebuggy Podium
It was a JConcepts top 3 sweep in the 40+ Ebuggy class with TLR/JConcepts' Martin Harrison finishing on top followed closely by Serpent/JConcepts' Paul Ciccarello and JConcepts' Nathan Harrison 3rd. With Martin taking A1, Paul Ciccarello did all he could to force an A3 but came just 2 seconds short. Mugen's Tim Garland finished 4th with AE/JConcepts' Drew Spurgeon rounded out the top 5.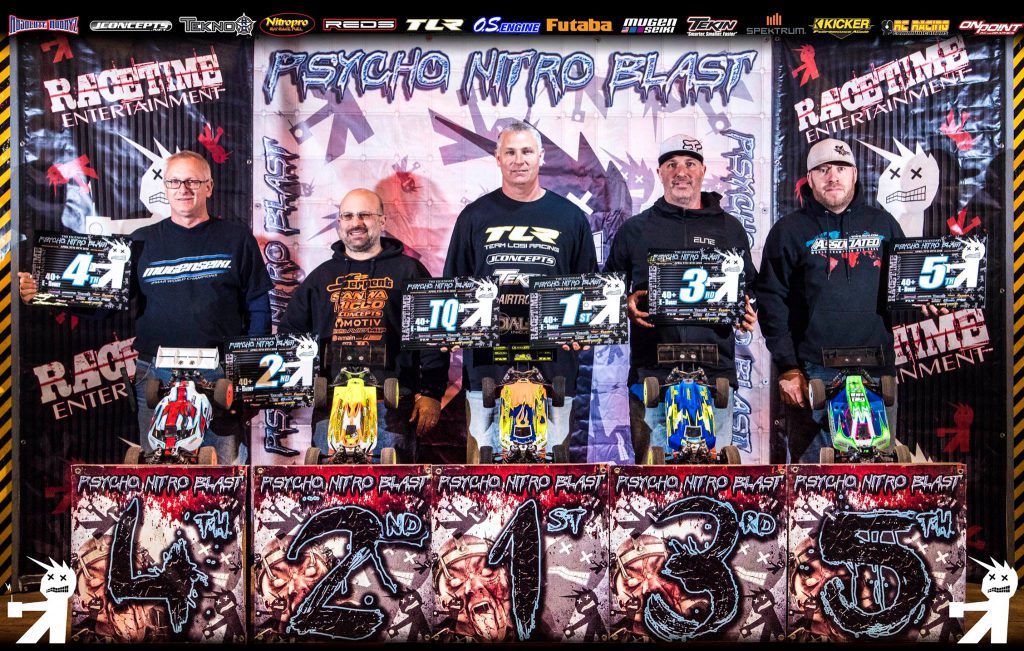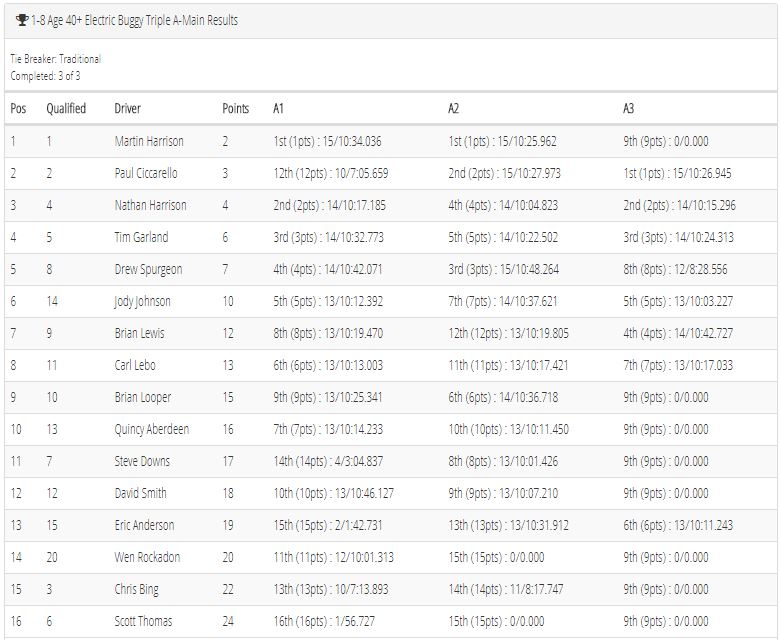 40+ Nitro Buggy Podium
It was Serpent/JConcepts' Paul Ciccarello's time to shine in the 40+ Nitro Buggy division as he and JConcepts teammate, Drew Spurgeon, had an epic battle for the win. The two competitors were closely matched as they fought back and forth for the lead throughout the entire race. Paul took the win, Drew Spurgeon 2nd, Donald Elliot 3rd, Tim Garland 4th, and Rob Gleason 5th.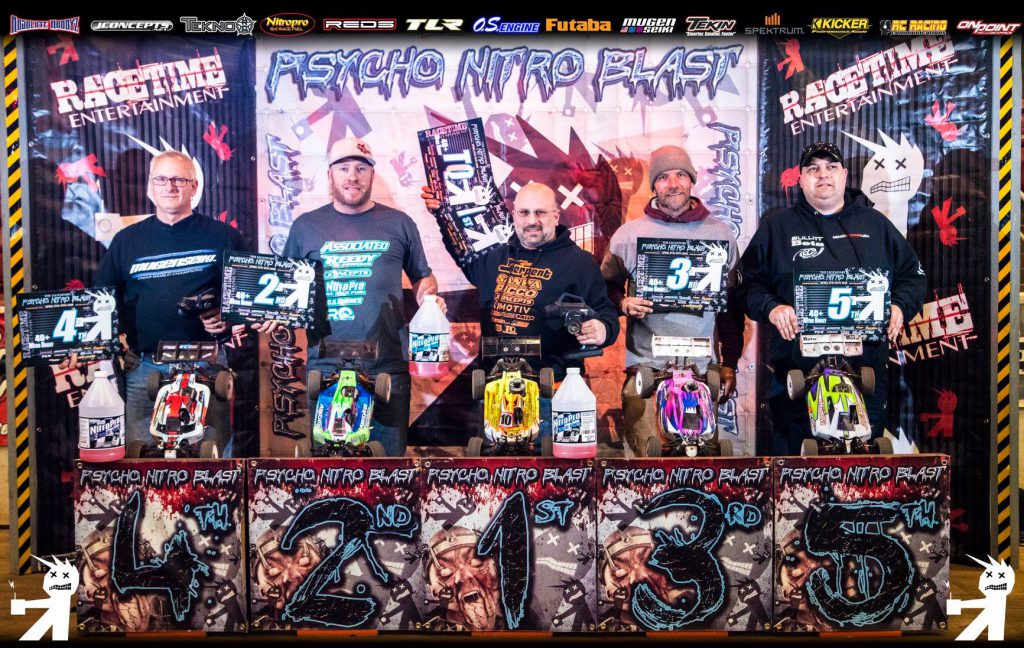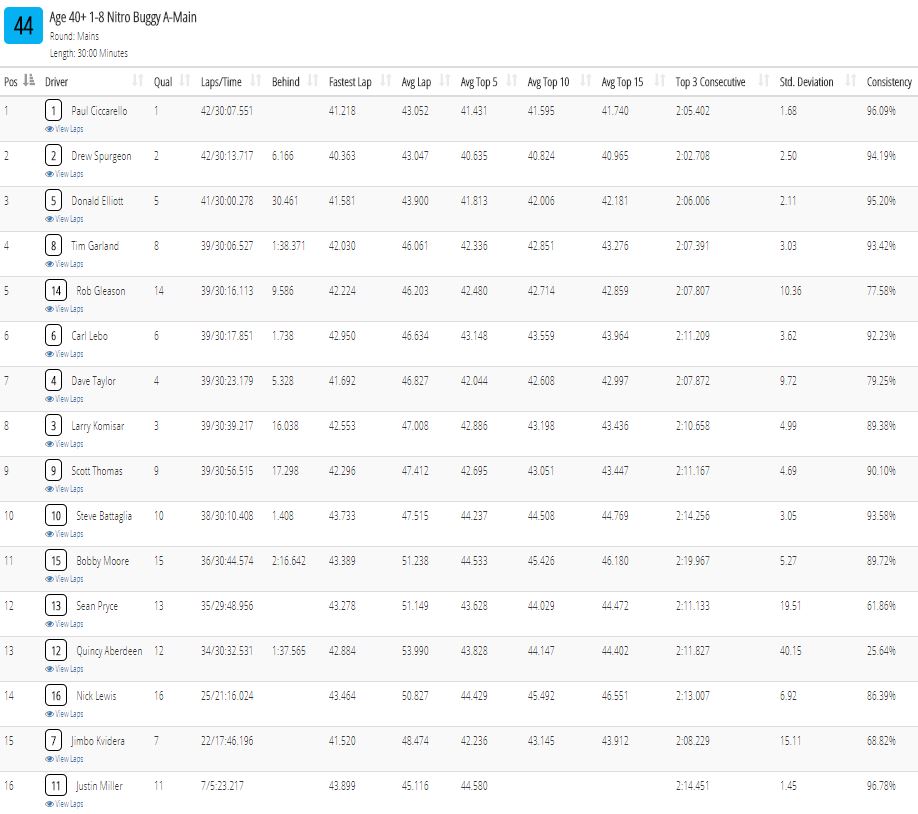 Pro Ebuggy Podium
It was an impressive performance by Tekno's Ryan Lutz in the Pro Ebuggy class as Ryan was able to take the win in the triple A-Mains among a very deep field of world-class drivers. With an A1 win, TLR's Dakotah Phend wasn't able to replicate the win, but a 3rd place finish in A2 gave Dakotah enough points to finish 2nd. Unfortunately for Mugen/JConcepts' Ryan Maifield, suffered electronic issues while in 2nd during A2. With his back against the wall to make the podium, Ryan came out swinging in A3 and was able to take the win jumping him up the ranks to 3rd overall. Tekno's Joe Bornhorst finished 4th losing the tie-breaker to Maifield and AE/JConcepts' Ryan Cavalieri finished 5th to claim the final spot on the 5-man podium.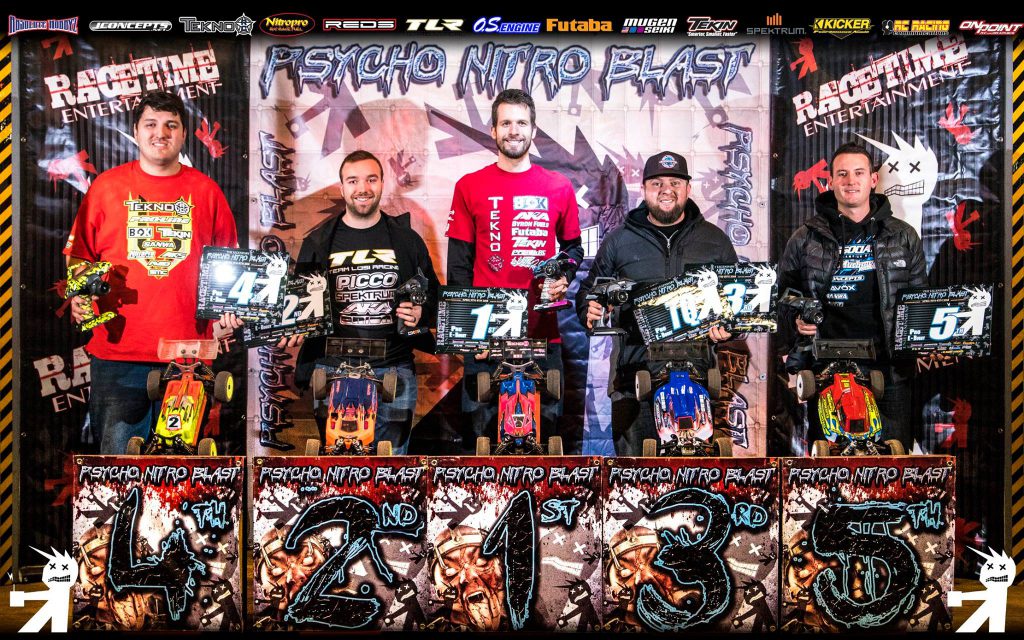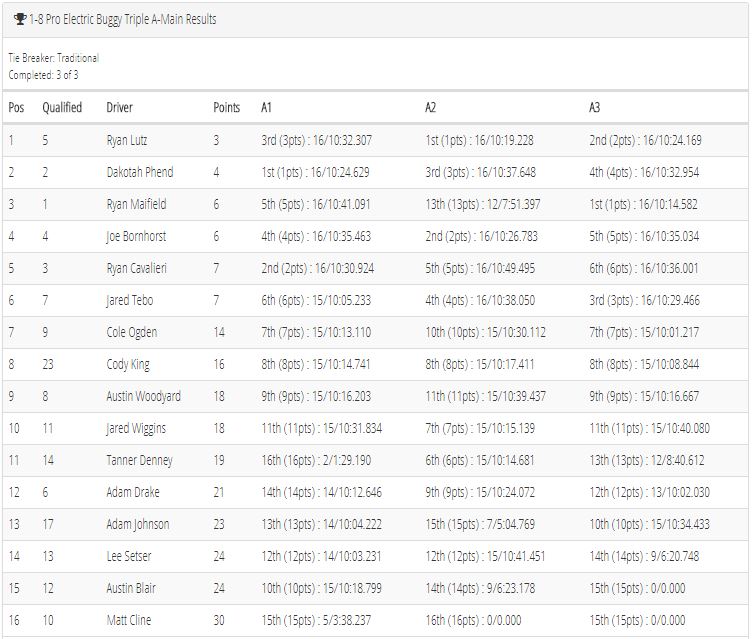 Pro Etruggy Podium
Taking his 3rd win of the weekend, Tekno's Ryan Lutz finished the weekend on a high note with a TQ and win in the Pro Etruggy class. Tekno/JConcepts' Patrick Rossiter Jr. took an impressive win in A3 to place himself 2nd overall with TLR/JConcepts' teammate, Martin Harrison finishing 3rd overall. Zach Noia once again made the top 5 for the 2nd time this week with a 4th place in Pro Etruggy. Dropping the hammer was Lil' Donnie Ward, who finished 5th.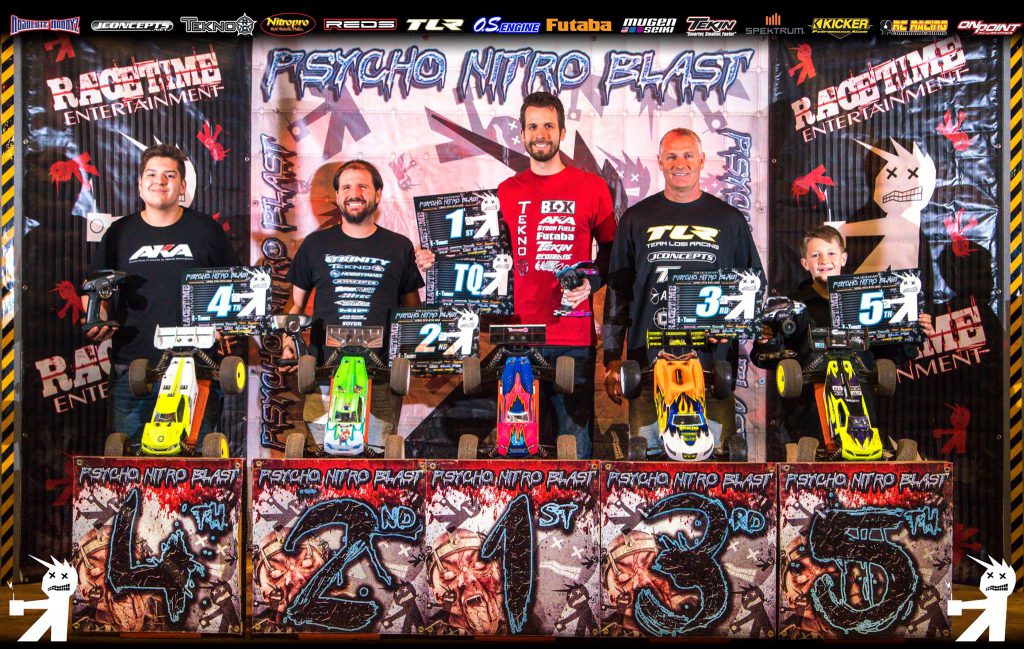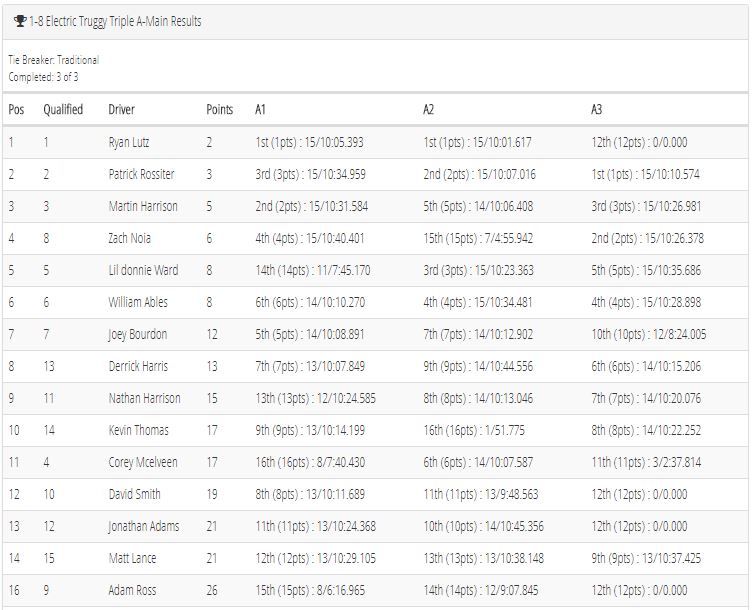 Pro Nitro Buggy Podium
With a near-flawless run, AE/JConcepts' Spencer Rivkin put together an impressive race that teetered near perfection in the Pro Nitro Buggy class. On lap 5, Spencer found himself in the lead and put the pressure on his competitors by delivering fast, consistent laps daring them to catch him. Unable to match his pace, Spencer drove his race and maintained the gap back to 2nd with surgical precision. After 30 minutes of terrific racing, Spencer crossed the line in 1st with Ryan Maifield 2nd, Tekno's Ryan Lutz 3rd, AE/JConcepts' Ryan Cavalieri 4th, and Kyosho's Jared Tebo 5th.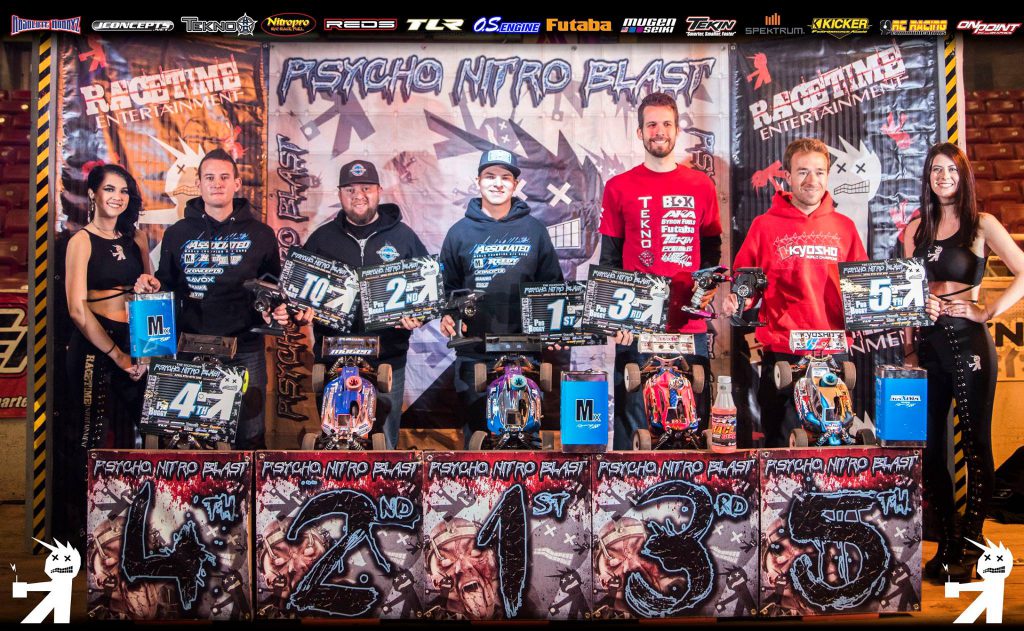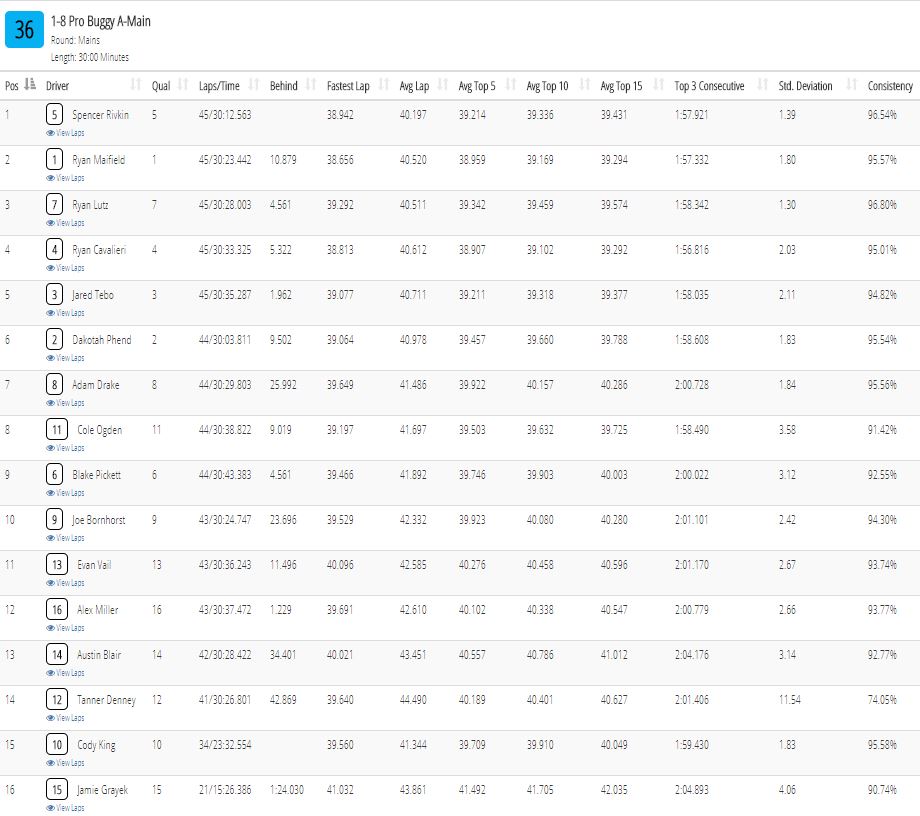 Pro Nitro Truggy Podium
Winner of the Pro Nitro Truggy class at the 2018 DNC, AE/JConcepts' Ryan Cavalieri carried the momentum over to the PNB and was once again at the front of the grid in qualifying. Giving him the best track position possible, Ryan was able to lead the race from tone to tone and crossed the finish line in 1st. AE/JConcepts' Spencer Rivkin was Ryan's nearest competitor finishing 2nd, Tekno's Ryan Lutz again would make another podium with a 3rd place effort. Tekno's Joe Bornhorst finished 4th and Jared Tebo 5th overall to close out the top 5.