Cole Ogden Signs With JConcepts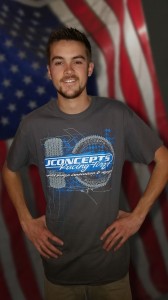 Cole Ogden, agrees to multi-year deal with JConcepts.
Ultra quick, Cole Ogden agrees to new multi-year deal with JConcepts for 2015. One of the best 1/8th drivers on the east coast of the United States, Cole established a winning reputation during the 2014 season where he made a habit of winning. The young driver from McDonough, Georgia, realized a dream trip to the 1/8th IFMAR Worlds when he represented ROAR during the prestigious event earning a place in the quarterfinals against the world's elite.
Cole's unique speed has allowed him to dominate at events while great mechanical ability and a steady pit crew allows him to finish strong in the longest of main events. Cole will now team up with the Florida based crew to further sharpen his racing abilities while he looks to work alongside of teammate Ryan Maifield at all major 1/8th events in 2015.

JConcepts president Jason Ruona states, "This is a great opportunity for us to establish this relationship with a terrific and still upcoming 1/8th driver. We want to provide a steady base of communication, support and experience while utilizing great speed to further develop our products. We take great pride in developing drivers and in this case, we want to help Cole get over the top and race among the greats for years to come."
Cole had this to add, "JConcepts has a very successful racing background, and to be part of it, is a great feeling. They have a great team as well as support and that's what excites me. I want to say thanks again to Jason for this opportunity and look forward to progressing my racing program with JConcepts.
Look for Cole to begin his racing with JConcepts in early 2015 at the Colonels Classic in Savannah, GA, before the team turns their attention to the worldwide opener, The Dirt Nitro Challenge in February.