Clash Ironman Challenge by JConcepts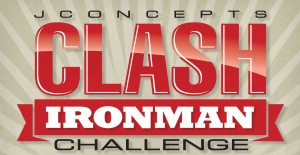 Do you have what it takes??
CLASH Ironman Challenge by JConcepts
The Driver who accumulates the most points between the Super Cup Championship Series Spring Session and Short Course King Series is eligible to win a trip to the 2012 JConcepts Indoor CLASH. (Point accumulations end on May 12, 2012)

Eligibility is based on:
Driver must be unsponsored. No exceptions.

Minors are eligible but must be accompanied by a parent. Ironman winner covers one person. Parent or pit guy not included.

Needs to participate in a minimum of 3 events in each series to qualify.

Points between series will be added together with dropped scores included. Running more races and classes equals more points and best chance.
Winner receives:
$200 American Express gift card in spending cash for driving or airfare

Hotel room paid to share between racing or family member. JConcepts may assign a roommate if deemed necessary. Hotel will be booked by JConcepts or will be assigned at the designated race hotel. No substitutions.

Entry paid for up to 3 classes.

JC product during the Clash weekend for up to 3 classes of competition.
No cash value, returns, substitutions or cancellations during or before competition. Miscellaneous expenses are not included. $300 retail value limit on tires. No cash, credit or exchange value. 4 nights maximum in the hotel.