Check-in Day 2011 Worlds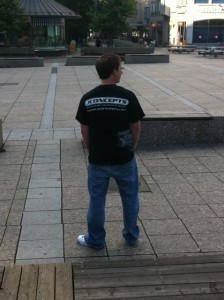 Well, Allison and I are here. After a long travel day we arrived in Vaasa for the 2011 Worlds event. So far things have moved along very quickly. We checked into the hotel and tried to fall asleep so we could begin getting on schedule for the rest of the days. That hasn't worked so well as I type this at 1:48am….
Yesterday was a greeting session and racers met up at the hotel and occationally at the track. Today everyone got a little more serious in the pits with setup, check-in and technical inspection. The opening ceremony was held about 4pm and then concours de'elegance was held right after. I was chosen as a judge along with Vicky Oople and Simo Lampinen who is X-Clerk of The Course a FIA observer WRC safety working group member. I was being particular and even with the vehicles with Punisher and Finnisher bodies.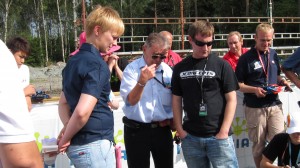 We were given 2 cards, one we marked as cooliest and the other marked for best. Cooliest was easy but best was more difficult. In the end we agreed Lee Martins Tamiya had it all and his painter did an amazing job. Very few blemishes and very thin outlines combined in the bright orange and carbon fiber look. Maifields and Tebo made the top 4 but on this day Lee Martin took it.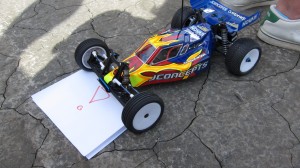 Moving back toward the racers, everyone took quick advantage and mounted tires very quickly in the tire preparation area. You could see the experienced guys blow through 6-10 pairs of tires with no problems and finalized in tech and they were done. Pros!
JC Double Dees are the control rear tire for 2wd and the front tire is open. I would say 75% of the drivers are going to start out on the Rips in the front.
The facility is amazing. If I built my own 1/10th outdoor track this would be my model. Great drivers stand with a unique finish and color combination combined with asphalt pit area and jumbo tent. The race control looks clean and prepped and the track itself has the grass infield and concrete berm turns. Inside the jumbo tent is the tire mounting tech area, media center and race information booth. Pretty sweet setup!



It's great to see everyone with the enthusiasm for 1/10th off-road again and it's really the first time in quite awhile that the playing field is quite level and at this point before we drop any cars on the track it's hard to pick a winner.
There is a new T-shirt floating around by P1 brand that states on the front. Masami, Lamberto, Marc and Atsushi. Those are standards for world championship credentials and there are a few guys that have a shot at it this weekend. Cavalieri is already a 2-time world champion and could make it 3 or even 4 with this event moving himself into 3rd on the P1 list. Jared Tebo could get his 2nd or 3rd and move onto the list itself. Maifield is looking for 1 along with Lee Martin and a host of others. I don't know if we have ever had this many drivers in the peak of their racing careers battling it out at still such a young age.
In the 6 hour car ride from Helsinki to Vassa I discussed with Kinwald all his worlds experiences and what most people don't know is how many 2nd place finishes Brian has at the worlds. Everyone that knows anything knows about his 2 world championships, one in 1993 and the other in 1997 but very few know he got 2nd in 1995, 2nd in 2wd in 2001 and 2nd in both classes in 2003. He has 2 first place and 4 2nd place finishes. I think he actually has two 3rd place finishes as well. Its been 8 years since BK had an opportunity to race the worlds, is the magic still there?
I'm a little bummed now that I'm here and I'm not racing. I'm supporting and cheering on the JC team and I'm having a blast in other ways finding my way into the competition but its just not the same. As a competitor I will always think I can still do it on the big stage but sometimes you have to know when to let it go. About a year ago I had a silent plan that I wanted back in and I was going to attempt a serious racing comeback for this event. My plan was to practice 2-3 times per week but I only made it once to practice before my schedule and work priorities took over. The travel this year has been a monster in itself and time flys when your having fun. It flys even when your not which is pretty interesting when you think about it. I'm proud to be here with Allison representing JConcepts and I'm going to make the most of it.
I got a small update from the guys at home who all went and ran up at New Red Hobbies this weekend. Sounds like they had a nice time and hopefully I'll get up there with PW and JR soon.
I'm surprised I didn't get any tire questions from Mosieur or Davis prior to the meeting. Maybe they don't Skype?
I get the feeling everyone doesn't quite know what they are in store for yet here at the worlds. I see everyone walking around and wrenching like it's the Cactus Classic, competition with fun. I'm waiting for the game on switch or the look that separates the best. It happens at the worlds and I'm ready to see it.