Chaos on the Coast Points Series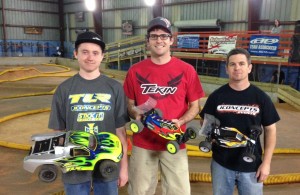 JConcepts wins again at the "Chaos on the Coast".
Race: Round 2 "Chaos on the Coast Series"
Track: Space Coast R/C – Cocoa Beach, FL
Date: March 16, 2013
The 2nd round of the "Chaos on the Coast Series" hosted by Space Coast R/C went off without a hitch with 105 entries. The track was in great condition allowing the racers to take full advantage of the extreme traction producing some great side-by-side racing action.

First round winner Brett Kingsbury was looking for a repeat, but the competition is heating up and making for some great battles. The 2wd Modified class saw Billy Easton and JConcepts driver Paul Wynn break away from the pack early, but a costly mistake by Billy ended his race early and Paul went on to win the 7min main with his JConcepts equipped B4.2 buggy; JConcepts driver Brett Kingsbury also finished a strong 3rd behind Ryan Johnson. Next up was 4wd mod and this was the Brett Kingsbury show as he went on to TQ and win by more than a lap on the field with his JConcepts equipped B44.2. Last class of the day was the Pro 2 SCT class and the day belonged to the youngster Chris Viesins. Chris took his JConcepts equipped TLR 22SCT from the TQ spot, straight to the top of the podium over 2nd place Rich Shaeffer and JConcepts Team Manager John Piant in 3rd.