Cactus Classic – Main Day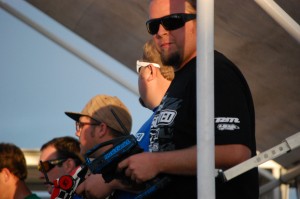 By: Jason Ruona
I'm awake this morning but dragging. I'm now on west coast time and the long days are kicking my butt. It's main event day at the Cactus Classic. It's going to be exciting and everything is going to kick off at about 8am and the boys will be up after about 8-10 early mains. Scotty will bang out the triple A guys straight in a row so having everything ready will be so key. I worked about half the day yesterday just getting main stuff on wheels for 4 different classes.

When the dust settled Ryan Maifield took 2 TQ's yesterday, 2nd and a 4th. He had 3 2nd place finishes in 2wd modified by a half second or less. He probably was the most consistent in 2wd but some issues with lapping traffic or just bobbles on the big quad jump left him a little short.
I'm still not comfortable watching anyone this weekend. The quad jump is sketchy and what is really strange is that it's harder with the 1/10th trucks than 2wd. Yes, the official name is truck or 1/10th truck.

A-1 will be tricky because there might not be the grip to quad so you might have to triple in A-1. Looking over the standings we have multiple drivers in the A-mains in each class. 4wd modified 5 drivers, 2wd modified 5 drivers, Mod truck 5 drivers, Mod SCT 6 drivers and 4×4 SCT 4 drivers. We've had a great weekend that we need to cap of with some wins.
Kinwald at the young age of 38 years old still makes all 3 A-mains showing that the old dogs still know how to make a main. Steven Hartson solidly put himself into the A-mains with a 6th on the grid which is an improvement over last year. Billy Fischer makes 2 A-mains first with his TLR 22 in 2wd and then with his B44.1 in 4wd.
Zack Genova ended up 2nd in the 13.5 class but will be battling for the wins I'm sure.