Broc Champlin Wins 2019 NCTS Rd 4 – Midwest Carpet Nationals!
The popularity of carpet and turf racing is definitely on the rise and it makes sense. Without any doubts whatsoever, racing on artificial surfaces is clean, consistent, and you always have a good amount of grip. Often times you have too much. Factor in the quick and easy track changes that do not require track owners to invest in tractors and farm equipment to get things done… it's almost a no brainer. Sure, it's not dirt and it will never replace the feeling of driving on an awesome dirt track with natural dirt transitions and dirt grip. However, carpet racing is still a world of fun!
As the NCTS season 1 comes to an end, we're convinced that the carpet wave will carry strong into 2020 and beyond. The speed, the thrill, the adrenaline, and emotion are all there. It's not about the surface, but the battle you're in while pushing yourself to your maximum potential. It's the friendship you make and the bond you share with fellow racers fighting to always improve and progress. It's the smiles, the handshakes, and unspoken respect we have for one another after it's all said and done. Why? Because it's racing and that's who we are.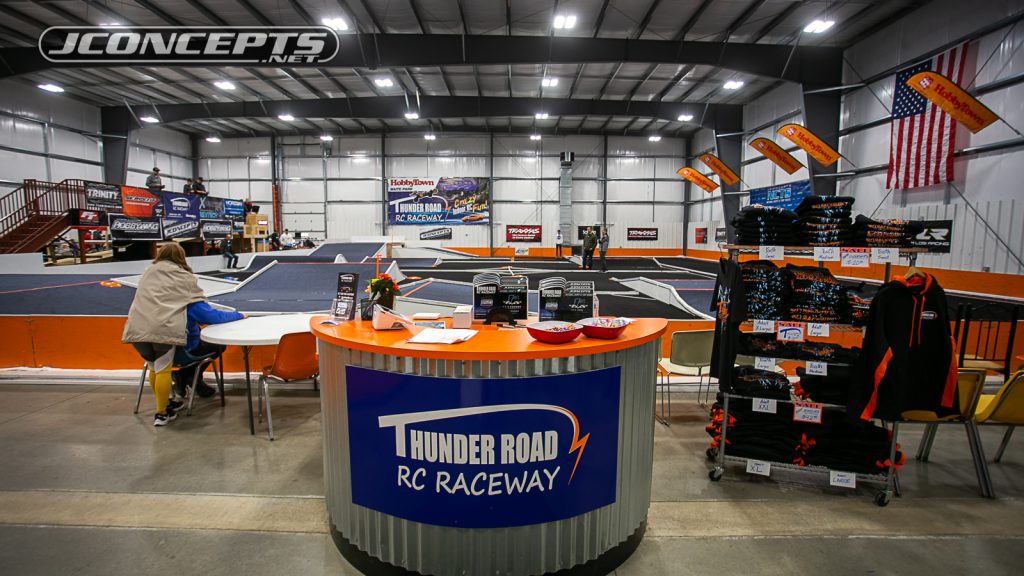 With the final stop of the inaugural JConcepts NCTS stopping in Waite Park, Minnesota, at the beautiful Thunder Road RC Raceway, we were beyond excited. The hype was high as many of the team drivers have been raving about the facility and they are completely right. For those who haven't been to Thunder Road, it's one of the best RC facilities in the US. There are so many things that Thunder Road gets right that it elevates the entire RC experience and makes it so enjoyable. The track, the driver stand, the lighting, and the awesome hobby shop are all just a part of the winning formula. But Thunder Road isn't just a one-trick pony. It's geared towards everything RC making it a true central hub for all RC enthusiasts looking to be a part of something more special.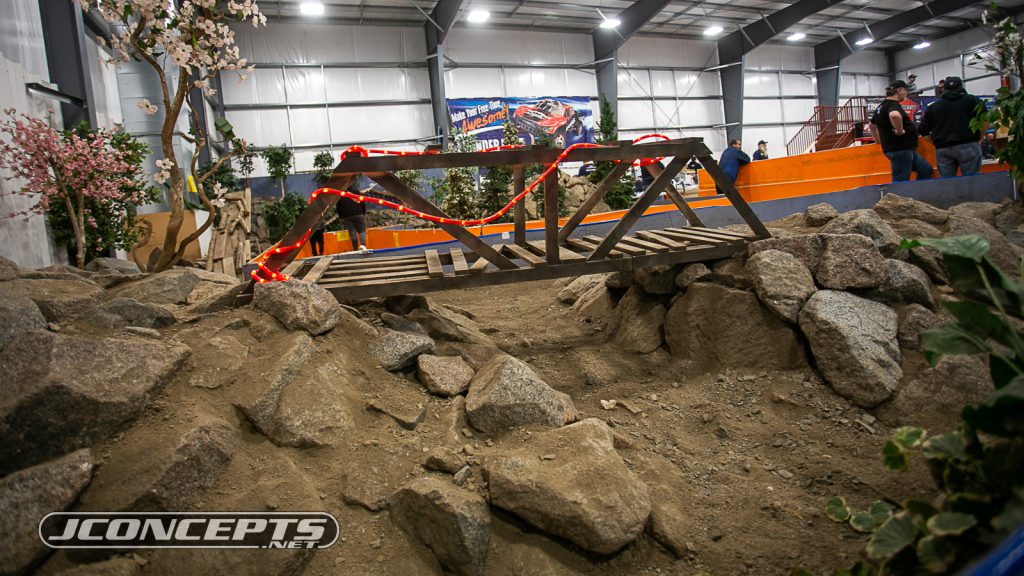 Scaling has been on the rise for a while now and Thunder Road has you covered as they also have dedicated scale course that's detailed, intricate, and extremely fun. Also, track owners Steve and Laura, really want to make a Thunder Road a destination for many hobbyists across many genres and not just carpet racers. So far, the pieces are really coming together and TR has now become a bolstering hub for all kinds of RC competitions and is great community resource.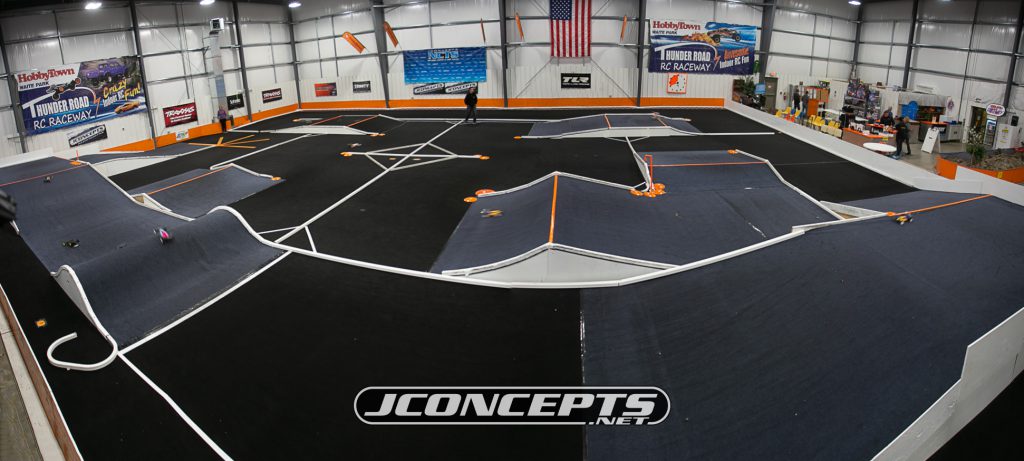 The layout was actually very cool. It was a reflection of itself if you were to split it down the middle. With the jumps and features laid out in a manner that challenged drivers, it wasn't an easy track to get around going 100%. However, cruise around at 80%, it was very easy. The double vertical chicanes haven't been done in a while, but definitely, required precision and commitment to get the hot laps. The jumps were quite easy, which promoted close racing and many laps of battling on the track that ultimately made for a wonderful race experience. Overall, it was a fun layout that favored cars with balanced setups that inspired confidence and control.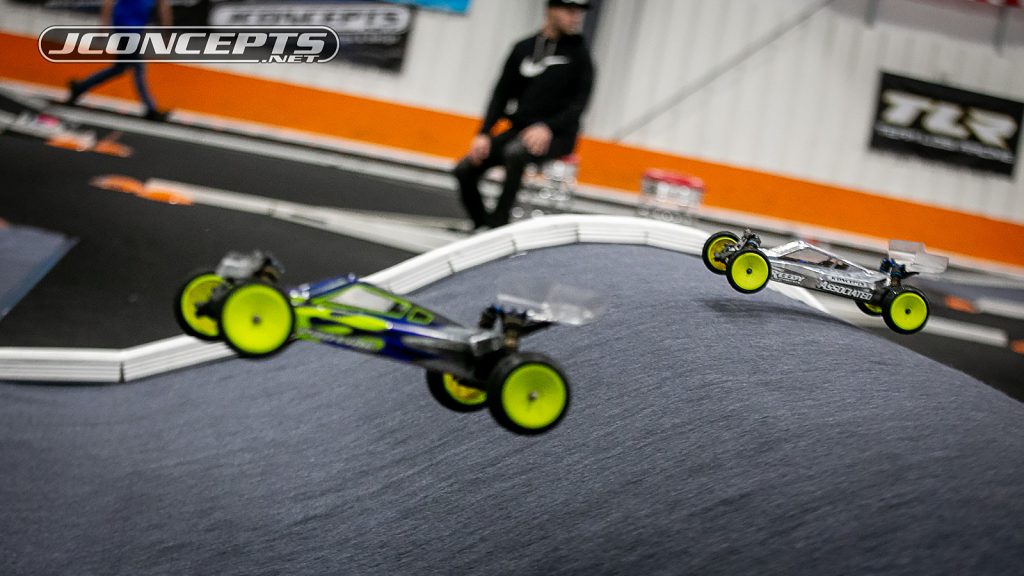 Driving on the track was awesome. It wasn't super high grip so that made the racing much easier and a little more forgiving. There were a lot of challenging obstacles on the track that opened doors for mistakes allowing cars to pass without too much drama. The high-speed camel hump was difficult to time consistently and definitely was a difference-maker in the end for many drivers. Strong brakes were a must, but if they locked up, you were sliding into the hump which could result in bad landings or crashes.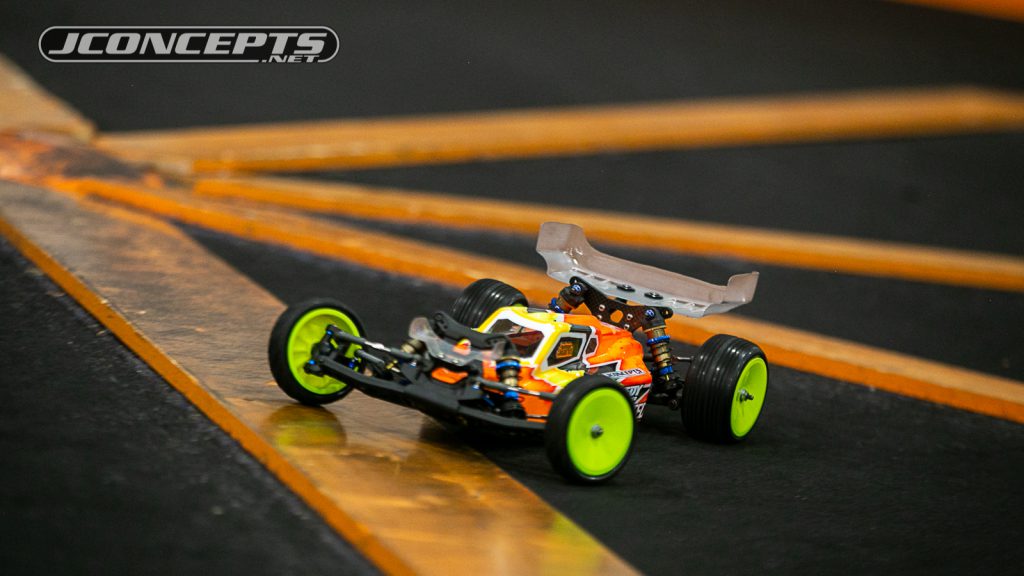 The wagon wheel was another prime spot to set up a good pass. With the line being fastest over the dot, it required immense accuracy that many drivers weren't able to deliver lap after lap. With mistakes being made in the wagon wheel as it gave racers another area to look for a way around your competition.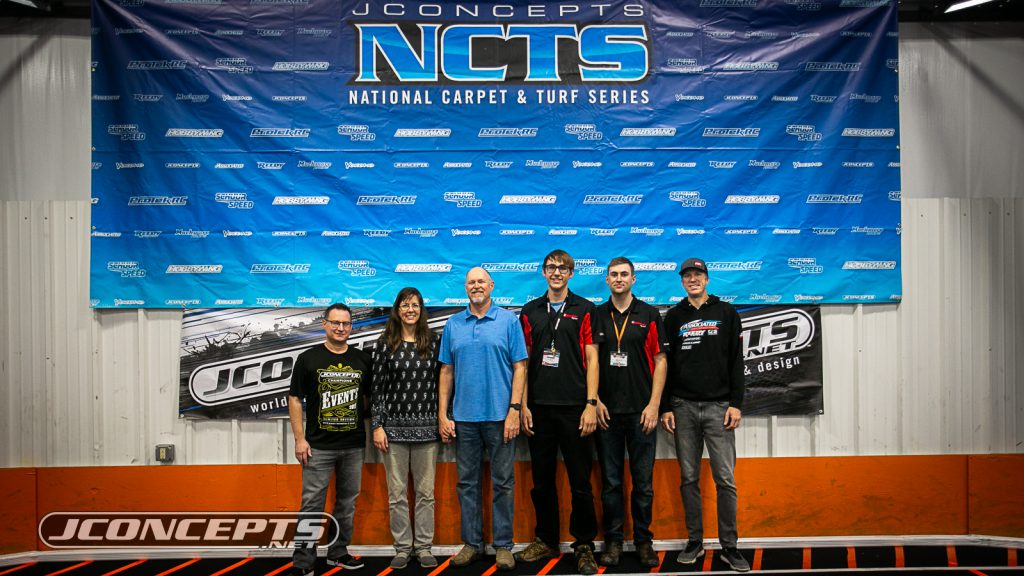 Standing between Jason Ruona and Brent Thielke are track owners Steven and Laura Knutson, along with their two sons. The hospitality over the weekend was amazing and the friendliness felt upon arrival is what we need more of in the hobby. Racers were greeted with a smile every day that made the early mornings much easier to get through. Despite not having much big race hosting experience, the Knutson did a fantastic job and delivered one of the best race events on the NCTS calendar. Thanks to their commitment and their dedication, the area is very blessed to have such a wonderful facility and the locals are lucky to call this place home.
21.5 Independent 2wd Stock Buggy
The success of the 21.5 Independent class shows that there's a place in the industry for an easy-to-race, cost-effective, entry-level class for new racers and for racers that can't often make it to the track. This ZERO sponsor class was nearly full this weekend and showed some real racing talent.
Having made the trip to 702, RC Madness, and Thunder Road Raceway, Trevor Goff has shown that he's one of the best independent drivers out there. Slotting himself 2nd through 3 rounds of qualifying, Trevor put his experience to the test and came out on top winning the 8 minute A-Main. Making moves and working his way up from the back of the pack. 10th place qualifier, Andrew Joarnt, powered his way through the field and finished 2nd. Fighting until the last lap, Bruce Collins rounded out the top 3.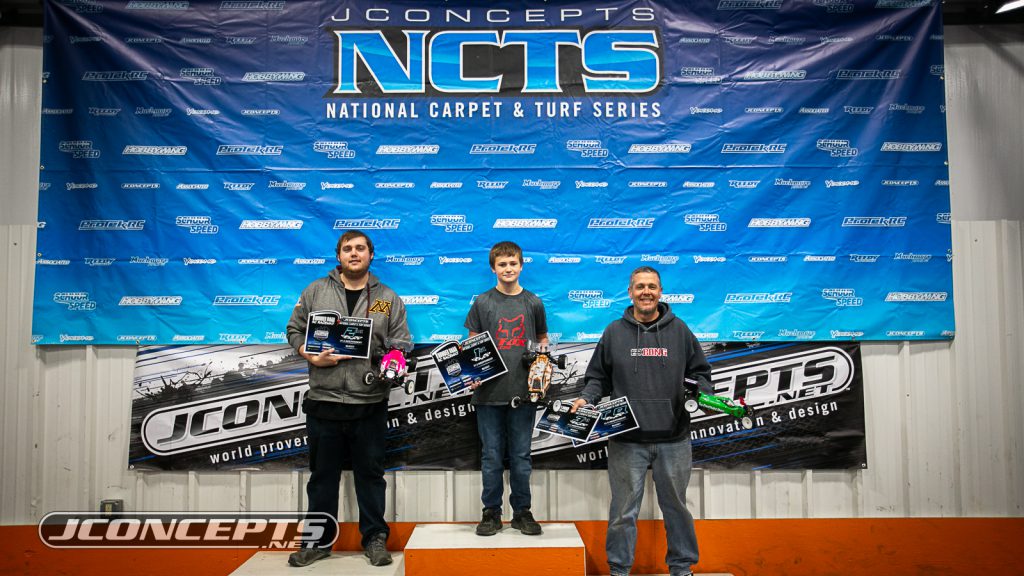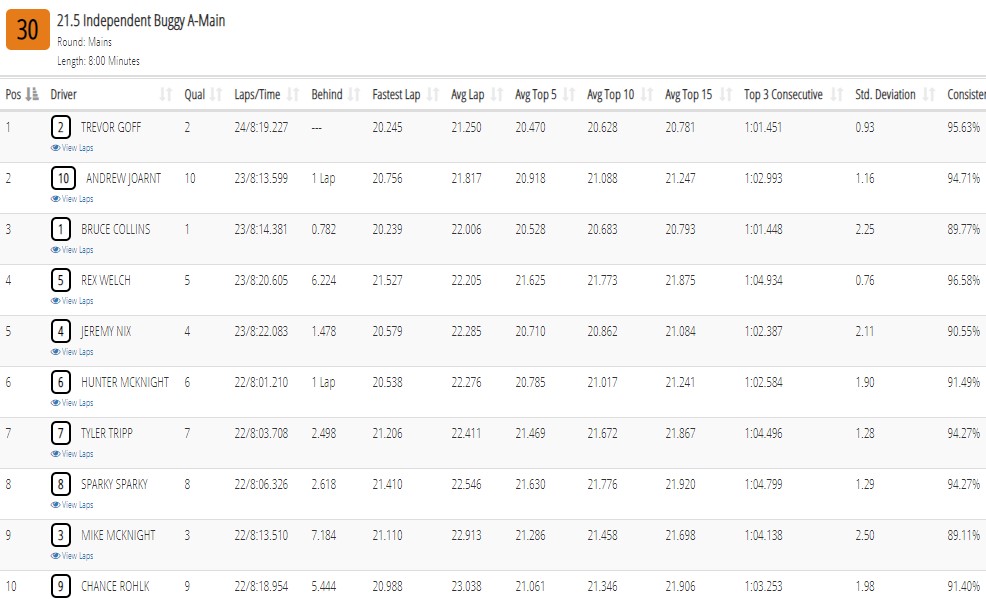 17.5 2wd Expert Buggy
It was a clinic for JConcepts/Yokomo's Matthew Gonzales, as he showed his speed in practice and qualifying to produce a flawless 8-minute final and dominated a very competitive 17.5 2wd Expert class. Tekno's Seth VanDalen had great pace and proved he is a contender in the Midwest and finished 2nd overall. Finding the speed to top the rest, JConcepts/AE's Kyle Holmberg nearly finished 2nd and was only .193 seconds back and finished 3rd.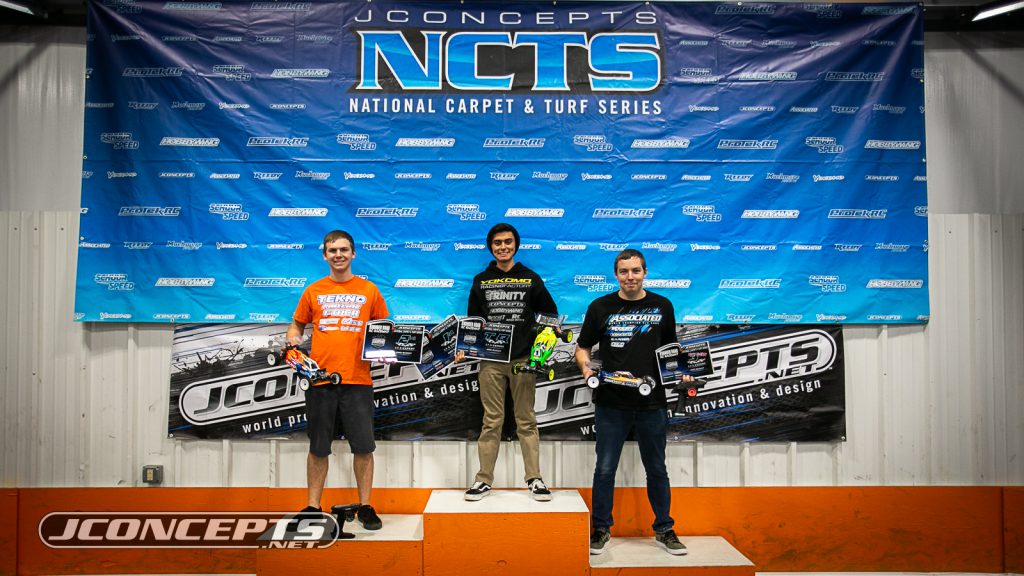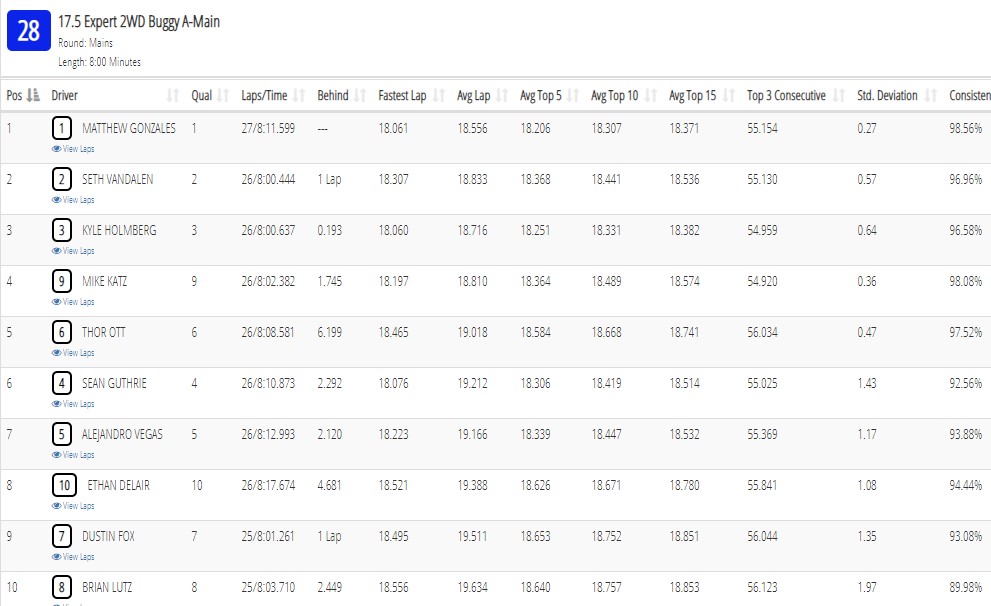 13.5 Short Course Truck
It was Nick Cummins and James Dolan who fought for the win in the 13.5 SCT class with Cummins grabbing the lead early in the race and never looked back. James went on to finished 2.1 seconds from Cummins keeping him on his toes the entire 8 minutes. The final spot on the podium went to Chance Rohlk.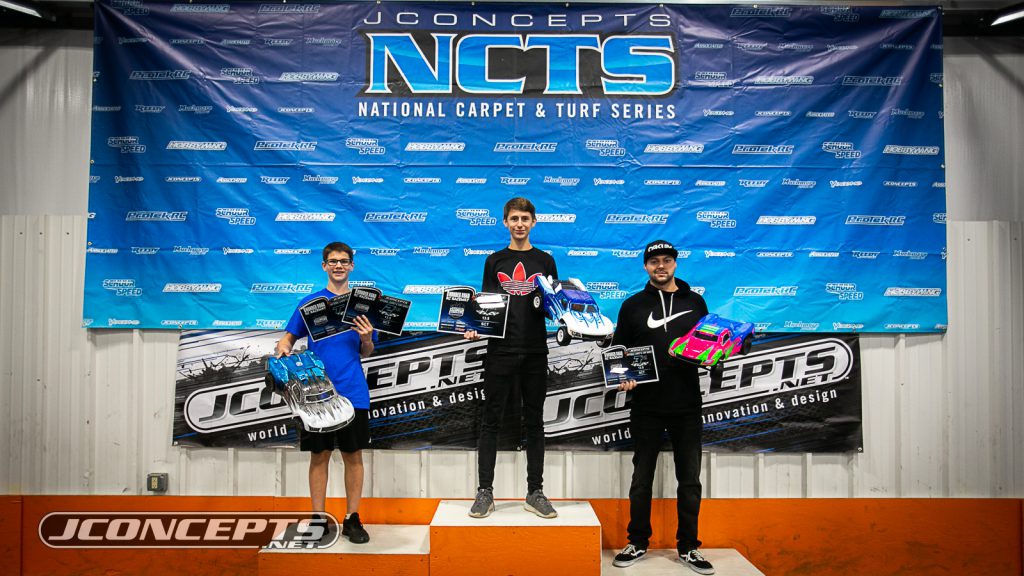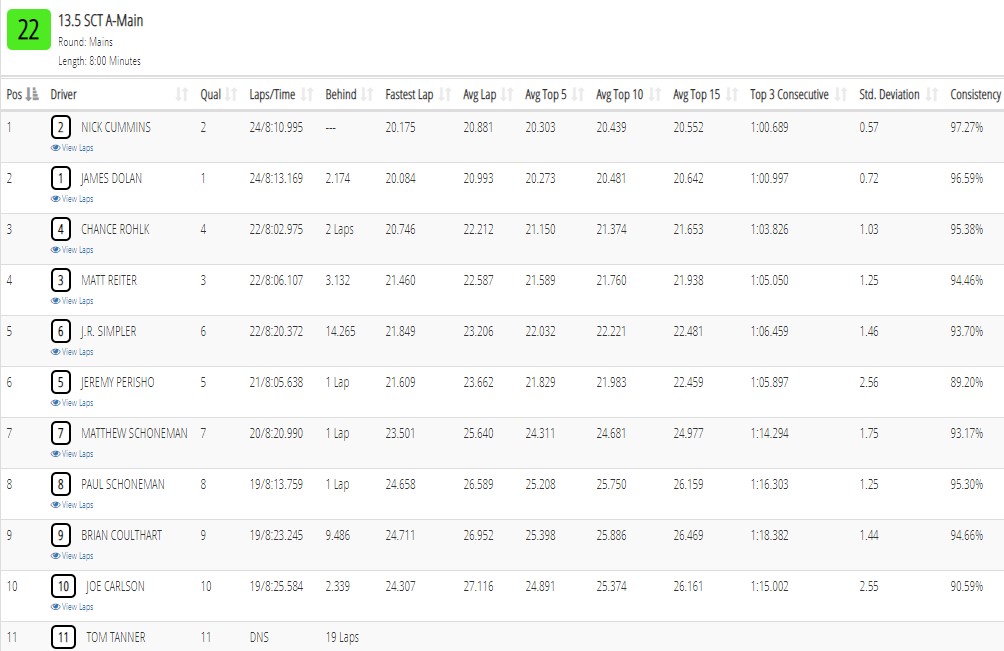 13.5 Stadium Truck
Norcal's Jovy Levin was on fire in the 13.5 Stadium Truck A-Main as he suffered a few mishaps in qualifying. With speed and grace, Jovy made his way around class TQ, Clayton Cartalucca, and hit the afterburners to eventually cross the line in 1st. Clayton edged out a hard-charging Nick Cummins by .3 seconds to lock up 2nd as Cummins finished 3rd overall.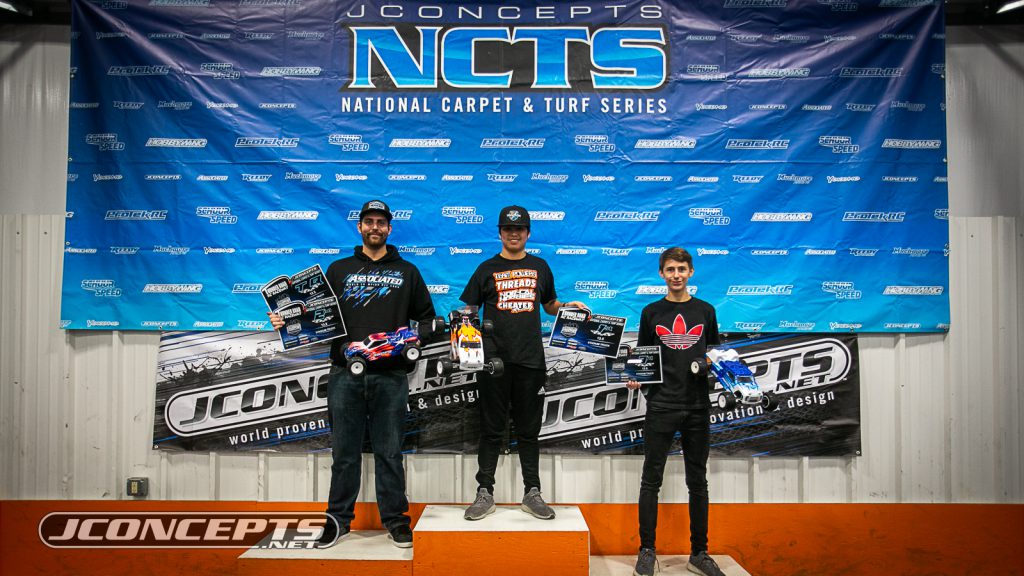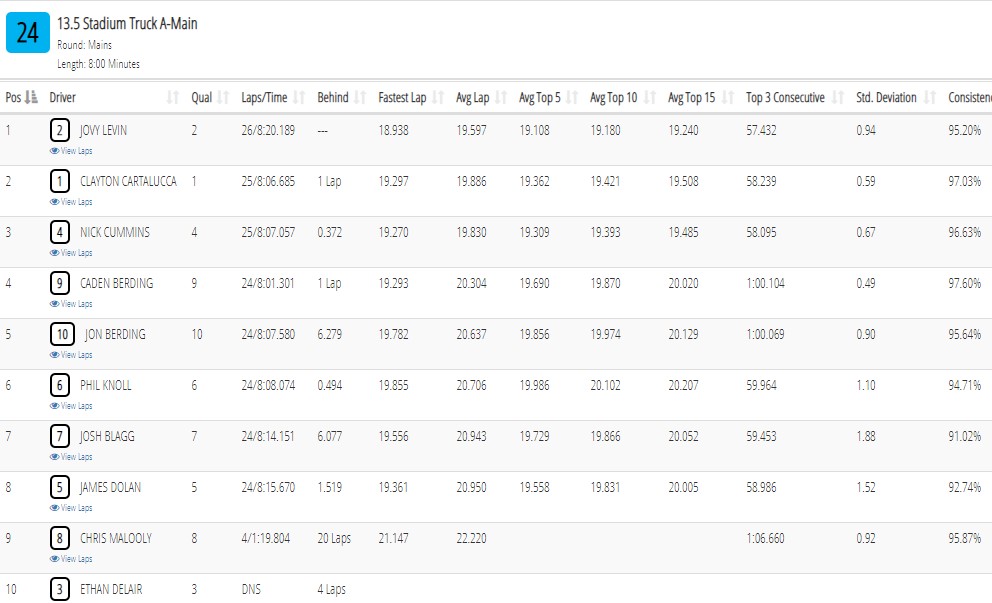 13.5 4wd Buggy
Tekno's Seth VanDalen was focused and fierce in the 13.5 4wd class. With a terrific effort in qualifying earning the TQ, Seth led comfortably in the main, but an unfortunate roll over saw JConcepts/Yokomo's Matthew Gonzales take over the lead. Unfortunately for Matthew, a lap traffic incident saw the lead switch back to VanDalen and from there, the gap was too big to close and Seth crossed the line taking a huge win. Matthew went on to finish 2nd with Minnesota's own, JConcepts/AE's Kyle Holmberg, closing out the top 3 making it 2 podium finishes for Holmberg.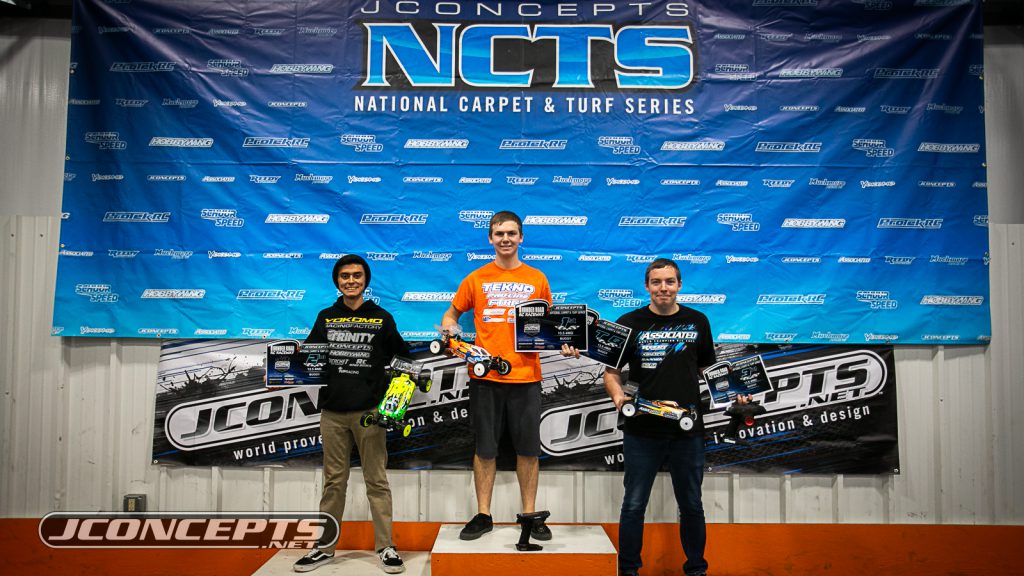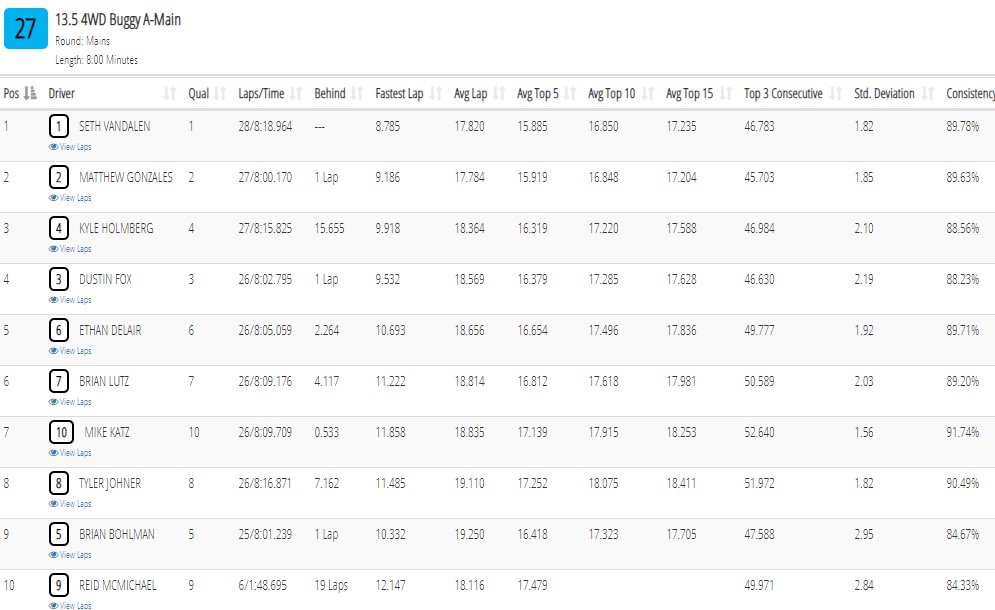 4wd Mini Truggy
Tekno's Sean VanDalen and Matthew Mickelson put on a fantastic show in the 4wd Mini Truggy class as the two swapped leads throughout the entire race. In the end, Mickelson pushed hard to recapture the lead but came up just .4 seconds short. Sean was composed and crossed the line in 1st and took a well-earned win. Matthew finished 2nd and wrapping up the final podium spot was Daniel Cost.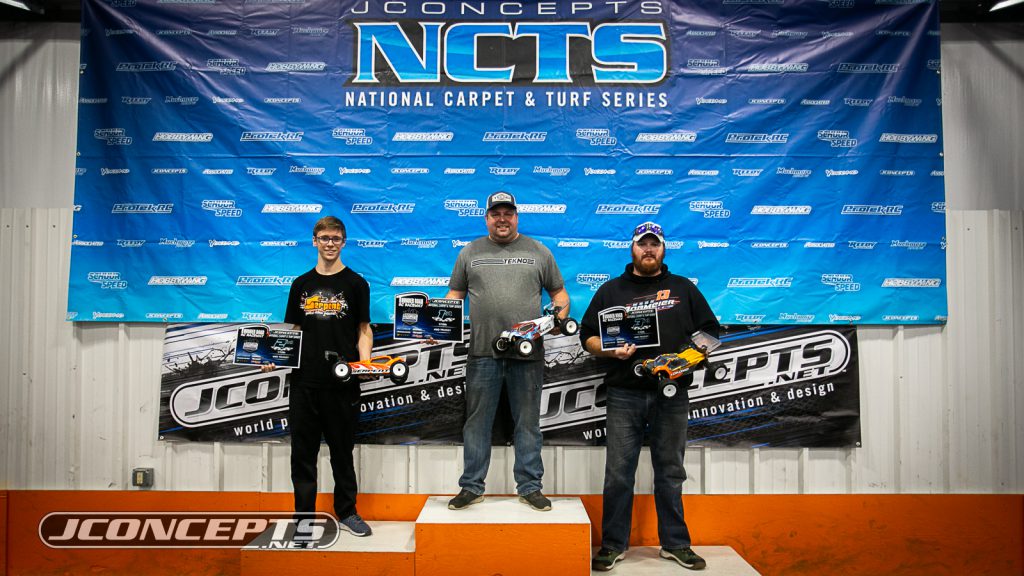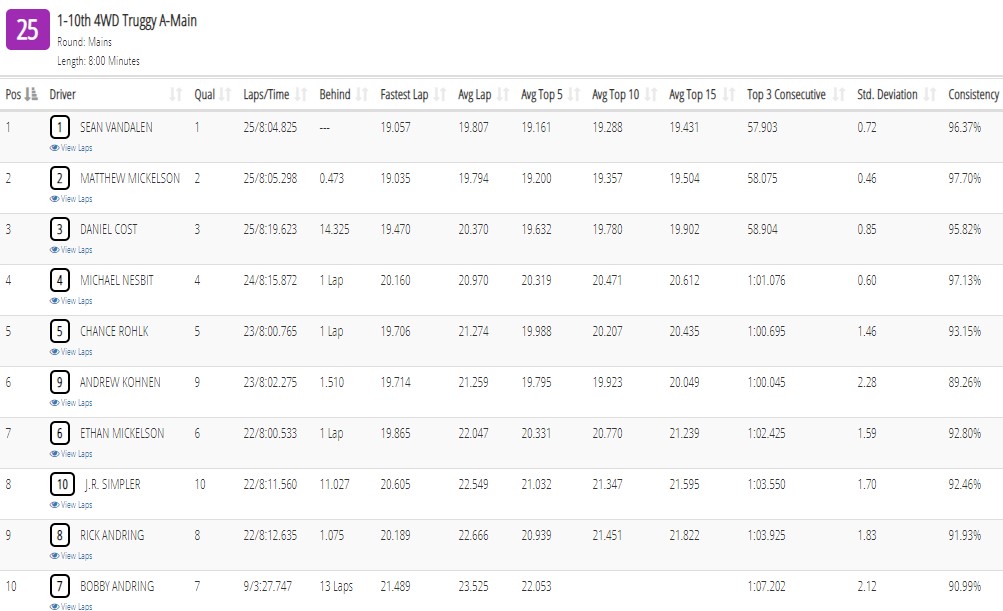 40+ 2wd Modified
With the King of 40+ in the mix, it was going to be a tall task for anyone to challenge the fast AE team manager. Nearly matching Brent Thielke's speed, JConcepts/Yokomo's Thor Ott came close! After 8 long minutes, Thor was 2.2 seconds back from an always fast, always deadly Brent Thielke. Thor finished 2nd while JConcepts/Serpent's Brian Bohlman put his carpet mastery to the test, as he used the brand new Serpent SRX2 Gen3, to put himself on the podium.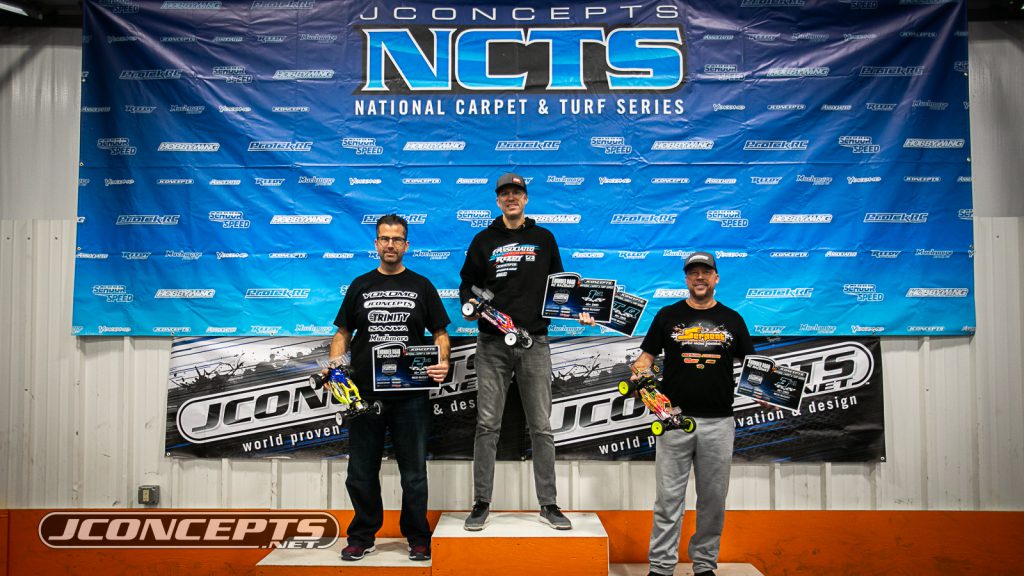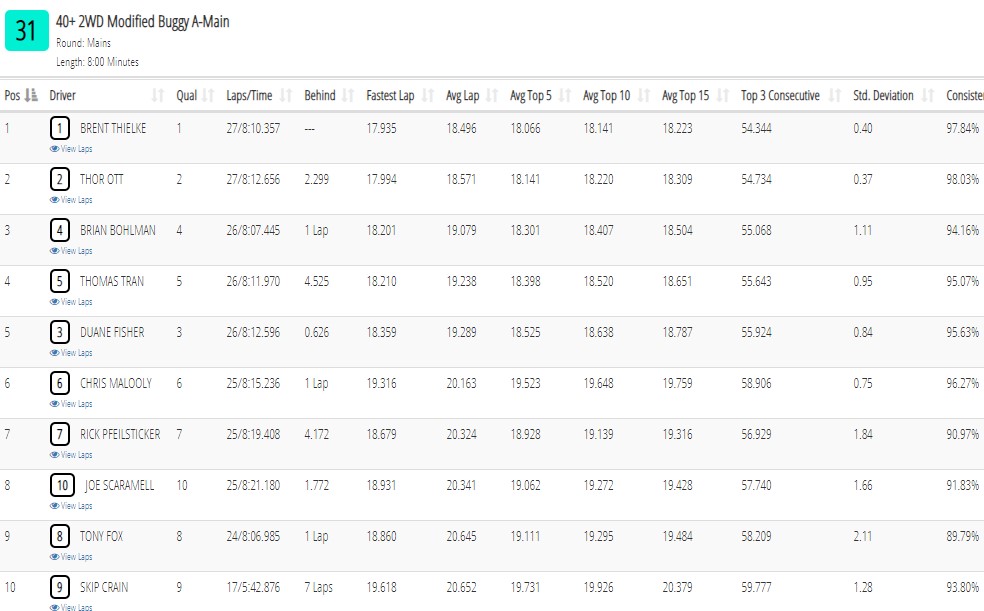 2wd Modified
The epic carpet showdown in 2wd Modified was unreal. Having some of the fastest carpet drivers on hand demonstrated just how fast you can go around the track with a 2wd buggy. A1 went to JConcepts/AE's Broc Champlin, which put the entire field under immense pressure. With Broc known to be one of the nation's best on the rug, it was going to be a difficult task to stop him in A2.
However, JConcepts' Ryan Cavalieri had it all under control in A2, until the very last lap. Miss timing his braking point, Cavalieri jumped his car across the camel hump and passed the no-fly zone and was disqualified. With Cav's DQ, A2 went to JConcepts/AE's Joona Haatanen. With Cav in redemption mode, he drove a perfect A3 and won the main making it 3 different winners in 3 mains. With 3 points total, Broc Champlin was crowned your 2wd Midwest Carpet Champion. Cavalieri finished in 2nd with 4 points and winning the tie-breaker against Joona Haatanen was JConcepts/AE's Cole Tollard, who is very new to carpet racing and progressed quickly throughout the weekend.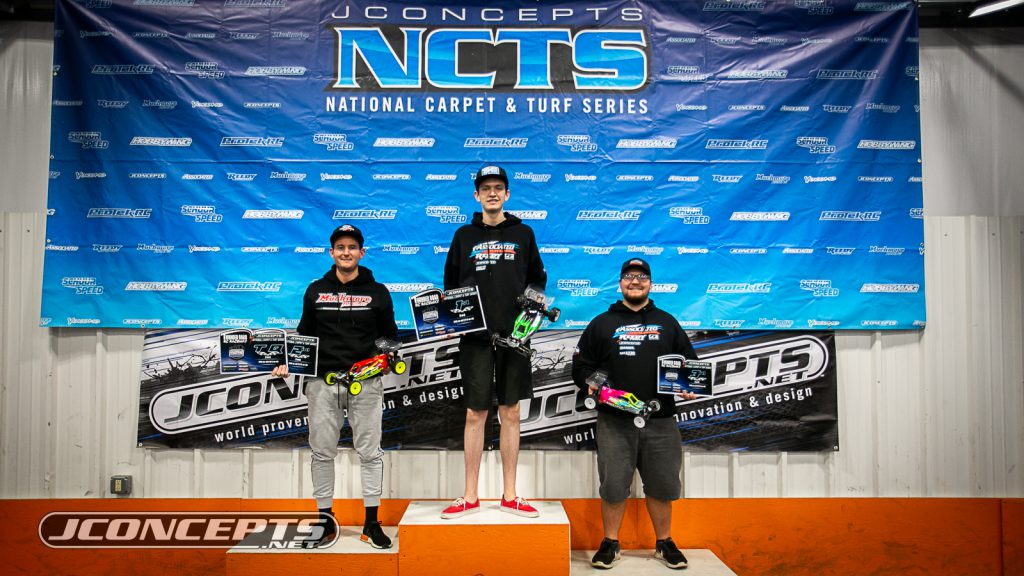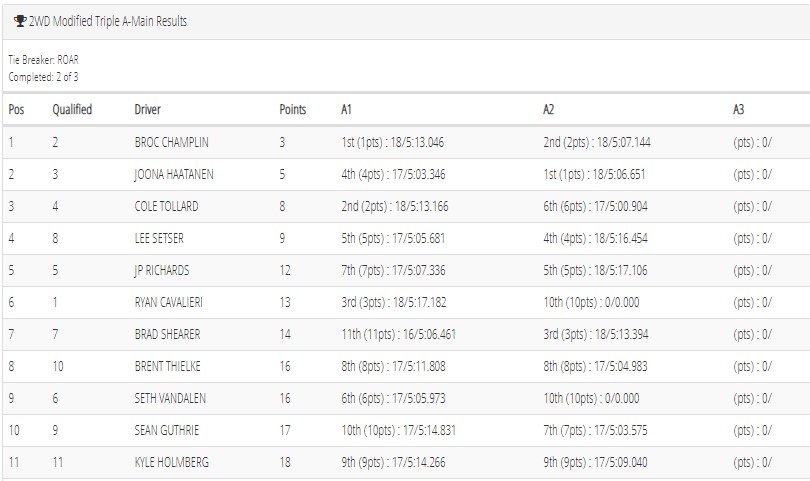 4wd Modified
With a dialed 4wd, JConcepts/AE's Broc Champlin was unstoppable in the triple A-Mains. In fact, Broc only needed 2 mains to lock up the overall as he was able to win A1 and A2 over a very fast field of 4wd mod drivers. Joona Haatanen was peaking just at the right time and was able to challenge Broc for the win by finishing 2nd in both mains and only less than a second back. Also in the hunt for the 4wd mod victory was 4-time world champion, Ryan Cavalieri, but a mistake in each main cost Cav valuable time and landed him 3rd fastest overall at this year's Midwest Carpet Nationals.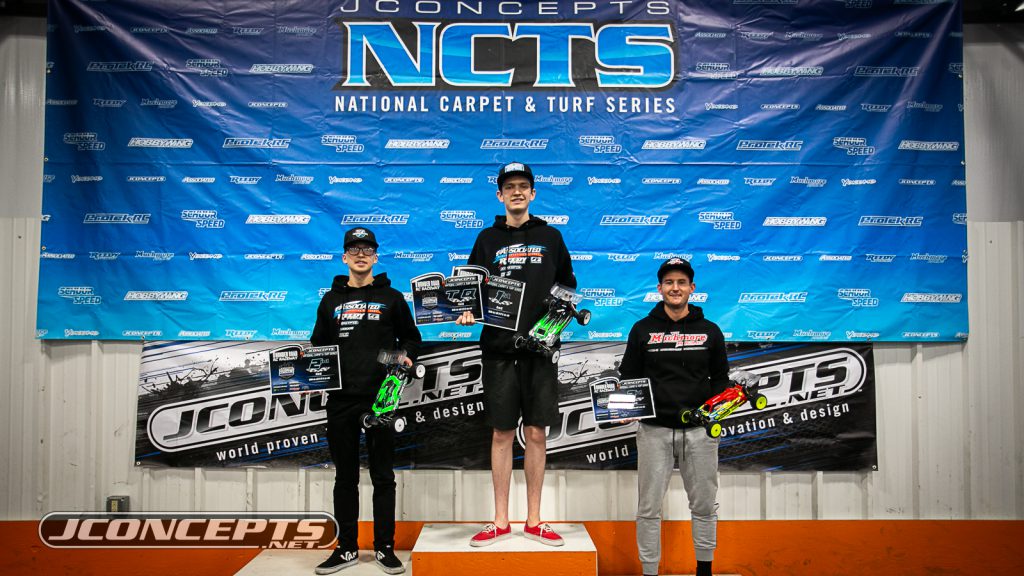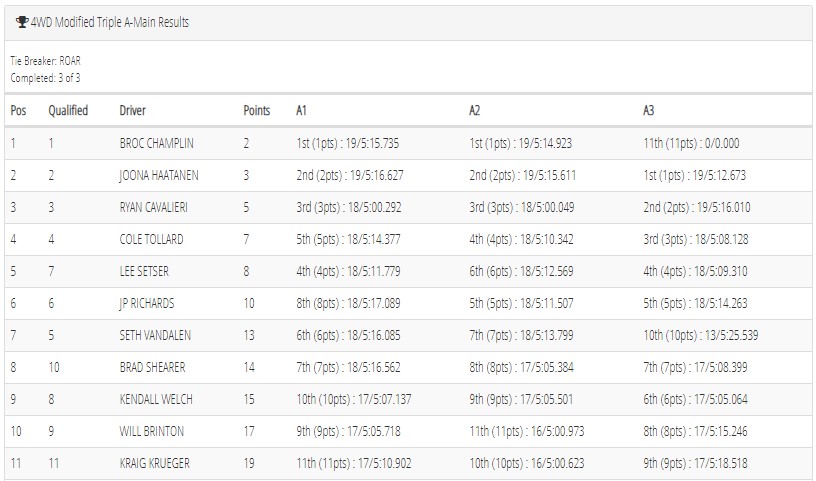 As always, the JConcepts Events are always filled with wonderful, info-filled media and here are the videos from round 4 of the NCTS!
Catching up with Ron Schuur
Joona Haatanen joins us from Finland. Find out more!
Learning a little bit about Thunder Road from co-owner, Steve Knutson.
Catching up with Ryan Cavalieri.
A1 Videos
2wd Modified A1
A1 of 2wd Modified from the JConcepts NCTS!!

Posted by JConcepts Inc on Sunday, October 27, 2019
4wd Modified A1
A1 of 4wd from the JConcepts NCTS !

Posted by JConcepts Inc on Sunday, October 27, 2019
A2 Videos
A2 of 4wd Modified, 13.5 Truck, 17.5 2wd Expert, and 13.5 4wd and more!
A2 of 4wd Modified from the JConcepts NCTS…. Also, a ton a A-Mains including 13.5 Truck, 17.5 2wd, 13.5 4wd and many man more!

Posted by JConcepts Inc on Sunday, October 27, 2019
A3 Videos
2wd Modified A3
A3 of 2wd Modified!!!!!!!

Posted by JConcepts Inc on Sunday, October 27, 2019
4wd Modified A3
A3 of 4wd Modified

Posted by JConcepts Inc on Sunday, October 27, 2019