Bradby Punishes Compeititon At Annual Petit RC Race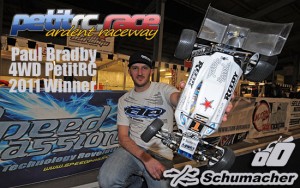 Paul "Bradders" Bradby Punishes the competition with B44.1 Punisher body.
The annual PetitRC Race was held at Ardent Raceway's high grip carpet track in the UK on the 15/16 and attracted numerous big names in R/C from Europe and further afield.
In the 4wd class on Sunday it was all Paul Bradby, the Associated/JConcepts driver taking the top spot in qualifying from Hupo Honigl in 2nd and Viktor Wilck in 3rd. In the finals it would again go down to the 3rd leg with Bradby winning leg 1 and Honigl leg 2. The 3rd and final leg would see Bradby win by a clear margin, to take the overall win, ahead of Marc Rheinard who would take 3rd overall, the pair separated on the podium by Honigl in 2nd. Bradby's Associated B44.1 was decked out with JConcepts Punisher body and 6.5" rear wing.
In the 2wd class on Saturday it was Tamiya driver, and reigning European Champion, Lee Martin that took the pole position ahead of the Team Durango pairing of Joern Neumann and Hupo Honigl. In the race itself Lee took the win in Leg 1, while Neumann would come out on top in Leg 2 setting up a showdown for Leg 3. Lee would take the win ahead of Paul Bradby to take the overall win ahead of Neumann in 2nd and Bradby claiming 3rd overall.