Big Bend Off-road Shootout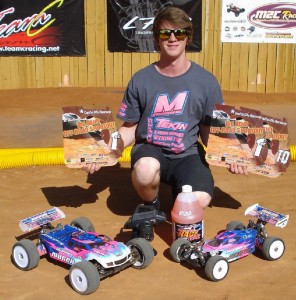 Race: Big Bend Off-road Shootout
Date: April 5-7, 2013
Track: Capital City RC Raceway
Race Reporter: John McGinty
This weekend my son and I went to Capital City RC Raceway in Tallahassee, Fl for the 1st Annual Big Bend Off-road Shootout. There were 172 entries at this event. Practice was Friday, qualifying was Saturday and the mains were Sunday.
John Michael TQ'd the first and 3rd round of Pro Ebuggy for overall TQ. He won the first A main and finished 2nd in the A2 A main to take first place overall in Pro Ebuggy. He ran Blue 3D's in both mains. JConcepts teammate, Blake Boggs took the second place spot.

He TQ'd the first round of Pro Truggy but ended up qualifying 2nd in the A main. He led a little bit of the race but was in 2nd and 3rd most of the race. First thru third were about 3 seconds apart with a couple minutes to go in the race. JM was in 2nd at the time with 2 laps to go. First place cased a double and JM was able to get by. He was able to hold off 2nd and 3rd and won the 30 minute Pro Truggy A main. He ran Blue Hybrids. Blake Boggs finished second.
I qualified 3rd in the Pro ETruggy A main. I finished 3rd in the A1 main and I finished 2nd in the A2 main which gave me a 3rd place overall. I ran Blue Hybrids.
Overall we had an excellent weekend. John Michael's cars were super dialed all weekend and he did some of the best driving I have seen him do. I could not have been any more proud of him.