BeachRC Grand Opening Race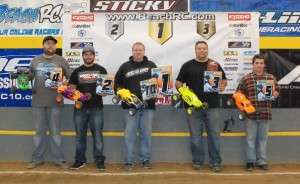 Over the weekend of November 15-16, BeachRC in Myrtle Beach, SC hosted their Grand Opening Race. The BeachRC crew did a fantastic job with the track and facility and it showed, with 160+ entries all from the surrounding areas. There were multiple JConcepts drivers in attendance at this race including Tim Smith, Max Flurer, Kevin Bullock, Ken Rand and John McGinty just to name a few.

The Pro 2wd Buggy class was full of fast talent and that proved to be true with tight qualifying throughout the field. Max Flurer and Tim Smith would sit TQ and 3rd on the grid respectively for the main, with Griffin Hanna in 2nd. At the sound of the horn Max, Griffin, and Tim took off and started to put a gap on 4th. An early mistake by Tim would see him fall all the way back to 5th while Max and Griffin would trade spots for the lead. Towards the closing minutes of the race, Tim was able to fight his way back up to 3rd and close in behind Max and Griffin. A couple mistakes from the front two would allow Tim to take over the race lead and put his JConcepts equipped Associated B5M on the top step of the podium with Max in 2nd and Griffin 3rd. John McGinty would finish 4th and Kevin Bullock 9th, both running JConcepts tires also. The super soft Bar Codes that Tim used were the ticket providing him with consistent laps and an easy to drive car throughout the entire main.
In the Mod Stadium truck class Tim Smith would take his JConcepts equipped Associated T4.2 truck and secure a perfect race day by qualifying 1st every round and taking the win. Super Soft JConcepts Pressure Points were the tire of choice in the stadium truck class. Coupled with the JConcepts Profiled inserts and Illuzion body, the car not only looked good but was good on the track.
Max Flurer Raced his way to the top taking the TQ and win in Mod SCT and 4wd Buggy. Kevin Bullock drove his JConcepts equipped TLR 8ight-E to victory with JConcepts/Mugen driver, Ken Rand finishing 3rd.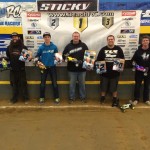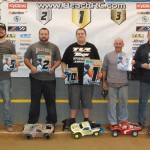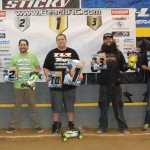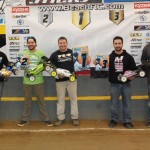 JConcepts Winning Products:
Bar Codes: 3016-02
Finisher B5M body: 0281
6.5″ HIgh Clearance Wing: 0140
Fin Turnbuckles: 2225
Illuzion T4.2 body: 0252
Pressure Points: 3062-02
Profiled Inserts: 3205-1