Battle in the Desert – Round 3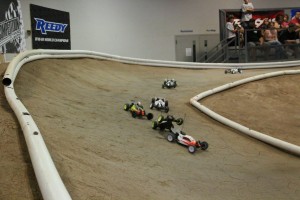 Event: Battle In The Desert – R3
Date: June 17, 2012
Track: Competition Hobbies
Race Reporter: Richard Lake
Round 3 of the Battle in the Desert points series saw the series making the trek back to Competition Hobbies where the racers were challenged with a new layout that was more about corner speed and making the line than actual speed. So the qualifying was going to be great and close as the racers made adjustment to the "green" racing surface, It was clear tire choice and set-up were going to be key.

In the Novice division very close racing all day between Ian Moller and Ronny Sill. After it was all said and done it was Ian Moller taking the win with Ronny Sill in 2nd with Javier Olmo in 3rd. Starting to think Ian is going to stock very soon.
In the Stadium truck division it was Jan Moller taking the win with Joe Schmitz in 2nd and John Grabow in 3rd.
13.5 buggy was next up, TQ Brandon Wamlsey led out but had some issues, so that left Nathan Chase to take over the lead spot, Bad luck later in the race retired Nathan back, so it was the younger Chris Wamsley who would take the win with Anthony Cubbon in 2nd and Nathan Chase in 3rd.
13.5 Shortcourse was all Taylor Spencer in the main, Keenan McClellan in 2nd and Sean Geerdes in 3rd.
Expert 13.5 buggy had some very good racing from the start to finish, It was all Blas Esquivel in the main, ran smooth and consistent to take the win, Humpty Helms in 2nd and Richard Lake in 3rd.
Expert Shortcourse was all Humpty Helms in the main, Brandon Fox challenged at the start, but couldn't match Helms, Vinny Pedersoli started last and finished in 3rd.
2wd Modified was the Brian Kinwald show, clearly showing why he's a multi-national champion, layed down blistering times. In the main it was Kinwald taking the win with Ricky Gaynor in 2nd and Richard Lake in 3rd.
Shortcourse 4wd was Undray Johnson taking the win with Mike Stanger in 2nd and Brandon Fox in 3rd.
Lastly 4wd modified saw Charles Hicks absolutely run away with his Losi XXX4, Undray Johnson in 2nd with Paul Carroll in 3rd.