Australian Stock Shootout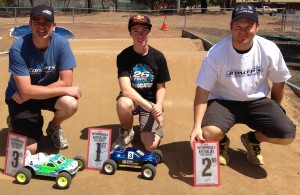 JConcepts Dominates Down Under!
Race Reporter: Andrew Selvaggi
The Australian Stock Shootout hosted by Keilor Electric Off Road RC club is an annual event where once a year all racers from across Australia (both modified and stock racers) bolt in a 17.5 in Buggy and 10.5 in Truck & SCT to level the playing field and have some nail biting racing.
Due to popularity the 4th running of the annual Australian Stock Shootout went to a 2 day event. JConcepts drivers Glen Bonetti, Leigh Cheeseman, Ashley Peeler & Andrew Selvaggi dominated all 4 classes giving JConcepts the win in challenging and changing track conditions.

3 rounds of qualifying on day 1 saw JConcepts driver Andrew Selvaggi lock in the TQ in 2wd Buggy with his JC equipped Associated B4.2. Hooked up with Orange Bar Codes front and rear, were the perfect tyre in the high traction, black groove & abrasive outdoor conditions. The new JC firm closed cell inserts helping him do the only 13 lap run of the event in 2wd. Team mate Ash Peeler was only seconds behind and had locked out 2nd on the grid making 2wd buggy a JC front row also using Orange Bar Codes all round.
TQ was still up for grabs in 4wd buggy, Stadium truck and SCT going into day 2. Over night the weather gods werent so kind dropping 2mm of rain just hours before the last round of qualifying. Already having secured the TQ in 2wd, and being the first heat on the damp track, Selvaggi decided to go out and test tyre setup for the finals in case conditions stayed damp. Surprisingly even though the track was damp and slick in most spots, Green Bar Codes with And-1 inserts proved to be the best option. Peeler and Selvaggi both hooked up on Green Bar Codes in Q4 were 1 lap quicker than the competition.
By the time qualifying was finished, JCs Ashley Peeler had secured the TQ in 4wd buggy, SCT and was off the 2nd grid spot in Stadium Truck with young gun Glen Bonetti and seasoned veteran Leigh Cheeseman qualifying 3rd and 4th respectively. Finals time and the track was dry and it was time to strap the Orange Car Codes back on.
Selvaggi completing a clean sweep in 2wd for the weekend won A1 and A2 with a comfortable margin and was able to sit out and watch what would be some of the most entertaining and competitive mains in SCT and Truck. Ashley Peeler was able to secure 2nd overall in 2wd making it a JC 1, 2 on the podium. Andrew used Orange Bar Codes all around in all 3 mains with the new firm closed cell insert in the rear.
4wd was dominated all weekend by JC's Ashley Peeler and his brand new X-ray XB4 was never in reach of the competition, taking A1 and A2 with no issues. Once again Orange Bar Codes were the tyre of choice and allowed Ash to take the top step on the podium.
In SCT it was a show down with JC team mates Ashley Peeler and Glen Bonetti fighting it out and swapping the lead numerous times, Bonetti would edge out Peeler in the end taking the overall win, but securing another 1, 2 for JC. Both using Orange Bar Codes to compete in a league of their own.
Stadium Truck gave the most exciting racing of the weekend with Ashley Peeler, Glen Bonetti & Leigh Cheeseman all in with a chance to take the overall win come A3. All swapped the lead at least twice in the last main of the day. But it was young gun Glen Bonetti with his Associated T4.1 stealing the win with a brave passing move on Cheeseman with 1min left. All 3 JC drivers used Orange Bar Codes front and rear with the Y on the inside.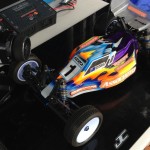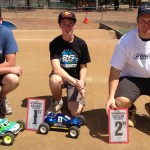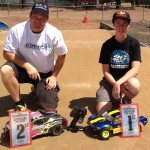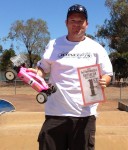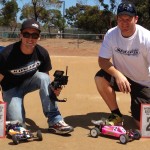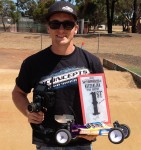 Products used by Andrew:
0212 – Illuzion – B4.1 +8mm Finnisher worlds body w/ 6.5
3016-02 – Bar Codes – fits 2.2″ buggy rear wheel
3016-04 – Bar Codes – fits 2.2″ buggy rear wheel
3017-02 – Bar Codes – fits 2.2″ buggy front wheel
3017-04 – Bar Codes – fits 2.2″ buggy front wheel
3347 – Mono – B4.1 – 12mm hex front wheel
3348 – Mono – B4.1 – 12mm hex rear wheel
2136 – JConcepts – 5 and 10gm stick-on weight set (JC carbon appearance)
2158 – JConcepts – B4.1, T4.1 and SC10 aluminum steering bell-cranks
2159 – JConcepts – B4.1, T4.1 aluminum wing / body mounts in black
2160 – JConcepts – battery hold down thumb / wrench nut available in black
2091 – JConcepts – 12mm rear hex adaptor for B4.1, B44.1 – blue anodized aluminium
2135 – JConcepts – 12mm front clamping hex adaptor for B4.1 – blue anodized aluminium
2161 – JConcepts – B4.1 +8mm Monroe Carbon Fiber battery brace
2101 – JConcepts – 48 pitch, 72T, SS Machined Spur Gear
2133 – JConcepts 48 x 24 Pit Mat