Arizona State Championships – Practice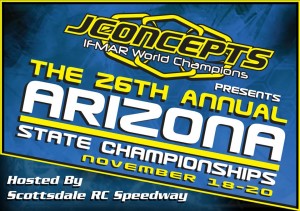 Greetings from Arizona.
Friday was practice day at SRS in Scottsdale, for the 26th annual Arizona State Championships. It was just a nice casual day of getting laps in. The track was closed on a regular basis, for sweeping, and a little water on the edges. The track crew stayed on it thru out the day, and calling times for guys doing marathon runs, to keep the line for the drivers stand short. A good sunny day, which should be the same all weekend, giving guys a good indication of what the track will be like all throughout qualifying.
As the sun sets in the west. It's time for a quick rebuild of the cars, and solidify plans for dinner. Tomorrow bringing three rounds of qualifying. Should be a great day.