Arizona State Championships – Final Results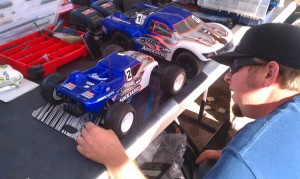 JConcepts wins all of the Mod classes with Ryan Maifield, and Billy Fischer.
Ryan won the first two A mains of Mod Buggy, to claim his first of three titles for the day. Running an extended single A in Mod Truck, Ryan started on the pole and never looked back. With a win in the Pro2 SCT single A main, again Ryan leading from start to finish.
Pro4 SCT was a battle to the end, with Billy Fischer holding off Brian Kinwald. 4WD Mod Buggy also saw Billy Fischer TQ and win the A Main.
A great weekend comes to a close. Look for a detailed recap, and more photos soon. I'm waiting for that JConcepts plane to pick me up. I know Jason has one hiding somewhere.