A Triple Win For Max Flurer With JConcepts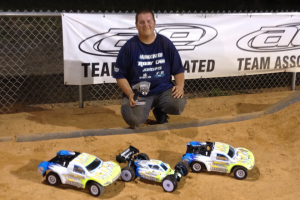 Round three of the Civil War Grand Slam, (formerly known as the NCCS) was held at the new facility in South Carolina, the Pit RC. Being the biggest series in the region, all of the top area drivers always attend the series promoted, and ran by Brandon Melton.
This round, AE/JConcepts driver Max Flurer had a stellar performance going with three TQ's, and followed up with three wins. In 2wd Short Course, Max used Double Dee's in Green compound, mounted on Hazard wheels, secured by locking wheel nuts, and a Hi-Flow body supported by the JConcepts body brace. In 4×4 SCT, Max's truck was covered with the Hi-Flow, and he used the Pressure Points in Orange compound, mounted on Hazard wheels and JC locking wheel nuts. With the electric 1/8 buggy, Max used Blue compound Sevens on his RC8.2 E wrapped with the Punisher body, to take the win.

JConcepts Products used:
0222 Hi-Flow SCT body
0217 Punisher RC8-E
3043-02 Double Dee's
3049-04 Pressure Points
3344 Hazard Wheel
3029-01 Sevens
2076 3/32 Locking Wheel nut
2090 4mm Locking Wheel nut
2073 Illusion Wheel nut
2164 SC10 Rear Body Brace