A Podium Finish For Ryan Maifield In 2wd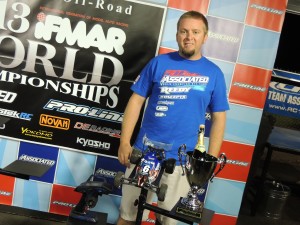 Ryan Maifield takes his 4th podium finish in the 2wd class at the IFMAR World Championships with a 3rd place finish at this years 2013 event.
JConcepts Dirt Webs front tires, Finnisher C4.2 body, Mono wheels, Hi-Clearance wing and high performance accessories finish off the amazing drive. Ryan came back from a break in A1, to an extremely close battle for second with Jared Tebo in A2 and recovered from a bad start in A3. Having crashed on the opening lap, dropping him to last, Maifield's recovery was impressive in A3 finishing 3rd. Congratulations!
Today (Thursday) is 4wd check-in and the event begins all over again on Friday with 4wd practice. Stay tuned throughout the weekend on our Facebook page for more updates from JConcepts.