A Great Start to the Winter Racing League at CRCRC.
JConcepts Team Driver JP Richards has a great start to the 2011 Winter Racing League.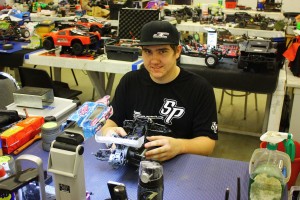 Event: Winter Racing League
Date: October 16, 2011
Track: CRCRC Columbus, OH
Race Reporter: JP Richards
This past weekend was the first round of the WRL (Winter Racing League) held at CRCRC. The race was a one-day event that attracted 120+ entries with drivers from Losi, AE and X-Factory in attendance. I was running 2wd Mod Buggy, which was the biggest class with 40 entries. The race was ran in three 5 minute rocket round qualifiers with a resort after 2 rounds, with a single 8 minute A Main.

Round 1
I decided to go out on slightly worn Bar Code V2's in Blue Compound and ended up setting TQ by 5 seconds. I had a few mistakes and a turn marshal stepping in front of me, but other than that it was a clean run.
Round 2
I noticed that the track was drying out fast so I decided to mount a fresh pair of Bar Code V2's in Blue for the third round. In Round 2 I decided to try a little setup change that ended up making my car harder to drive. My TQ was still safe after Round 2 though.
Round 3
I went back to my first round setup and with fresh tires I was ready to go. At the start I was on a new TQ pace by about 5 seconds. Later in the race I got caught up in traffic slowing me down to miss resetting TQ. At the end of qualifying I was Top Qualifier and the only driver to turn 16 laps.
A Main
For the main I started with the lead and never looked back. I also set the single fastest lap of the weekend in 2wd with a 19.0. My JConcepts Bar Code V2's provided me the best traction on the track along with the new JConcepts High Clearance Wing.
The next series race is on November 19th, if you are there stop by and check out the JC products and ask any questions that you might have.