7th Annual North vs South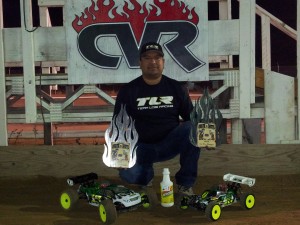 Philip Atondo wins Pro Buggy and Pro Truggy with JConcepts.
Central Valley Raceway in Madera CA. held their 7th Annual North vs South event, as it was definitely more North than South. This is a great race track with loamy berms, technical rhythm sections and real outdoor dirt that gets rough and changes throughout the day! It was good turnout with a great expert buggy showing with TLR's Phillip Atondo, Hot Bodies Tyler Vik, A Main Hobbies Austin Blair, TLR's Jacob Haas and A Main Hobbies Curtis Door to name a few of the top runners.

After Qualifying was over it was Phillip Atondo taking TQ in both buggy and truggy with his Team Orion powered TLR 8ight 2.0's on JConcepts green Crossbow tires. Atondo was the only one to get the extra lap in qualifying.
As the sun set the buggy A main was on the way as the cold air came in and moisture was coming up on the track. It was a great battle up front between Atondo and Blair as they swapped the lead several times after mistakes which allowed Vik to start catching up after his first lap crash. Atondo started to smooth out and gapped himself from Blair as Vik got past Blair and was putting in a late charge. It came down to the last lap between Atondo and Vik as Atondo slowed the pace to make sure he didn't crash in the tricky rhythm section and Vik was still charging hard to catch up! Atondo made a mistake witch allowed Vik to pull aside as they raced to the line with Phillip Atondo holding onto his lead! Tyler Vik 2nd and Austin Blair 3rd. Atondo also went on to win the truggy class with teammate Jacob Haas in 2nd and Another TLR privateer driver Ron Kammerer in 3rd.