5th Annual Top Gun Challenge
Daniel Brown takes the Top Gun honors in Mod Truck with JConcepts.
This past weekend Norcal Hobbies in San Jose California wrapped up the 5th Annual Top Gun Race. This race attracts top drivers from Northern California, all attempting to earn the title of "Top Gun" of their respective class. Along with bragging rights, top drivers in each class earns themselves an authentic Fighter Jet Helmet.
The program consisted of 4 rounds of qualifying and triple A-mains on Sunday. JConcepts Team Driver Daniel Brown was unable to attend the first day of qualifying and arrived early on Sunday to get the layout figured out and make sure his cars were dialed in. After an hour of practice Daniel's cars were feeling good and he had the layout decently figured out. The track was built by Kevin Jelich and it certainly lived up to his reputation; perfectly timed jump sections and tons of flow. Traction was medium to high and had quite a bit of grip for such a new layout.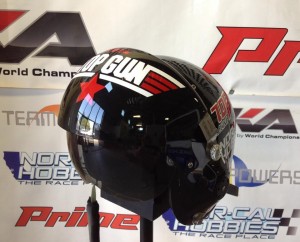 In the final round of qualifying Daniel secured TQ over Norcal local Brian Gross by 4 seconds. Heading into the mains Daniel kept his setup the same and stuck to his trusty Gold Bar Codes all the way around with JConcepts blue closed cell inserts in the rear and open cell up front.
In A1 Daniel pulled a 5 second lead early on and was able to maintain the gap throughout. While Gross was running similar lap times he was not able to pull within striking distance. In A2 Daniel was able to pull a significant gap in the first few laps letting the rest of field battle it out for second.