5th Annual JConcepts Fall Brawl
AMain.com's Outback Raceway held the 5th Annual JConcepts Fall Brawl Nov 7-8th. With a fresh layout and AMain's accurate timetable, this race is always a perfect weekend of racing. The Buggy Brawl format provides for some great triple A Main racing. 40+ Stock, Stock, Pro Stock Buggy and Open 2wd Buggy and Open 4wd Buggy ran triple A-mains, with 8 seeded directly from qualifying with two bump-ups coming from the B Main. The announcing team of Justin Wilde and Rob Howe proved why they are the top announcers in RC keeping the program running smoothly and entertaining.

JConcepts Team Driver Kyle Layton was in attendance. Kyle had a great weekend of racing, taking home two TQ's and two wins for JConcepts.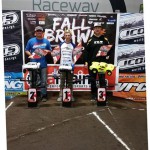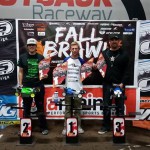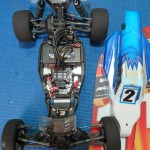 Kyle sent us this report from the event…
"This past weekend I attended the 2015 JConcepts Fall Brawl hosted by Amain.com at Outback Raceway. This event brought over 220 entries and also brought a lot of competition with it. I ran 3 classes at this event; Modified 2WD SCT, Pro Stock 2WD Buggy, and Modified 4WD Buggy.
The track opened Friday for practice and the drivers began getting used to a new layout and conditions. We all started out on treads, but by Friday evening the track started to groove up and it was time to break out the Smoothies. By Saturday morning I had all 3 of my vehicles on JConcepts Gold Smoothies and couldn't ask for better performance. I was able to TQ both Mod SCT and Pro Stock Buggy, but I would qualify 4th in the B-Main in Mod 4wd. When mains rolled around, I was able to bump to the A in 4wd. We ran triple A's for buggy classes only and after all was said and done, my JConcepts equipped B5M would take a commanding win in A2 and A3 giving me the overall title. The same happened in SCT as I won the race by 5 seconds and set fast lap in the main. After bumping to the A's in 4wd, I had my sights set on a podium. I almost had it as I was able to move up to 3rd in A1 and 4th in A2, but a bad A3 set me back to 5th overall for the weekend. Very happy with my finishes and how my JConcepts equipped cars handled all weekend. My AE rides powered by Team Powers on JConcepts tires brought me 2 TQ's and 2 first place finishes. I couldn't be happier. Thanks to Jason and the whole JConcepts crew for the support."