5 Wins for JConcepts from the 2019 Desert Classic!!
Without a doubt, Chandler, Arizona's Hobby Action R/C Raceway has become a hotbed for RC talent. Powered by some of the biggest names in the industry and multiple World Champions like Ryan Maifield, Spencer Rivkin, and legend Brian Kinwald to name a few. As they say, steel sharpens steel and if your daily example and club race competition is a crowd of world champions, then you're naturally going to have a high bar to chase after. After a few years, you're cultivating some of the hottest talents in the nation!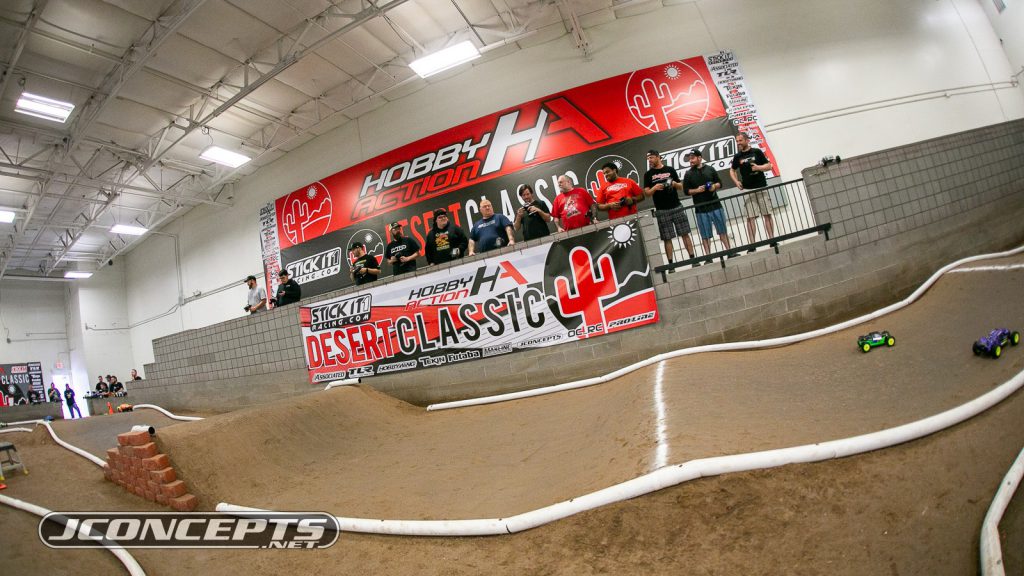 Hobby Action has come a long way. Luckily for us, the facility amazingly still looks like it did when it first opened up almost 3 years ago, but it's everything else that has improved. The hobby shop is still jam-packed with all the goodies you want, the race program is smoother than ever, and the experienced track crew has accumulated a ton of build knowledge and now produces a consistent surface for a wonderful weekend of racing.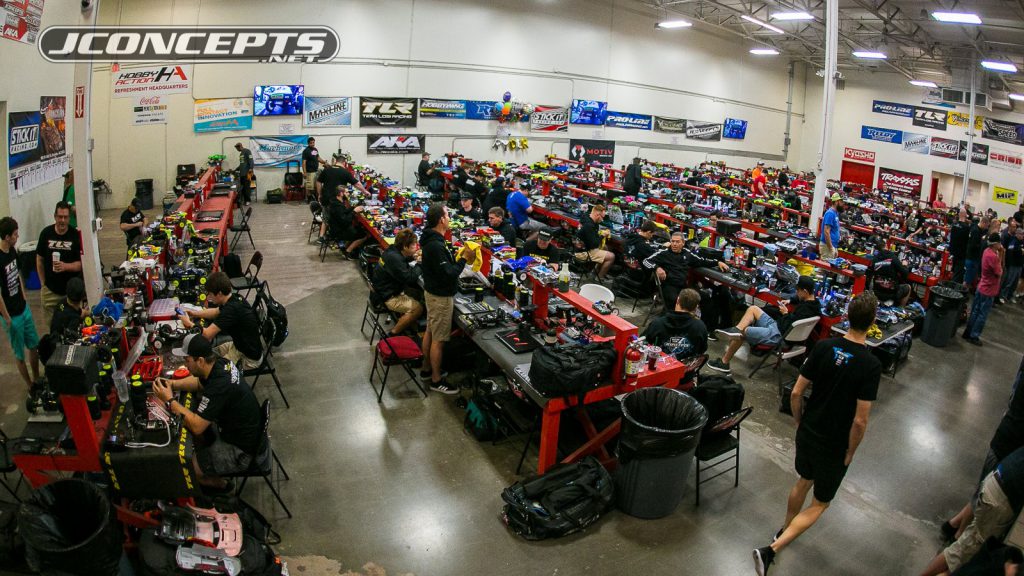 To be fast at Hobby Action, it requires the latest and greatest in tire prep and technologies. Some say "burning in your tires" all started in Arizona and this weekend witnessed the first major application of tire warmers for off-road use. Either way, things are on the cutting edge and the competitiveness is always among the highest in Arizona, but somehow the atmosphere is still super friendly and relaxed in the pits making it a weekend of great racing and quality family and friends time.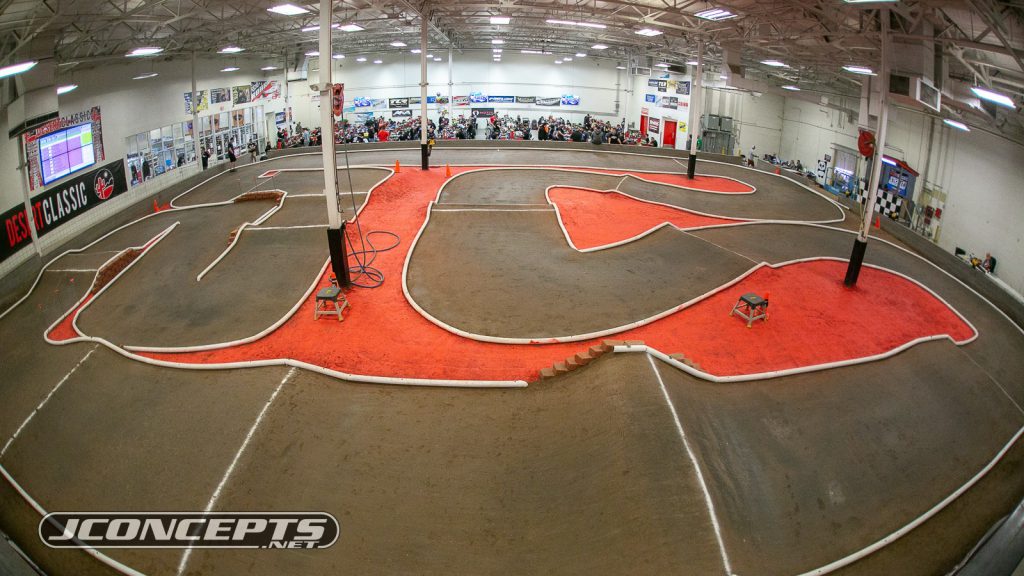 Because of its large size, Hobby Action has one of the fastest paces to offroad racing anywhere in the world. The smooth surface combined with slick tires makes for an ultra-fast feeling of being on the edge and spinning out of control. Your lap starts off as you enter the time clock after a very tight cut-back sweeper, the single singles can be easily overlooked but requires pinpoint accuracy and jump distance as getting on power as soon as possible was the key to speed in this section. Despite it being a straight jump, the triple was massive but perfect execution led to crazy fast laps as you could carry speed into the small table top. The off camber turn made setting up for the chicane very difficult that led up to a step up jump that required goo torque and throttle control. Overall, the layout was fun and had a flowing rhythm as long as you were money on the triple. For most, it was the make it or break it portion of the track, but for the lucky few, it gave them an advantage over their competition.
21.5 Independent Stock Spec 2wd
The popularity of the 21.5 Indy Stock Spec class is catching on. The no sponsor, 21.5 handout motor and spec tire class really allows the true sportsman a stage to compete on and have fun without being the full-time career stock racer that has sponsorship through the roof. For some of us, this can only be a hobby and the reason is for pure enjoyment. Taking the win was James Dutcher as Dutcher lead from tone to tone also TQ'ing the event. At the front, the racing was close as Shaun Huelskamp was only 4.2 seconds back in 2nd and Leigh Helmrich finished 3rd while still on the lead lap.
17.5 Stock Short Course
Coyote Hobbie's Davey Batta was a force to be reckoned with in the 17.5 2wd Short Course class as the young and talented speedster stole the show with a TQ and tone to tone win effort. Rockin' the Brian Kinwald paint, Mark Vyne finished in 2nd with Trinity's Caden Lindsell 3rd on the podium.
17.5 Stock Truck
Taking time off from his busy job at OCRC, Yokomo/JConcepts' Jake Thayer put on a show over the weekend as he proved to be the stock racer that everyone was chasing over the weekend. Being too fast in 17.5 Stadium Truck, Jake went on to TQ and win after an early battle with Davey Batta. Hobby Action's own, Riley Schaefer put his name on the board after a strong performance during the 8 minute main and finished 2nd. TLR's Wayne Wyrick stayed where he qualified and wrapped up the weekend with 3rd place.
17.5 2wd Stock Buggy
It was another excellent effort by Yokomo/JConcepts' Jake Thayer as the OCRC track manager finished off the weekend on top in the highly competitive 17.5 Stock Buggy class. All weekend long, AE's Ezra Keller kept Jake on his toes even earning himself a few TQ rounds and stayed within 5 seconds of Jake during the main and finished 2nd. Davey Batta definitely has the speed and his time is certainly coming soon. You can just feel it. The young and talented driver from Coyote Hobbies finished 3rd overall after an exciting battle through midpack.
13.5 4wd Buggy
Pulling off the impressive triple win here at the 2019 Desert Classic. Jake Thayer cleaned up in the 13.5 4wd stock class as he was the only driver to get around the track without any major mistakes to secure up his 3rd stock win of the event. Yokomo's Riley Schaefer has matured into a racer to be reckoned with, as he was able to put in a good drive and locked in 2nd place. Once again, Davey Batta showed he has the speed and the versatility to finish on the podium in multiple classes as he grabbed another 3rd place in 13.5 4wd.
4×4 Mini Truggy
There's definitely a lot of interest int he 4×4 Mini Truggy class and rightfully so as they're fun and easy to drive. Taking the win was Christian Hernandez, who just barely edged out NW legend, Carlos Gonzalez by 1.7 seconds for the win. Carlos momentarily had the lead, drop to 2nd, and fought his way to a 2nd place finish as he had 3rd place finisher, Matt Russells, was all over him towards the end of the race.
Modified SCT
TLR's Dakotah Phend was the man to beat in the Modified SCT class as he was the best at consistently jumping the triple without having his SCT sail and catch wind. AE/JConcepts' Spencer Rivkin drove a great race, but a few mistakes over the triple cost him a chance to battle Phend for the win. Rounding out the top 3 was AE's Scott Spears, who was having crowd pleaser backflip attempts over the triple on his way to 3rd.
Modified Stadium Truck
It was a 3 truck battle royale in the Modified Stadium Truck class led by TLR's Dakotah Phend. Phend seemed very comfortable and fast with his package and was able to gap out 4-second second win over AE/JConcepts Spencer Rivkin. Both he and Yokomo/JConcepts' Ryan Maifield had a great head to head battle as Maifield fought hard to catch and pass Rivkin but was unable to do so in the closing laps and took home 3rd place.
2wd Modified
2wd National Champion, Spencer Rivkin, defended his title on home turf, much like when he earned it a year ago. Fearlessly fast and magically consistent, the AE/JConcepts star was on point during the triple A-Mains taking wins in A1 and A2 to lock up the overall in two mains. TLR's Dakotah Phend pulled out a clutch win in A3 to leap ahead in points to Ryan Cavalieri and finished 2nd overall with 3 points total. Adjusting to his new Yokomo rides, Ryan Cavalieri had a stellar showing in 2wd Mod as he capped off a great weekend with two 2nds and a 3rd place to net him 3rd overall.
4wd Modified
It took him 2 years, but the monkey is finally off his back. Despite Hobby Action being his home track, Yokomo/JConcepts' Ryan Maifield hasn't found much success there. However, with an open mind and adjusted driving style for slicks on dirt, Ryan Maifield came out swinging earning himself the TQ and won the overall in two mains. AE/JConcepts' Spencer Rivkin gave a great effort and by winning A3, Spencer jumped up to 2nd dropping his 6th from A1. Once again, Yokomo/JConcepts' Ryan Cavalieri makes his 2nd podium of the weekend showing that the Yokomo transition is definitely coming along nicely as the Desert Classic was only his 2nd electric 1/10th race with the new gear.
A1 of 4wd Modified
A1 of 2wd Modified
A2 of 4wd Modified
A2 of 2wd Modified
17.5 Stadium Truck A Main and Modified Stadium Truck A Main
13.5 4wd A-Main and 4×4 Mini Truggy, A3 of 4wd Modified
17.5 A Main and A3 of 2wd Modified
This is one of the tracks that the aqua compound was specially formulated for and from the 2018 Nationals at Hobby Action, JConcepts won every class. The trick is to heat the tires and have them up to temp before hitting the track.
++ Winning Product Used by Ryan Maifield in 4wd Modified++
++ Winning Product Used by Spencer Rivkin in 2wd Modified++