4th Annual JConcepts Turf Nationals – Race REcap!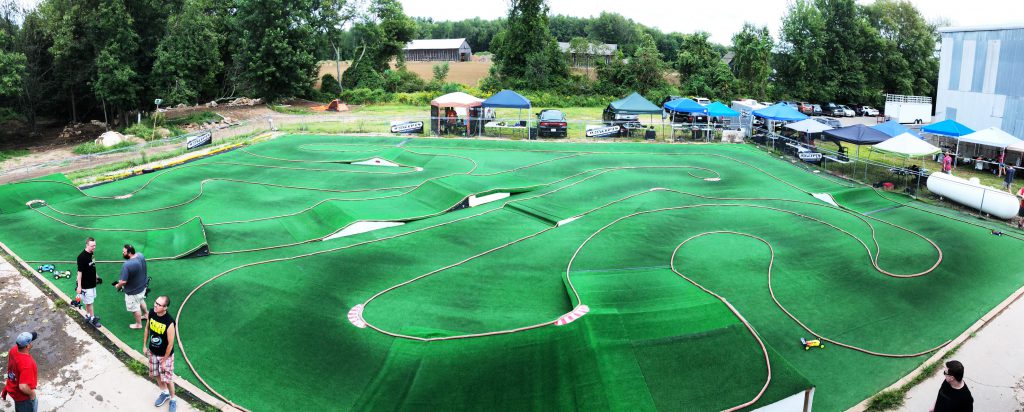 There's no doubt that astroturf and carpet tracks are getting more popular throughout the United States. Once considered strange and not 'real' offroad racing, is now a thought of the past and considered truly a viable option to an alternative racing surface.
As a racer, there are lovely benefits to racing on carpet mainly due to the simplicity of mounting your tires and getting on the track. There is no sanding or grinding of tires, no heaving saucing or "burning the tires in" for added grip. Mount and go!! For track owners, the maintenance and track changes are by far easier to manage and one the best turf tracks in the US is RC Madness in Enfield, Connecticut…. is home of one of the best races on alternative surfaces in the US, the annual JConcepts Turf Nationals.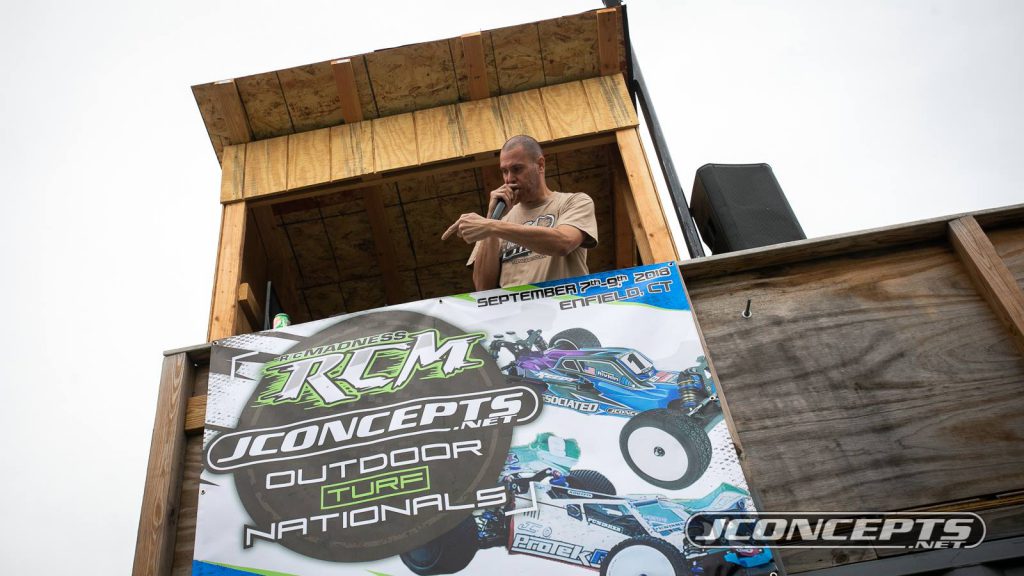 Each year, the excitement and enthusiasm displayed by the North East racers is electric as they all know that track owner, Chris Marcy, goes out of his way to provide a great turf racing experience. With NE's own Alex Valdes on the mic, the weekend of racing would definitely be a memorable one.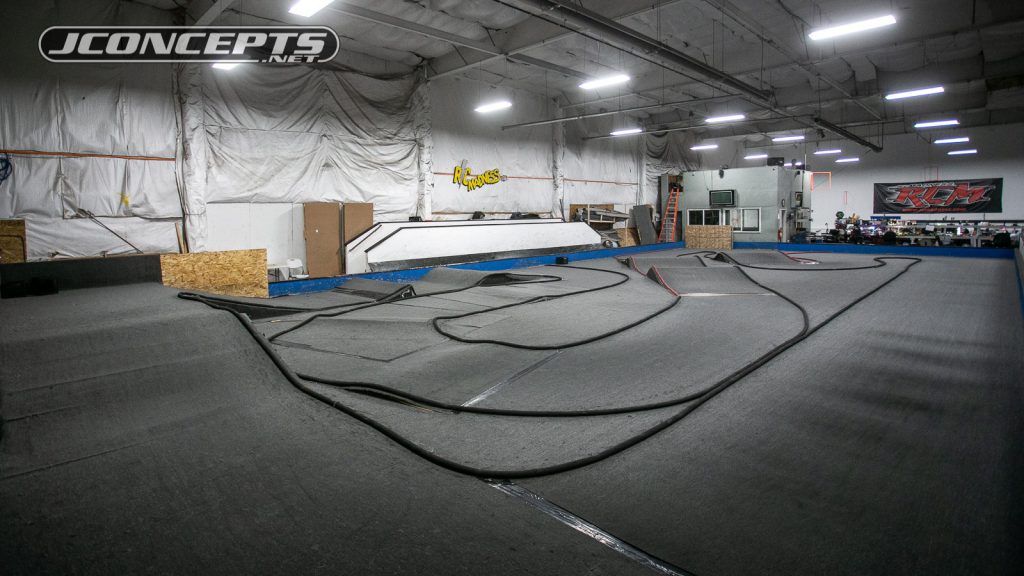 Mother Nature definitely has a mind of its own and if it were to rain, RC Madness is well equipped with a plan B…. which is an indoor carpet track. While the dimensions aren't as big as the outdoor turf track, the indoor carpet track provides a fun, guaranteed race for the wet and rainy days.
Novice
It was a delight to see a very quick novice class at the 2018 Turf Nationals. While most Novice drivers are shy to attend bigger races, these guys and gals did awesome and had a lot of fun. Congrats to Will Blanck Jr. on taking an impressive win with Zach Mitchell finishing 2nd and Aiden Bus 3rd. Check out those genuine smiles going from ear to ear!
17.5 2wd Buggy
It was a gutsy win for Eric Bresnahan in the 17.5 2wd Stock Buggy class as he battled 2nd place finisher, Robert Smith until the very end as the two crossed the line in a photo finish. Bresnahan finished .095 seconds ahead of Robert in the closest finish of the weekend. Carissa Figeski drove impressively well to take the 3rd and final spot on the podium.
17.5 Stadium Truck
Team Scream/JConcepts' John Cravotta had the 17.5 Stadium Truck class on lockdown as he was able to set TQ and go on to win in the 5-minute A-Main ahead of JConcepts' Andrew Srechovich. Andrew had the speed to compete for the win, but a mid-race mistake saw Andrew drop to 3rd, but was able to recover in the closings laps ahead of 3rd place finisher, Jay Franz.
17.5 2wd Expert Buggy
Laying it down in the 17.5 2wd Expert Buggy class was Team Scream's Andrew Bishop. Bishop earned the overall TQ and use the position to advantage as drove away from the field once the tone went off. It was impressive driving out front by Bishop and 2nd place finisher, Tyler McCormack, as McCormack moved up from 4th on the grid. Eric Bresnahan once again showcased his speed taking a 3rd in Expert 2wd.
40+ 2wd Modified
It was a slow start for NE native, Anthony Mazzara, in the 40+ 2wd Modified class, but once the tone went off during the A-Main, Mazzara made quick work of his rivals and moved to the front. With a firm grip on 1st place, Mazarra check outed and finished 8 seconds ahead of 2nd place finisher, Eddie Robinson. Local celeb, Maizer Maizer, went on to finish 3rd overall.
13.5 4wd Buggy
Jeff Statkiewicz didn't get the overall TQ in 13.5 4wd, but raced his best when it mattered most. Jeff was lights out in the 5-minute final taking home a fabulous win. Athony Jesmond and Mark Westerfield raced it out for 2nd with Jesmond finishing .2 seconds ahead of Westerfield in an exciting battle for 2nd.
2wd Modified
It was close racing all weekend in the 2wd Modified class where current 2wd National Champion, Spencer Rivkin, was able to shine in qualifying to grab the overall TQ over a very speedy Alex Kosciuszek. During the main,  AE/JConcepts' Alex Kosciuszek brought the heat to challenge for the win and was able to pass Spencer with a perfect triple landing and momentarily grab the lead. Not giving up, Spencer would return the favor with extreme pressure resulting in Alex making a mistake on the triple. The mistake was all Spencer needed to reclaim the lead and the win. The race finished with Spencer taking the win, Alex K. 2nd and Xray's Brent Sianez 3rd overall.
2wd Modified SCT
Dan Fitzgerald took an excellent Modified SCT win starting from 3rd on the grid. Alvaro Martinez fought hard to claim the fastest SCT, but a few mistakes saw Alvaro finish 2nd behind Fitzgerald. NE legend, Pat Mac & Cheese was able to bring the skill and speed to finish impressively 3rd overall.
Modified Truck
It was a 3 truck showdown in Modified Stadium Truck class between Anthony Mazzara, Caleb Stevens, and Keith Smart as the three racers qualified 1st, 2nd and 3rd. After 5 tough minutes of on-track battles, Mazzara finished 1st while AE/JConcepts' Caleb Stevens and Keith Smart battled it out for 2nd and 3rd. By just .267 seconds and 5 minutes of excellent driving, Stevens finished ahead of Smart to grab 2nd on the podium with Smart finishing 3rd.
4wd Modified
From 2wd to 4wd, the rivalry continued with high anticipation as AE/JConcepts' teammates, Spencer Rivkin and Alex Kosciuszek, go head to head again for the win in 4wd. Both drivers didn't give an inch to each other and fought for track position every step of the way for the entire 5 minutes and put on an amazing race. With multiple lead changes, Spencer crossed the line after 5 minutes and took a hard fought win. Alex K. drove in a manner we should all be proud of and finished 2nd overall. Completing the top 3, once again it was the speedy Xray driver, Brent Sianez, taking home 3rd making it 2 terrific podiums for the weekend.
Many thanks to Chris Marcy and crew for hosting the 4th Annual JConcepts Turf Nationals. It's always a pleasure to race at RC Madness as the hospitality and friendliness is overwhelming and refreshing. Thanks to all the NE racers for coming out and making an exciting, fun weekend of racing.
Here's the video for the most of the A-Mains.
A Mains from the Turf Nationals!! Share the love of racing!

Posted by JConcepts Inc on Sunday, September 9, 2018