3rd Annual JConcepts Outdoor Turf Nationals Race Info!!
Turf racing has definitely gained traction in the US with many track facilities converting from dirt/clay to an alternative surface like carpet and astro. The high pace style of driving is consistent, intense, and gaining in popularity across the US.
JConcepts introduced the Outdoor Turf Nationals 3 years ago and growing each and every year. Adding to the roster for the 3rd edition of the Turf Nats, current IFMAR World Champion Spencer Rivkin has been confirmed for the weekend and will surely add to the challenge as he won his WC title on astro in 2015. Also, with the 2-time reigning Tuf National champion also on hand, the Wizard Alex Kosciuszek looks to defend his title as the Turf Nat's only champion in modified. It will surely be a clash of the titans in September!
If you are looking to have a blast and test your astro skills against some of the best in the business, why not attend THE turf race of the year? Download the flyer, share the info, let's make it happen!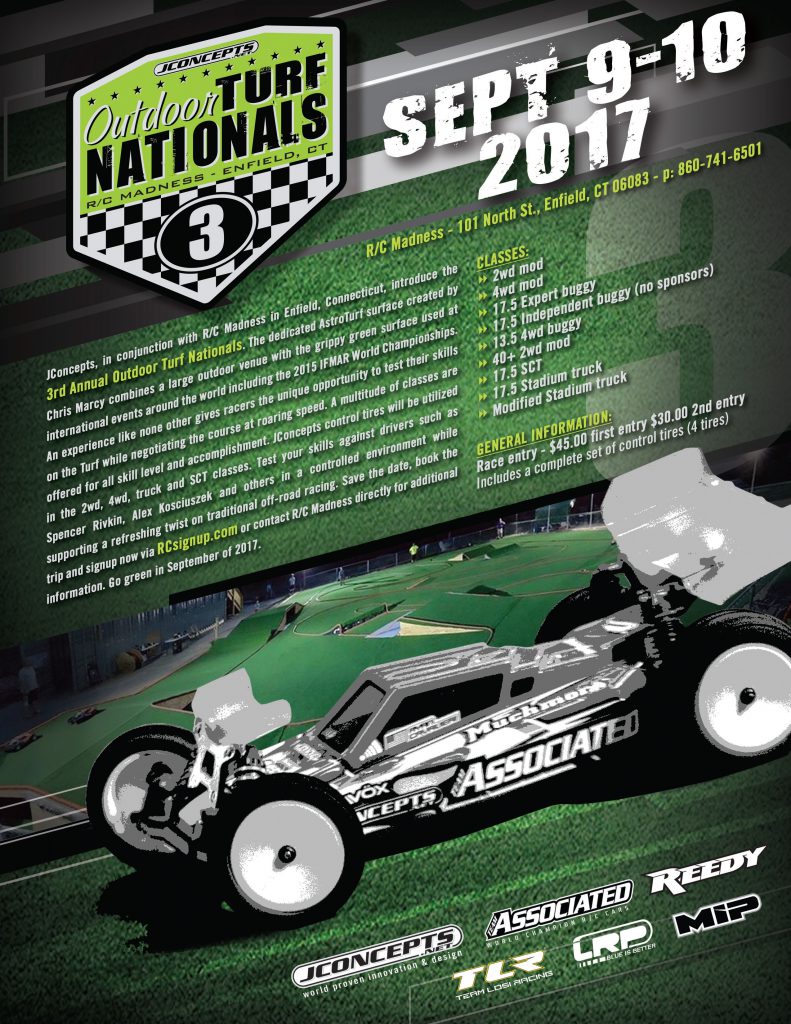 JConcepts Outdoor Turf Nationals – September 9-10th, 2017
JConcepts, in conjunction with R/C Madness in Enfield, Connecticut, introduces the 3rd Annual Outdoor Turf Nationals. The dedicated AstroTurf surface created by Chris Marcy combines a large outdoor venue with the grippy green surface used at international events around the world including the 2015 IFMAR World Championships. An experience like none other gives racers the unique opportunity to test their skills on the Turf while negotiating the course at roaring speed. A multitude of classes is offered for all skill level and accomplishment. JConcepts control tires will be utilized in the 2wd, 4wd, truck and SCT classes. Test your skills against drivers such as Spencer Rivkin, Alex Kosciuszek and others in a controlled environment while supporting a refreshing twist on traditional off-road racing. Save the date, book the trip and signup now via RCsignup.com or contact R/C Madness directly for additional information. Go green in September of 2017.
Location – 
R/C Madness
101 North St.
Enfield, CT 06083
PH: 860-741-6501
General information – 
Race entry – $45.00 first entry, $30.00 each additional entry. Entry Includes a complete set of control tires (4 tires)
Available Classes – 
2wd mod
4wd mod
17.5 Expert buggy
17.5 Independent buggy (no sponsors)
13.5 4wd buggy
40+ 2wd mod
17.5 SCT
17.5 Stadium Truck
Modified Stadium Truck
Sign-up via RCsignup.com –
Outdoor Turf Nationals on RCsignup
Local Airport – 
Bradley International Airport
Local hotel options – 
Red Roof Inn Enfield
5 Hazard Avenue
Enfield, CT, 06082
PH: 860-741-2571
Holiday Inn
One Bright Meadow Boulevard
Enfield, CT 06082
PH: 800-315-2621
Hampton Inn and Suites
20 Phoenix Avenue
Enfield, Connecticut 06082
PH: 860-741-3111