32nd Annual Electric Winter Midwest Championships (CRCRC) – Race Report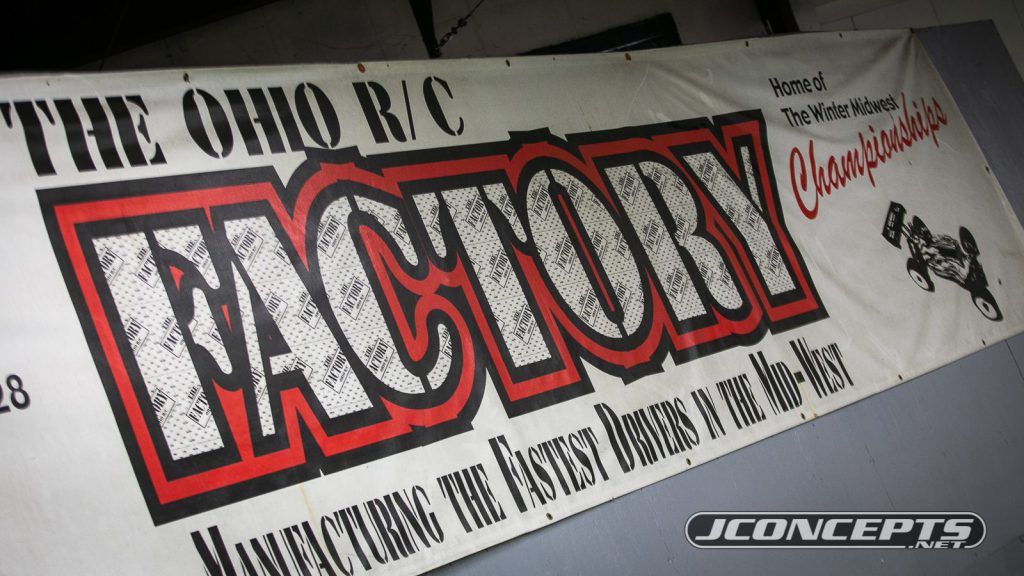 One of the longest running races in RC history, the legendary Winter Midwest Championships is now in its 32nd edition and still going strong as entries nearly hit 400 this year to kick off the 2019 indoor racing season from Jeffersonville, Ohio. Curt Schlichter and his crew at The Ohio Factory, do a radical job organizing and executing the Midwest Champs and this year was no exception. The race is fun, friendly, and filled with some of the best competition anywhere on the planet.
There was something special about this year's event as you could feel the excitement in the air that made this year a little bit different than years past. Silly Season perhaps?! Many were anxious to hit the track and show off for their new sponsors and make a name for themselves and there's no better way than to have an awesome outing at the legendary CRCRC!
This year's layout was a blast, pure and simple. The track dimensions cater to a long fast straightaway, but this layout featured a front straightaway that had a really technical triple, triple section. Truthfully, it tested everyone's jump timing…. including the pros. Next was a step up that landed into a carousel 180 slowly sinking into an off-camber super tight turn. Then, full throttle into the next corner and tackle the difficult 180 that required car rotation and precise brake control. On to the next challenge, led you into the high-speed infield that was magical and challenging at the same time. The speed singles were perhaps the hardest part of the track to master as they really tested your ability to literally fly through the singles with full control while maintaining pinpoint accuracy. Overall, everyone in the pits had nothing but good things to say about the layout and enjoyed every second of track time they got. Once again, thanks to Curt, his awesome track crew, and helpers for all the hard work and commitment to making the CRCRC one of the greatest races on the calendar year.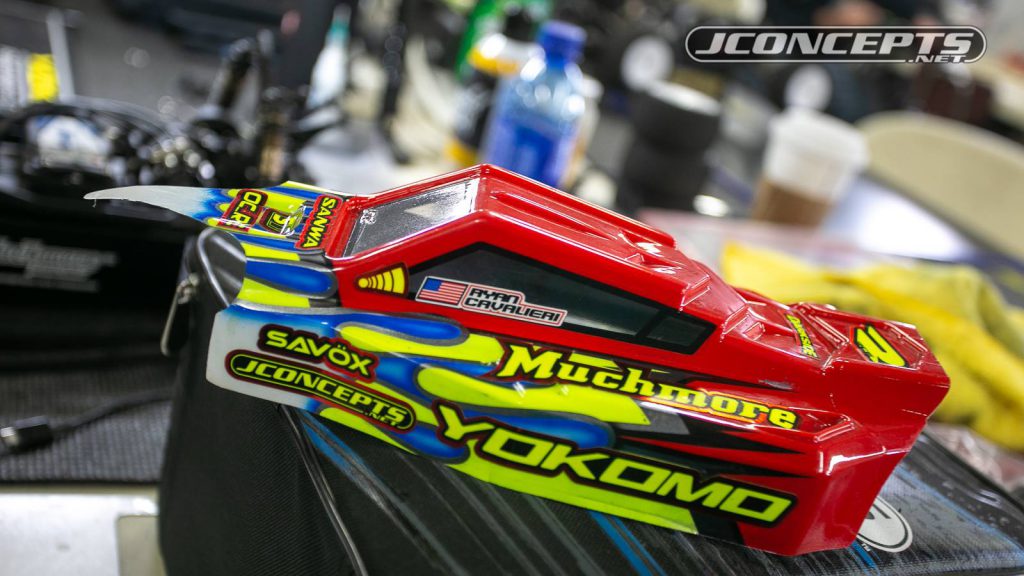 Every year, we kick off the new race season with the CRCRC race that's become part race, part debut. One of the biggest changes that were announced this year was the signing of Ryan Cavalieri to Team Yokomo and joining his good friend, Ryan Maifield once again. Other notables were Tom Rinderknecht to TLR and Trinity going modified signing Dakotah Phend to their roster. The switches and team changes were big going into 2019 and the anticipation and motivation were at an all-time high, much like every year at the CRCRC.
17.5 2wd Stock Buggy
Stock favorite, Dreighton Stoub set the pace early and came through with fast, clean runs all weekend to cap off a stellar 17.5 2wd Stock win. Andrew Knapp showed off his offroad talents and took the 2nd spot on the podium. EN Hobbie's own Galen McCreary had great pace as well and put himself 3rd overall after the triple A-Mains.
13.5 SCT
FTR's Ryder Himanek was the 13.5 SCT to beat as the young speedster took wins in A1 and A3 to seal up the overall. Andrew Stimson's great finishes in A1 and A2 took him to 2nd and Codi Lundberg grabbed the last spot on the podium.
13.5 Stadium Truck
It was a dominating weekend for Motiv's Nick Richards in the 13.5 Stadium Truck class as Richards won A1 and A2 and took the overall. TLR/JConcepts' Ean Reilley put in a great drive and an A3 win helped him seal up 2nd with TLR's Dalton Myers in 3rd.
13.5 4wd
One of the surprise moves of the Silly Season was Paul Ciccarello switching to Xray. Paul showed great speed throughout the weekend and with a clutch win in A1 and 2nd in A2, came down to a decisive A3 as the only person to contest Paul for the overall was Fantom's Dreighton Stoub. Just 1 position shy, Dreighton placed 3rd in A3 which meant Paul would win the overall. Dreighton finished 2nd while Motiv's Matt Wilbert moved up 3 spots from 6th on the grid and finished 3rd with great driving and poise.
40+ 2wd Modified
The Gentlemen's class for bragging rights, 40+ 2wd Modified is always a thriller when you have Al Horne, King of 40+ Brent Thielke, and former Worlds finalist Brian Dunbar in the mix. Add in a crazy all out start with 16 cars made it even better. Al Horne claimed the fastest 40 title after a wild race with BT finishing just 3 seconds back. Claiming 3rd was a hard-charging Brian Dunbar, who was just .5 seconds back from BT.
Modified SCT
It was TLR's Dakotah Phend leading the way in the Modified SCT class as the Phenom took A1 and A2 to seal up the overall. AE/JConcepts' Spencer Rivkin put on a great show with both Dakotah and eventual 3rd place finisher, Austin Horne, to land himself in 2nd overall with a terrific win in A3. Austin Horne displayed amazing speed and much-improved composure that saw him take down 3rd.
Modified 4×4 SCT
It was the Bornhorst show in Modified 4×4 SCT as JB won A1 and A2 with relative ease. Following up in 2nd was TLR's Bradley Rippee and the 3rd spot went to Tyler Heavner for TLR.
Modified Truck
It was a truck battle for the ages in Modified Stadium Truck as Mod truck is back at the big races. Showing phenomenal speed to win, TLR's Dakotah Phend rose to the top with clutch driving in A1 and A2 to win the overall. Yokomo/JConcepts' Ryan Maifield finished with a 2nd in A2 and a win in A3 to earn 2nd on the podium. FTR's Aydin Horne had a great weekend displaying the hard work he's put in to earn him 3rd.
Modified 2wd
Absolutely fast, TLR's Dakotah Phend delivered an amazing performance in 2wd Modified and once again showed his talented driving style saw him win A1 and A2. A gutsy win in A3 gave Yokomo/JConcepts' Ryan Maifield enough points to tie-break for 2nd over AE/JConcepts' Spencer Rivkin. Rivkin drove with ferocity and tremendous speed and perhaps the only true rival to Dakotah in 2wd as he was just only a second back from Dakotah in both A1 and A2.
Modified 4wd
The superclass, 4wd Modified, saw the heavy hitters really excel as the slick tires and monster power made for a gnarly show. Yokomo/JConcepts' Ryan Maifield came out swinging with a TQ effort and tone to tone wins in A1 and A2 to lock up the top spot. Tekno's Joe Bornhorst displayed awesome speed to contest for wins and put himself 2nd on the podium. AE/JConcepts' Alex Kosciuszek built up his speed throughout the weekend and saw the Wizard peak at the right time to grab himself a podium spot in 3rd.
2wd Mod Dash for Cash Race
The Dash for Cash race was absolutely awesome. Thanks to X-Factory for contributing to the fun and excitement as they took the A main field of 2wd and 4wd Modified and made it a money race with inverted starting grid order.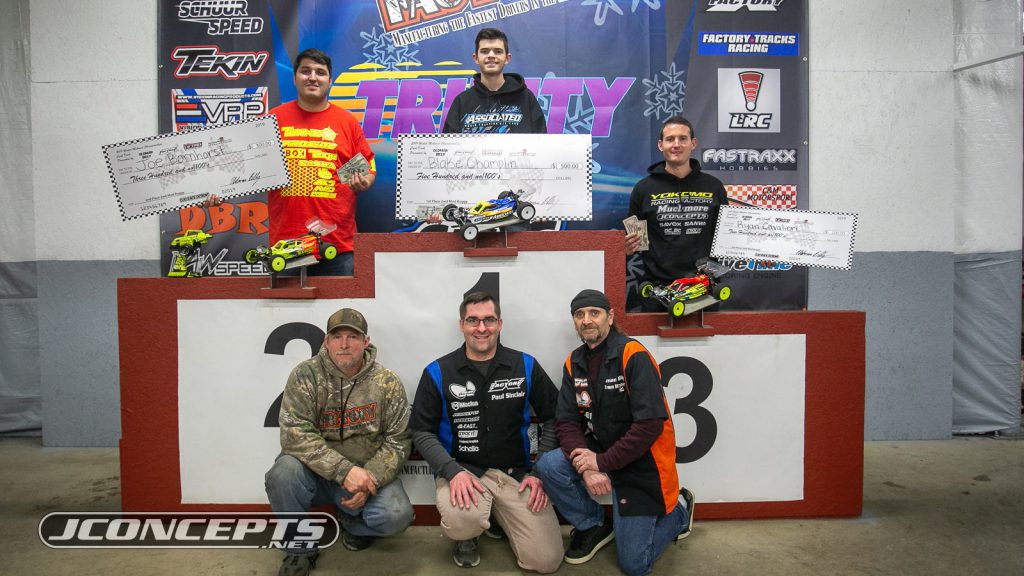 1st – Blake Champlin ($500)
2nd – Joe Bornhorst ($300)
3rd – Ryan Cavalieri ($200)
4wd Mod Dash for Cash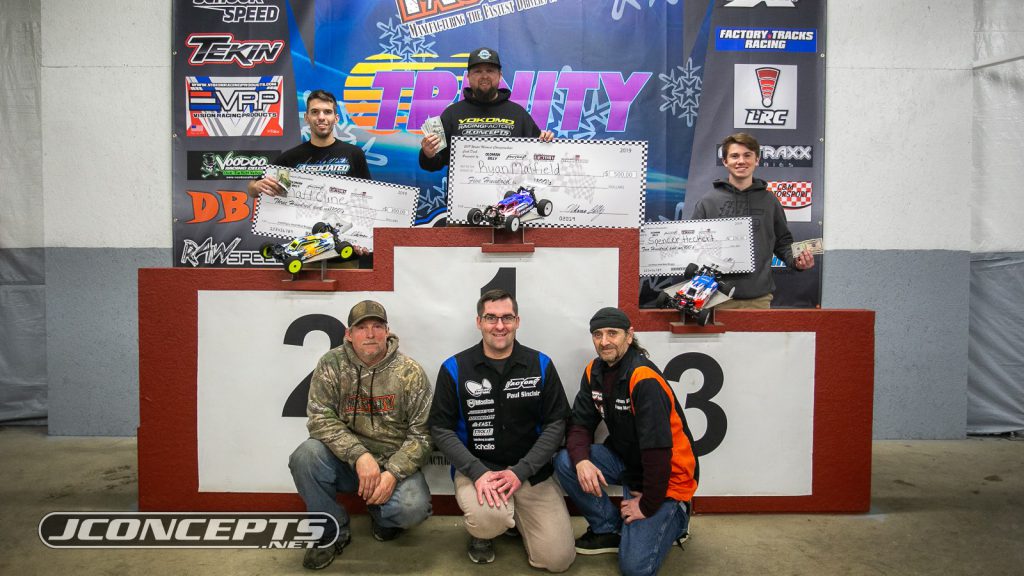 1st – Ryan Maifield ($500)
2nd – Matt Cline ($300)
3rd – Spencer Heckert ($200)
2wd and 4wd Modified Dash for Cash!! Inverted start order and $1000 on the line thanks to X-Factory. Who is gonna win?!

Posted by JConcepts Inc on Sunday, January 13, 2019