2nd Annual Palmetto Classic
The 2nd annual Palmetto Classic took place this past weekend and was hosted by Beach RC Hobbies. Several JConcepts drivers were in attendance and Eric Hanna sends us this report from the weekend…
"Griffin and I attended the 2nd annual Palmetto Classic race in Myrtle Beach SC. Hats of to Brent Densford, the owner of BeachRC Hobbies and his crew. Pete Funk also did a great job keeping the program rolling with a total of 154 entries. They gave out some of the coolest trophies.
Griff managed to TQ both 2wd and 4wd. Both were 10 min mains and he ended up with 2 wins.
In 2wd Braydon Obremski kept Griffin honest until he had a radio issue. Griff would go on to take the win after the 10 min main.
In 4wd we were worried a bit about making 10 minutes so we made a few adjustments with the Tekin Hotwire to tone down the esc. Our Tekin 6.5 motor was still screaming down the straightaway but the adjustments worked great. After the 10 min main, the temp was down and he had plenty of voltage left in his batteries!
Both Serpents once again worked great all day. We made a few small minor adjustments to the cars and it paid off!
We ran JConcepts blue compound Dirt Webs in the first round of qualifying. In the second round we went with a less aggressive tread pattern with traction up and the JConcepts Bar Flys worked great. He was able to secure both TQ's after two rounds of qualifying. For the 3rd round we had nothing to loose so we tried a ghost pin tire. He went his fastest with them but they were very inconsistent, For the main, we went back to our trusty blue Dirt Webs.
Thanks again for all the support from you guys. It wouldn't be possible with out your help!"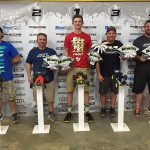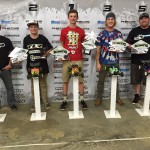 Top 5 in 2WD – Griffin Hanna, Monty Reeder, Kevin Bullock, Patrick Rossiter, Jason Smith
Top 5 in 4wd – Griffin Hanna, Alex Mueller, Braydon Obremski, Austin Odum, Josh Knight
Visit the BeachRC Facebook page for more photos and event info.