26th Annual Arizona State Championships – Presented by JConcepts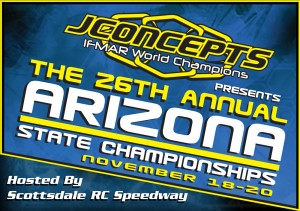 JConcepts and Scottsdale R/C Speedway for the 2nd year in a row have teamed up to bring a special event to Scottsdale, AZ on November 19-20, 2011. The 26th Annual Arizona State Championships is back at SRS once again and requires very little introduction. Racers flock to SRS and for good reason, it's simply one of the best 1/10th venues in the world.

A fresh track and layout is expected for the this 26th annual event. Conveniently located just 15 minutes from the Phoenix airport make it just a short drive away from Scottsdale R/C Speedway. All popular 1/10th and Short Course classes are being offered, featuring 4 rounds of qualifying and extended B and A main events.
All racers will receive an official JConcepts t-shirt with their first entry and have access to a select amount of top-shelf prizes throughout the weekend courtesy of event sponsors. Awards will be presented courtesy of Scottsdale R/C Speedway to the top 3 drivers from each class.
The Southwest is the home of a passionate group. Reserve the dates, book the trip and signup for the 2011 JConcepts Arizona State Championships today. Stay up-to-date by visiting the 2011 Arizona States on Facebook or by visiting JConceptsEvents.com
Available classes
· Novice SC
· Novice open wheel
· Stock buggy
· Super stock buggy
· Modified buggy
· Modified 4wd buggy
· Modified truck
· Pro Lite SC
· Pro 2 SC
· Pro 4 SC
Race Date
JConcepts Arizona State Championships
November 19-20, 2011
Scottsdale RC Speedway
3023 N Scottsdale Rd
Scottsdale, AZ 95251
(480)945-2186