2018 Southern Nationals Recap!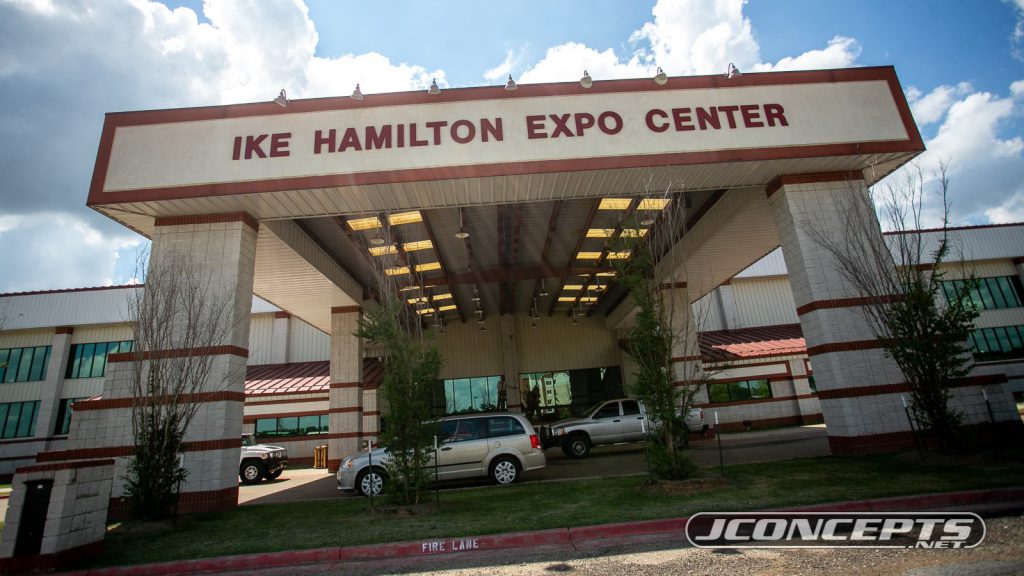 There's no doubt that the Southern Nationals is a favorite among nitro racers that are in the know. Capped at about 400 entries, makes for days that aren't too long making it feel ike a marathon. The Southern Nationals is well known for awesome track layouts, big jumps, and a fantastic facility and the 2018 Southern Nationals definitely lived up to the hype. The golden egg is that it featured one of the best track layouts of 2018.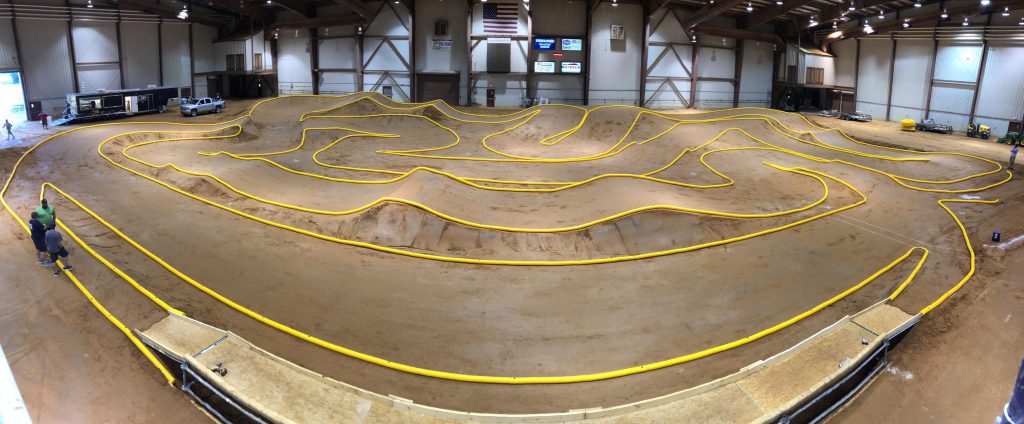 Not only was the track praised among online viewers and die-hard racers from all over the world, but it was also a huge hit among the racers at the event. The layout flowed remarkably well and featured a crossover that actually worked. The jumps were lofty and built with lips that were even across the face making it fun every time you hit the nicely sculpted doubles. Track evolution gave the track a lot of character and for the most part, enjoyed by all as it added to the challenge of being on top of tires and setup. Kaleb Hamby and his crew did a fantastic job making the event fun and everything flowed nicely. Without a doubt, thanks to Kaleb and his crew for a great race and for all the hard work!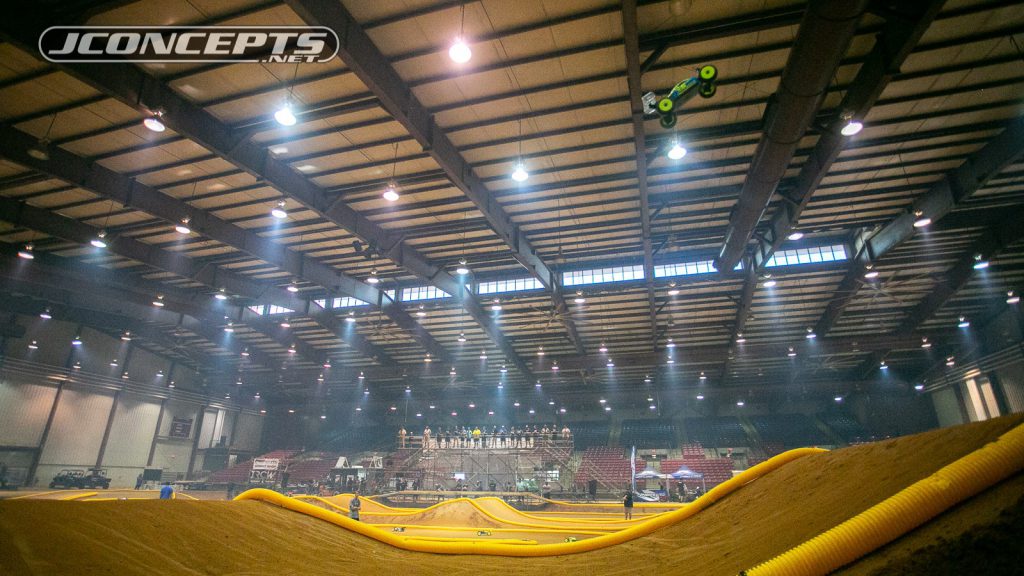 Always fun to launch jumps, especially when the jumps are shaped nicely with awesome takeoffs AND landings.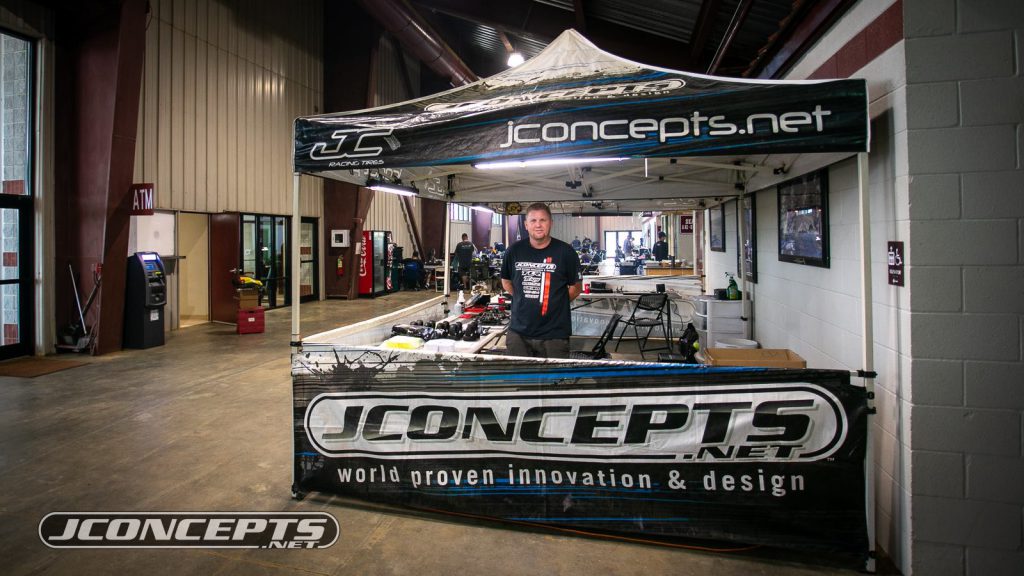 It's always great to help racers regardless of what team they run for. On this race weekend, we had JR Mitch on hand for product support, race support, team support, and advice as he's one of the most experienced racers around in both 1/10th and 1/8th. If you're at a race, don't hesitate to stop by the JConcepts tent for questions and help. We'll get you going in the right direction.
4×4 SCT
Boodrow Nicholson was on point all weekend in the 4×4 SCT class as he earned the overall TQ and took it down A1 and A2 to grab the overall. Bruce McCallum kept Boodrow honest, but DNF in A2 didn't allow Bruce to contest for the overall. With a clean drive in A3, Bruce was able to net himself 2nd with Myk Willis posting 3rd.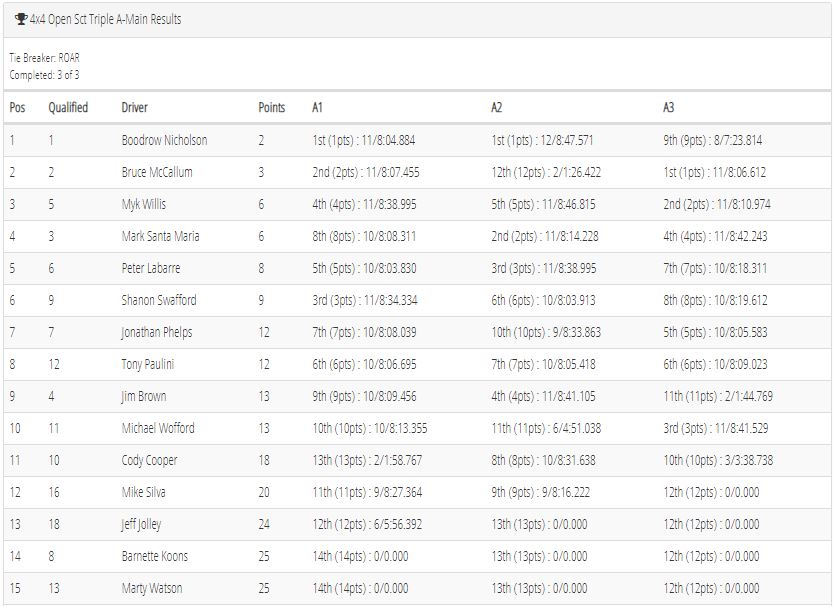 Sportsman Ebuggy
James Williams couldn't have had a better weekend in the Sportsman Ebuggy class as he snatched TQ and the overall in A1 and A2. Will Kaess put in a remarkable drive to bump into the A and finish 2nd behind James with two, 2nd place finishes during A1 and A2. 7-year-old Phi Nguyen, has only been driving for 3 months, but found himself in the hunt and astonishingly finished 3rd. Ben Lewis and Moe Agha rounded out the top 5 finishing 4th an 5th respectively.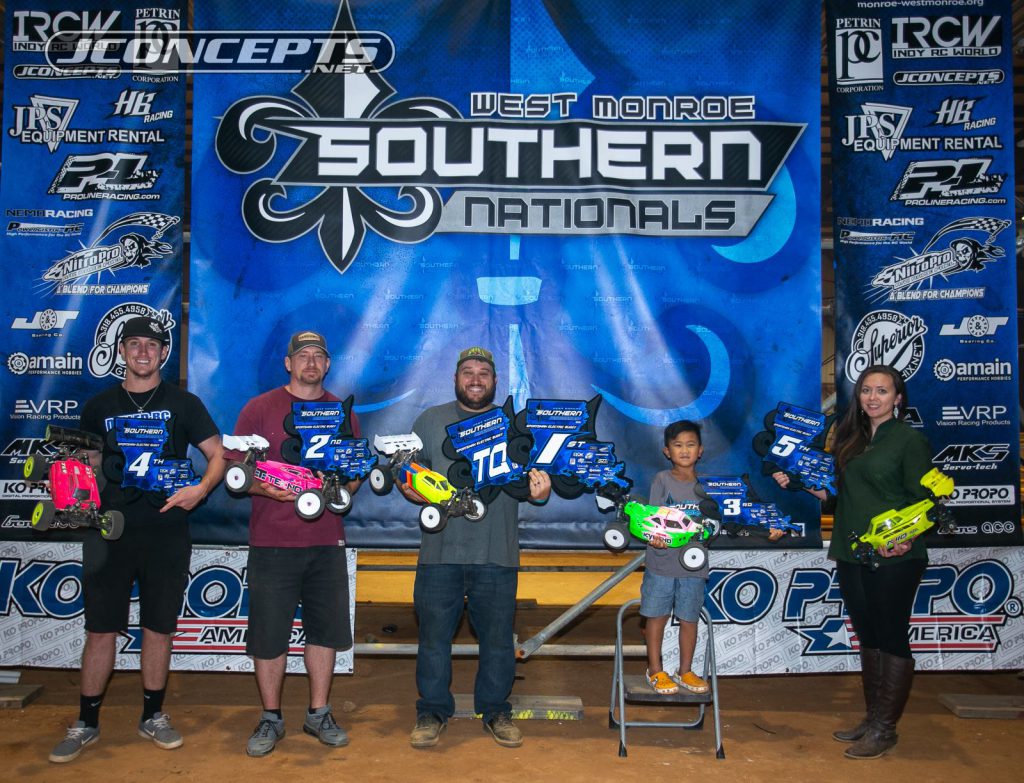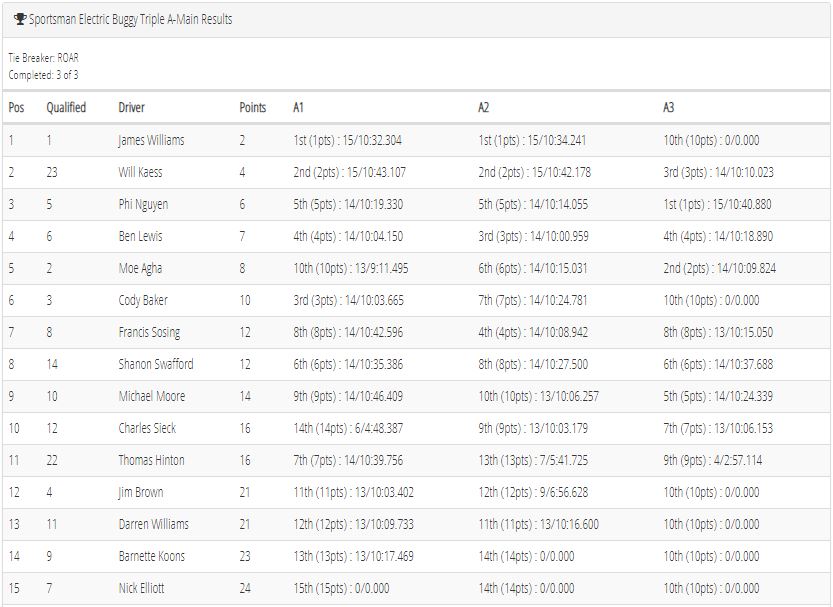 Sportsman Nitro Buggy
The Sportsman Nitro Buggy racers brought the show. With multiple lead changes between Cody Baker, James Williams, DJ Simpson, it was ultimately Tyler Stephens working his way through the field and took the lead on lap 30. From there, Tyler made it happen and took home the win. Fighting for 2nd place till the end was Francis Sosing and Eddie Garza. Francis edged out Eddie by .5 seconds for 2nd. James Williams made the top 5 with 4th and Justin Roy rounding out the top 5.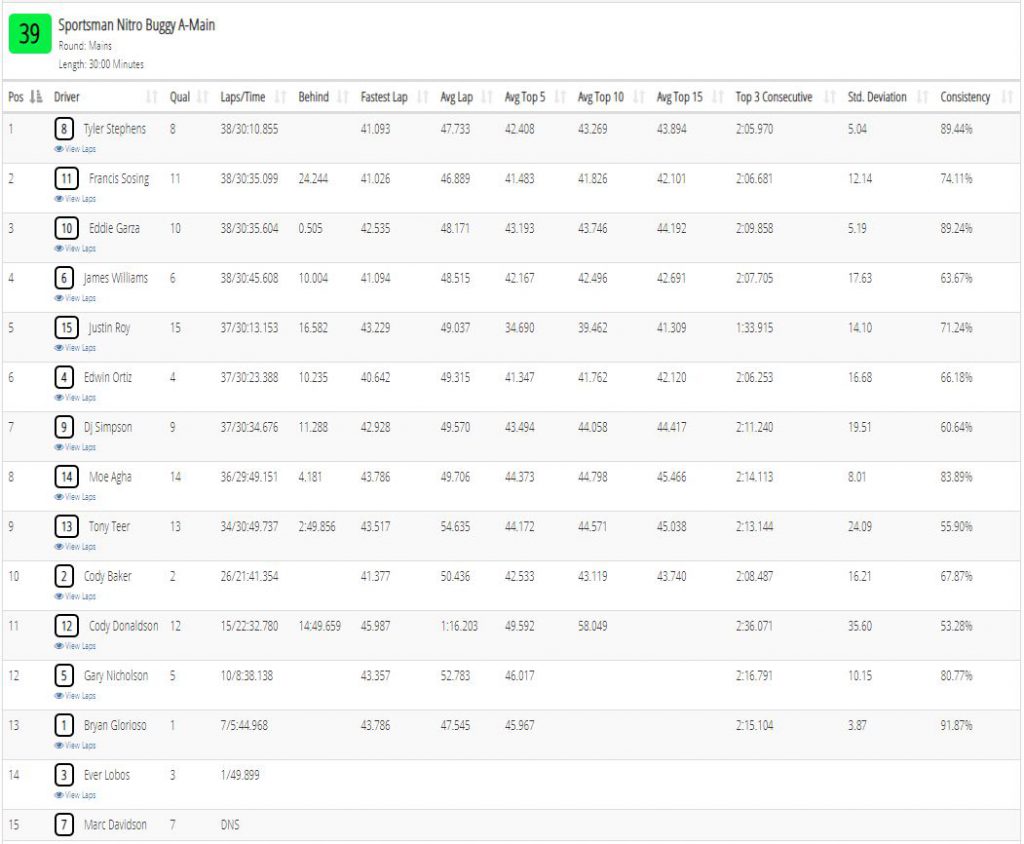 Open Ebuggy
Kody Watson was the racer to beat in the Open Ebuggy class as Watson displayed his dominance in qualifying to earn the overall class TQ and then went on to win A1 and A2 to sealed the deal as the class champion. Brian Rohde finished 2nd with Jake French 3rd, Mike Ankey 4th, and Austin Bauer taking home 5th.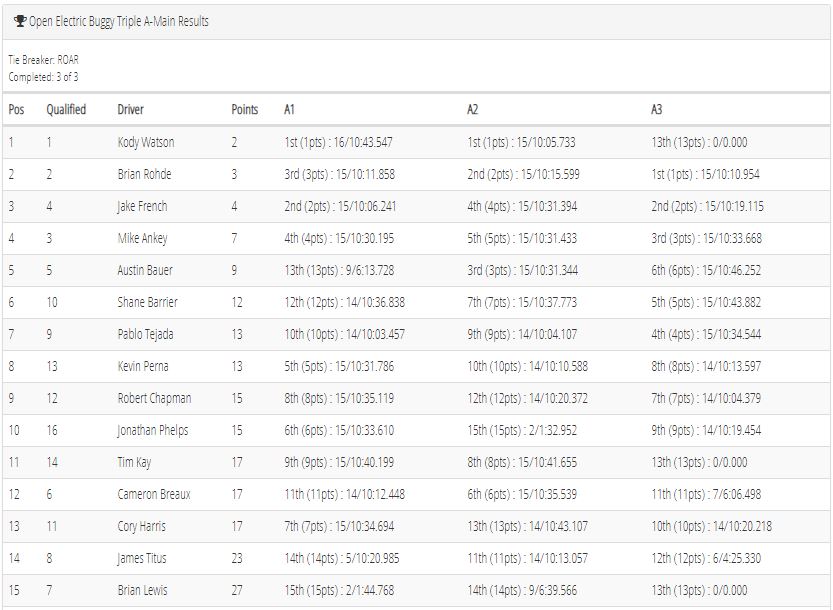 Open Nitro Buggy
Hats off to Agama's Johnathon Reeves on his outstanding drive in the 30 minute final of Open Nitro Buggy. Reeves and 2nd place finisher, Kody Watson put on a show going blow for blow fighting over the lead. Jake French finished in a solid 3rd place with Cody Avant 4th and TLR's Wade Moore taking home 5th.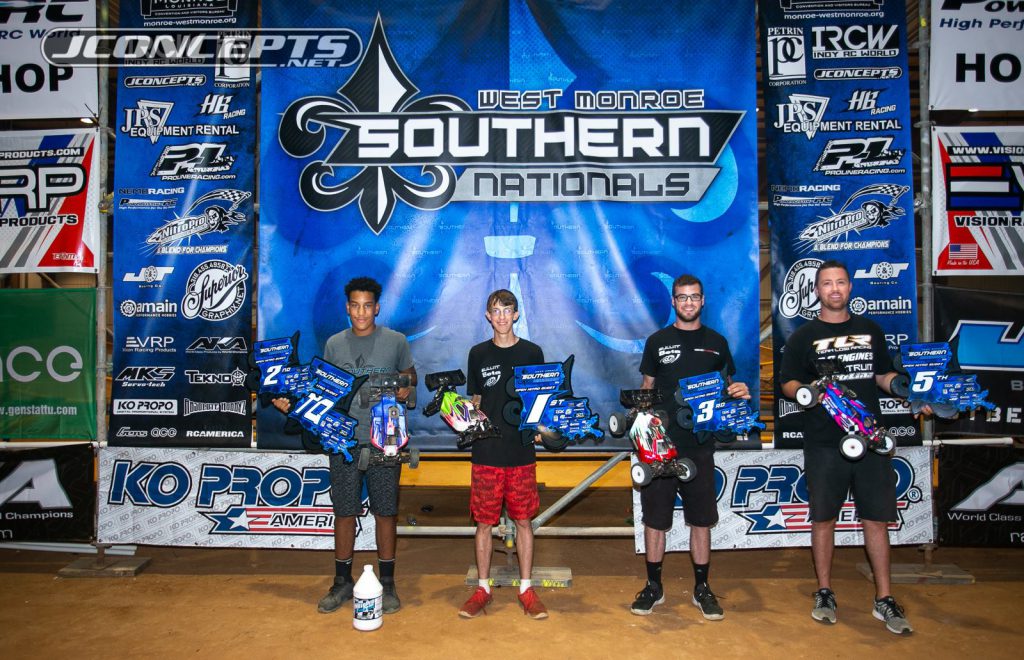 Open Nitro Truggy
TLR's Wade Moore was on fire over the weekend with a TQ and win effort in the Open Nitro Truggy class, but it was HB Racing/JConcepts' Kayla Espinel stole the show. At her first ever Southern Nationals appearance, Kayla quickly adapted to the track and qualified directly into the A main to start 5th. Slowly she made quick work of her competitors and moved up to 2nd and only finished 4.6 seconds back of Wade. Billy Tylaska was also in the hunt and was only 6 seconds back of Kayla after 30 intense minutes. Tekno/JConcepts' Pablo Tejada's smooth driving was able to net him 4th with TLR/JConcepts' Robert Chapman right behind in 5th.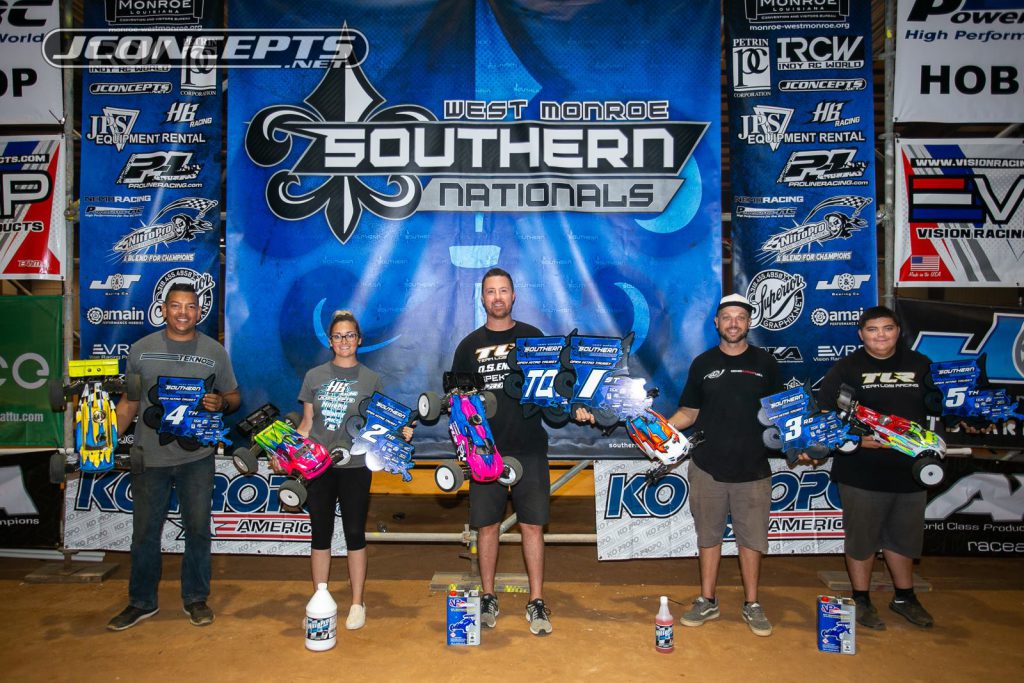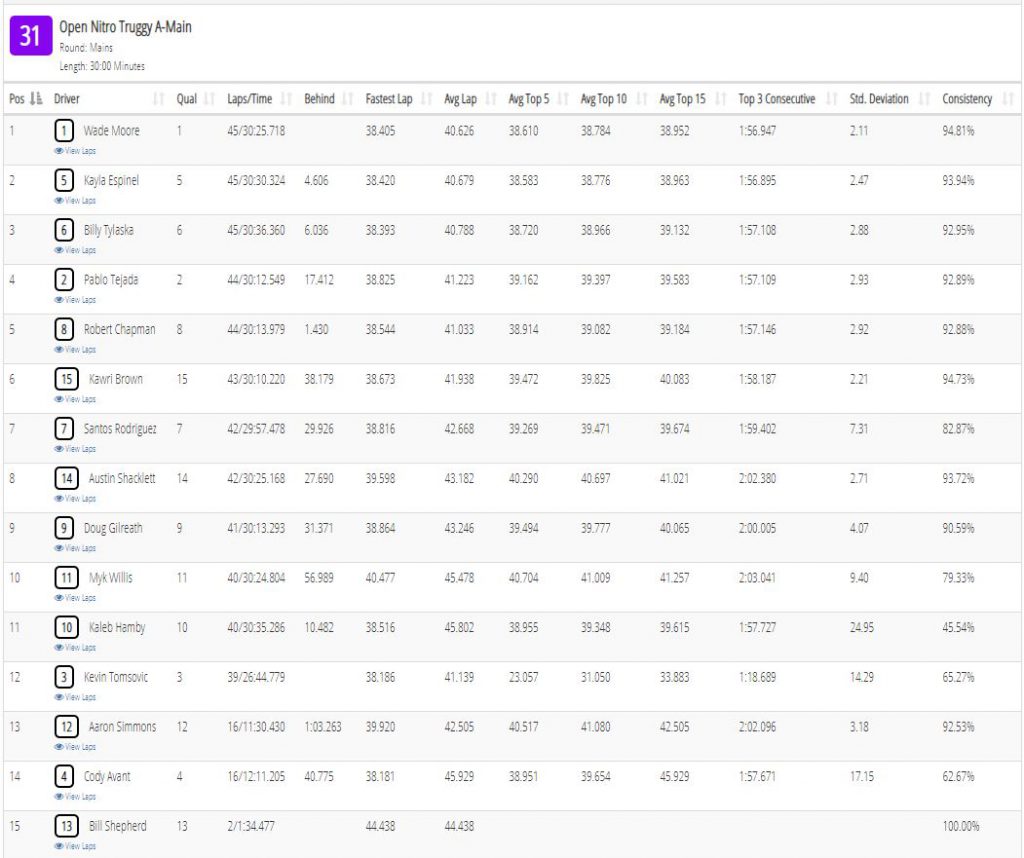 Etruggy
It's always a great battle in the Etruggy class and this year's star was AE/JConcepts' William Ables as he set the TQ and finished out on top after the triple A's. Tekno's Joey Bourdon put in a great fight and finished 2nd with AE's AJ Schumacher 3rd, John Bernard Jr. 4th and Jonathon Reeves 5th.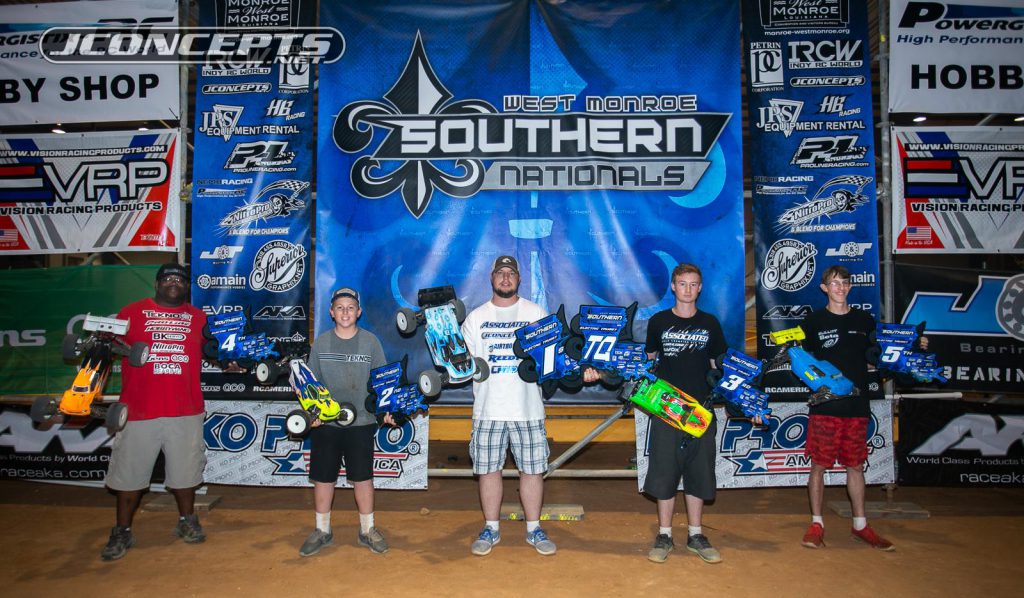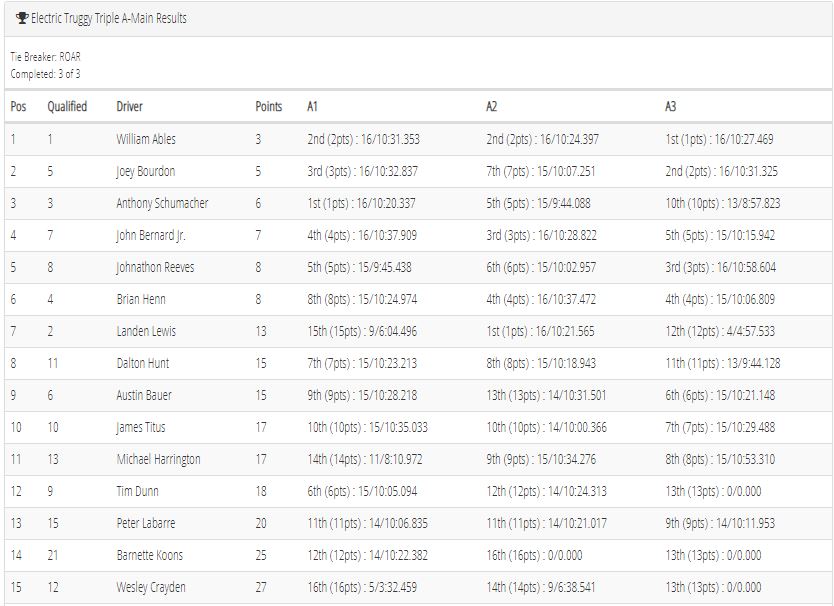 40+ Nitro Buggy
It's always a crazy race in the 40+ Nitro Buggy class as HB Racing/JConcepts' Shane Ogden took the exciting victory on the penultimate lap. With a clean pass on Tekno/JConcepts' Jimbo Kvidera, Ogden took over the lead and was able to hold out for the win. Jimbo finished 2nd with AE/JConcepts Jeff Keeton 3rd, Billy Tylaska 4th and Kevin Tomsovic completing the top 5.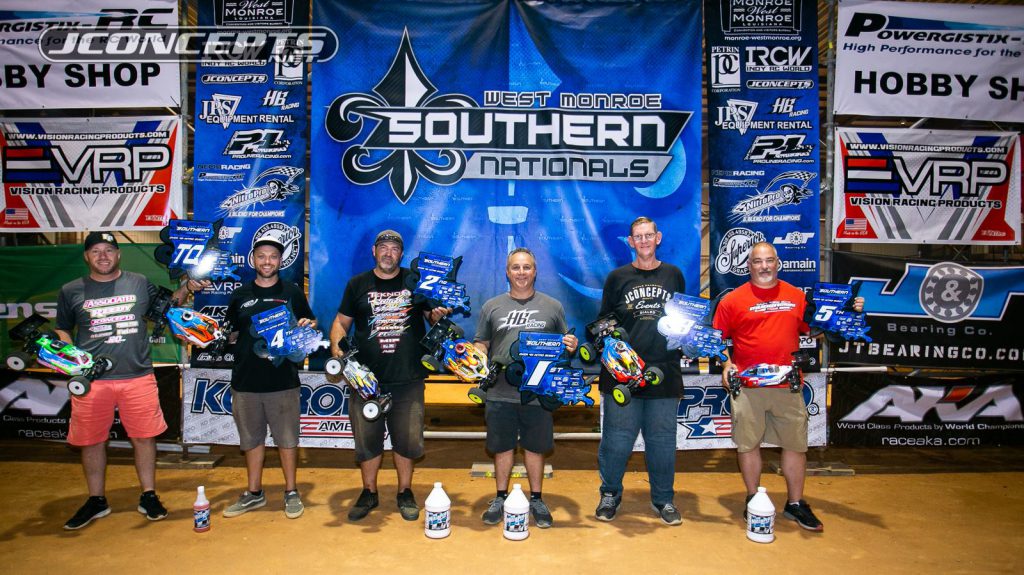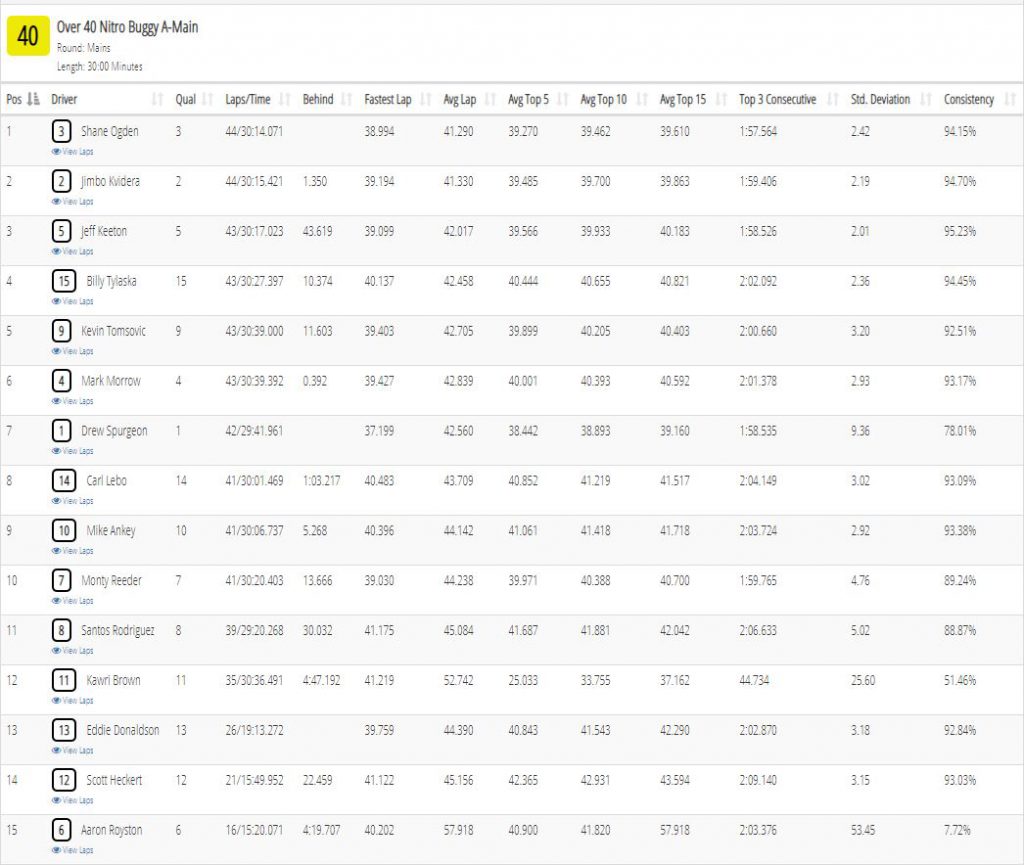 Pro Ebuggy
Tekno's Joe Bornhorst and Ryan Lutz put on a great show in the Pro Ebuggy class as they battled for the win in A1 and A2, but it was Bornhorst's weekend as he was able to grab victories in A1 and narrowly beating Lutz in A2 by .3 seconds. Tekno's Tyler Hooks, Serpents' Brandon Rose, and TLR's JR Mitch all finished with 6 points with the tie-breaker going to Hooks for 3rd, Rose 4th, and Mitch 5th.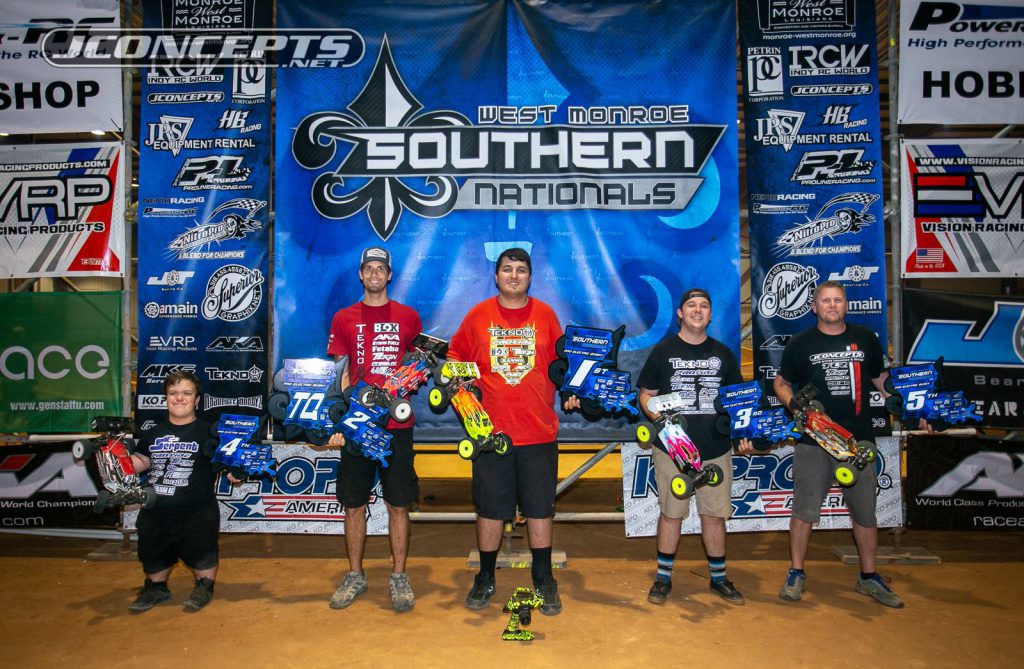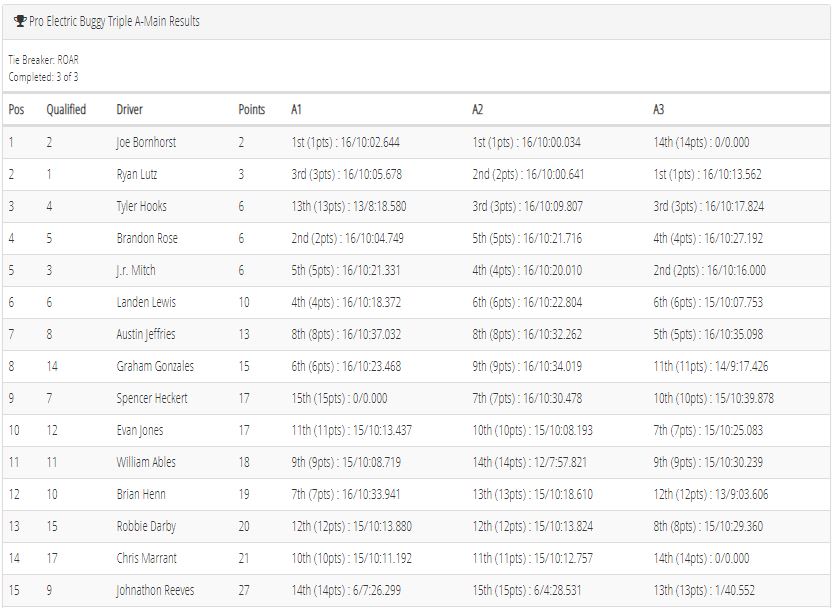 Pro Nitro Buggy
Mugen's Adam Drake was up for the challenge this weekend as he drove with speed, experience, and consistency that was unmatched by the rest. Once in the lead, Drake used his 1 pitstop less strategy perfectly and defended his position from attacks by his race rivals, HB Racing/JConcepts' Cole Ogden and Tekno's Joe Bornhorst. After 45 minutes of some entertaining and close racing, Drake crossed the line to grab victory with Bornhorst 2nd, Ogden 3rd, TLR/JConcepts' JR Mitch 4th and HB Racing's Dillon Caldwell with a happy 5th.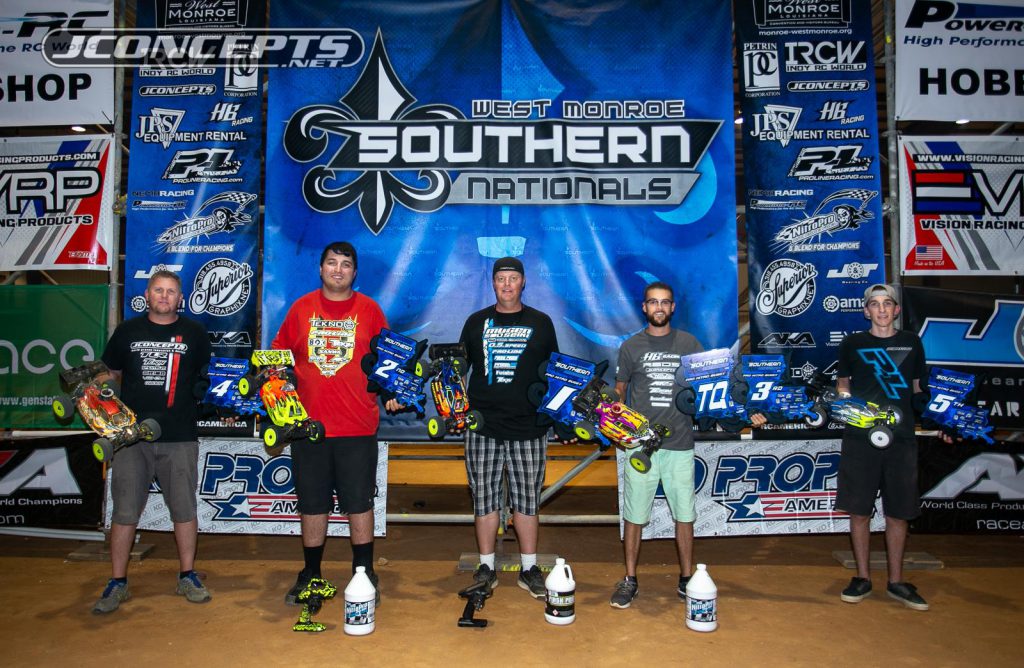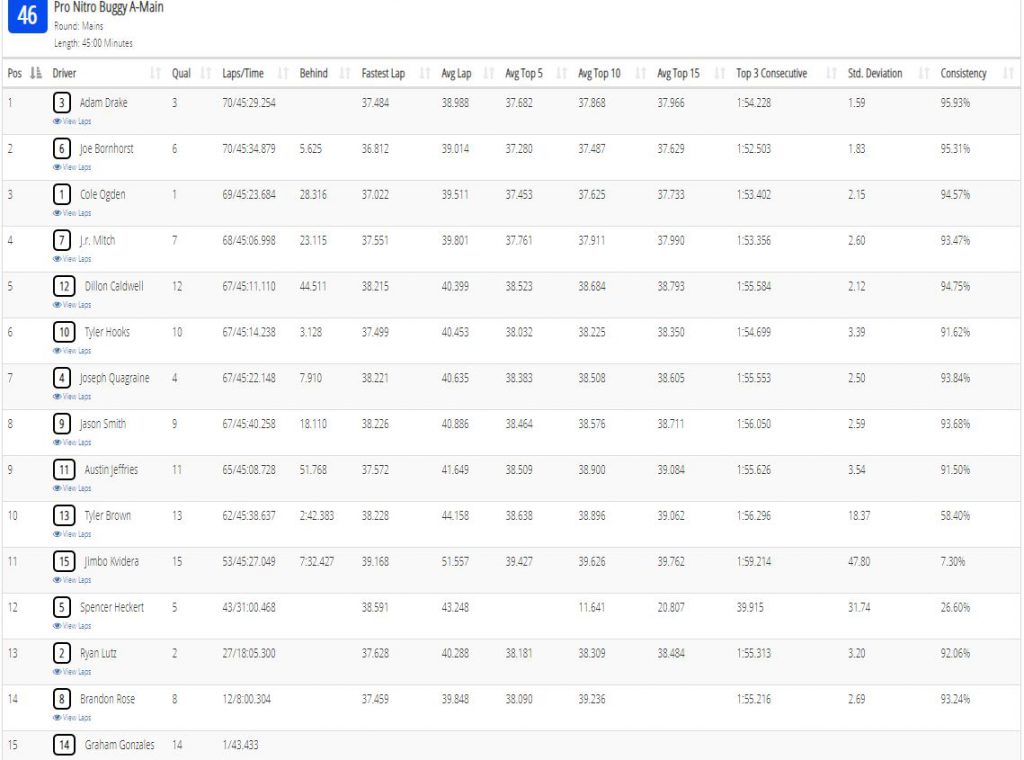 Pro Nitro Truggy
It was an unfortunate race for Pro Nitro Truggy TQ, Tekno's Ryan Lutz, as he looked dominant for 34 minutes until he suffered a mechanical and was forced to retire. While unfortunate for Ryan, it was a gift for his Tekno teammate, Joe Bornhorst, as he inherited the lead and closed it out with a gap to 2nd and a class win. HB Racing/JConcepts Cole Ogden fought his way back after a flame out and finished out with amazing driving for 2nd. It was a great weekend for Serpents' Brandon Rose as he moved up 2 spots from his qual spot to grab 3rd overall. Mugen's Adam Drake found the 4th step and finished just ahead of JQ's Joseph Quagraine, who finished just behind his captain in 5th.