2018 Monster Truck Event Schedule
2017 was a monster year for JConcepts as we attended and supported some of the best, action packed R/C monster truck events from around the nation. For 2018, JConcepts has decided to step it up to the next level, filling out a schedule fueled by our passion and love for R/C monster trucks. With 8 events booked for 2018, the excitement and energy are going to be off the charts. Click on the image below and hit save or download the 2018 Monster Truck Event PDF file for easy future reference.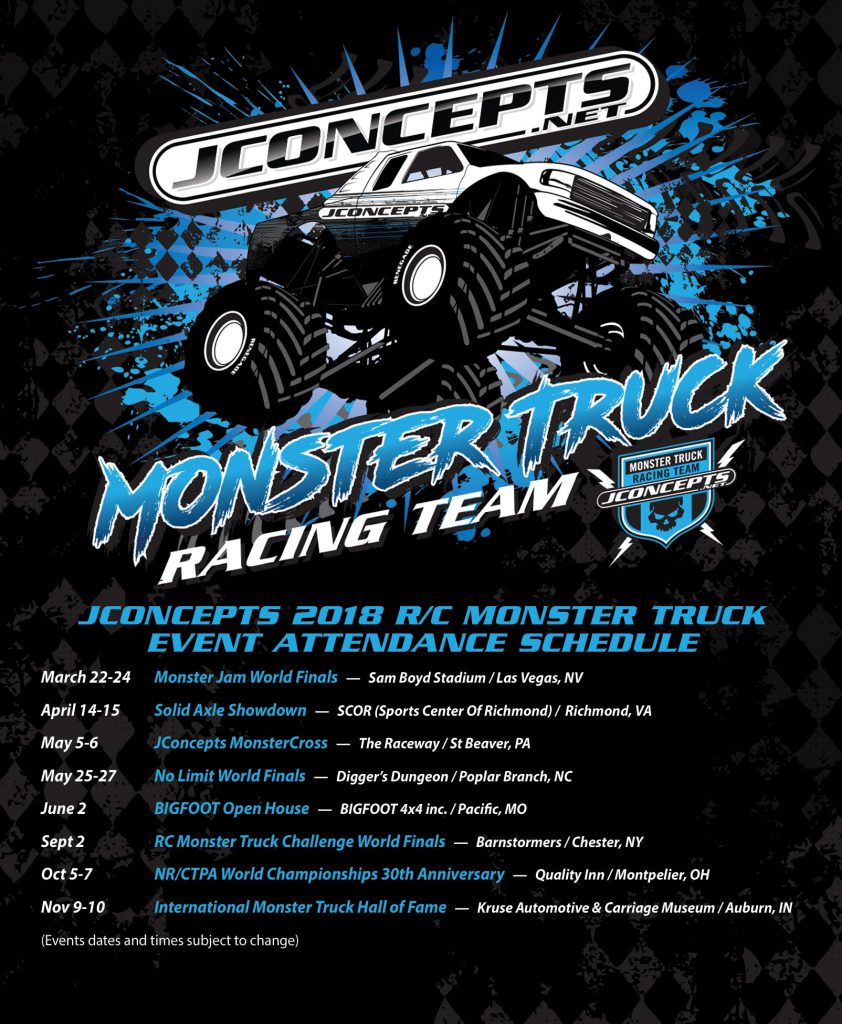 Mark your calendar and join us at any one of these unique events starting with March 22nd – 24th at the Monster Jam World Finals where JConcepts will take part in the R/C Monster Jam World Finals Performance which coincides with the Monster Jam Party in the Pits in Las Vegas. This is the perfect opportunity to Meet and Greet with some of the world famous Monster Jam drivers during the pit party and take in some R/C monster truck action.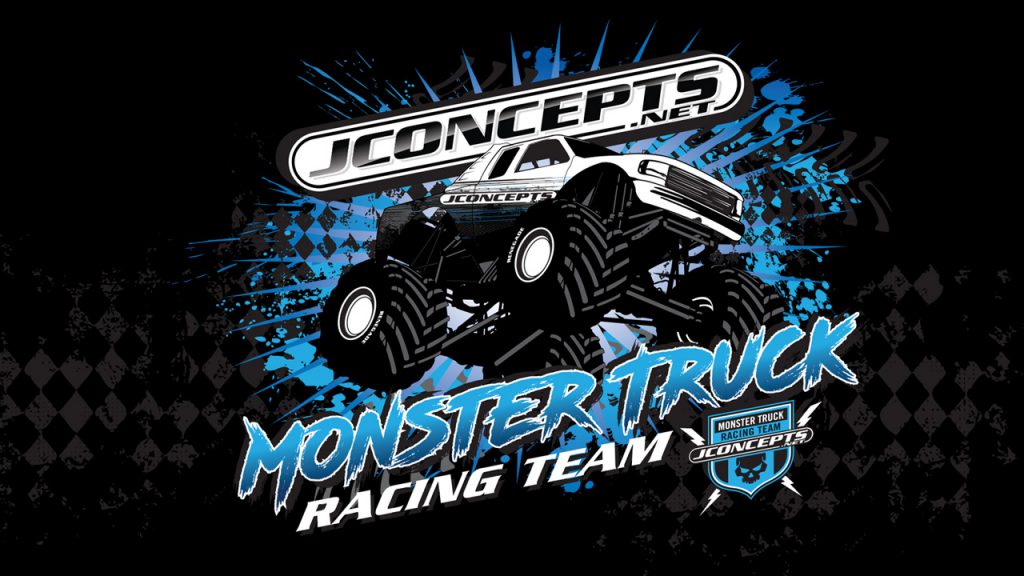 After kicking off the year with the Monster Jam World Finals Performance, we invite you to bring your trucks and compete at the other thrilling events filled with ultra-competitive side-by-side bracket-style racing in various classes like Pro Mod, 2.2, Retro, etc. Of course, a proper monster truck event wouldn't be complete without a Show & Shine competition to highlight the creative minds and the legendary builds. The fan favorite, Freestyle competition is always a show stopper crowning the craziest, radical carnage that borders the fine line of polished performance.
An event set out to be different from the rest is the 1st Annual JConcepts MonsterCross held on May 5th – 6th in St. Beaver, PA. Borrowing ideas from 1/10th scale off-road racing, multiple trucks will go wheel to wheel in heat races to sort qualifying for Sunday's main events. The concept is to give more racers more track time and to determine who truly owns the baddest and fastest truck in the land.
The popularity of Mega trucks is on the rise and with the recent JConcepts releases of Dennis Anderson's King Sling body, Fling King mega tires, and Dragon wheels, the competition is going to be fierce. At these select events, you can get the latest cutting-edge Mega Truck builds and compete with others to test out your own custom designs.
Are you ready? We are!

March 22-24 Monster Jam World Finals — Sam Boyd Stadium / Las Vegas, NV
**For spectating only**
April 14-15 Solid Axle Showdown — SCOR (Sports Center Of Richmond) /  Richmond, VA
**Mega Truck Exhibition**
May 5-6 JConcepts MonsterCross — The Raceway / St Beaver, PA
**Mega Truck Class Offered**
May 25-27 No Limit World Finals — Digger's Dungeon / Poplar Branch, NC
**Mega Truck Class Offered**
June 2 BIGFOOT Open House — BIGFOOT 4×4 inc. / Pacific, MO
Sept 2 RC Monster Truck Challenge World Finals — Barnstormers / Chester, NY
**Mega Truck Class Offered**
Oct 5-7 NR/CTPA World Championships 30th Anniversary — Quality Inn / Montpelier, OH
**Mega Truck Class Offered**
Nov 9-10 International Monster Truck Hall of Fame — Kruse Automotive & Carriage Museum / Auburn, IN
(Event dates and times are subject to change without notice)