2018 Fuel Nationals Racing Memories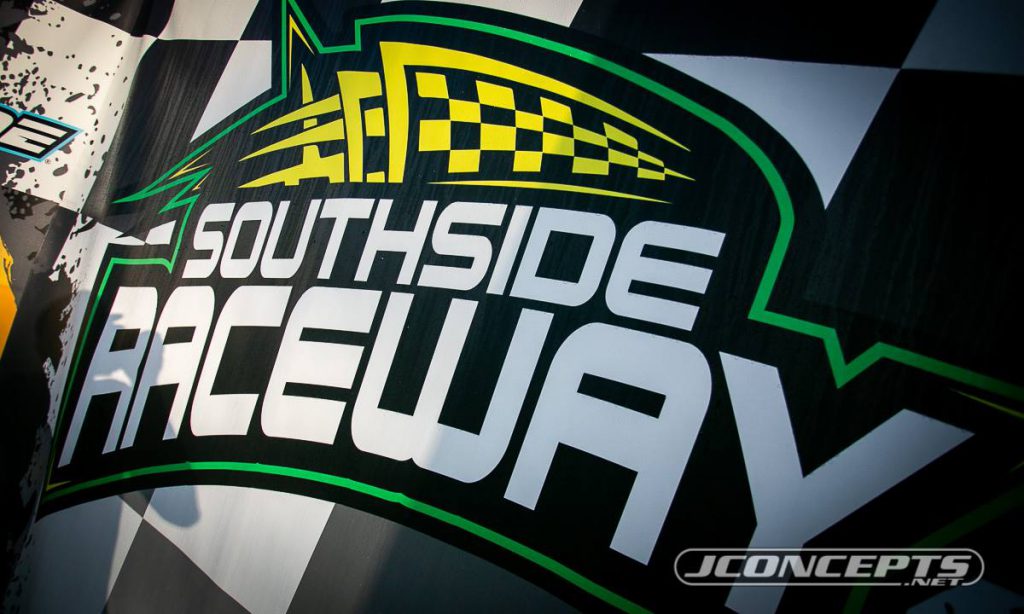 2018 Fuel Nationals was held at Southside R/C Raceway in Lake City, Florida. The Southside crew worked their butt off to get the track built, ready and maintained for Fuel Nationals and it was no easy task.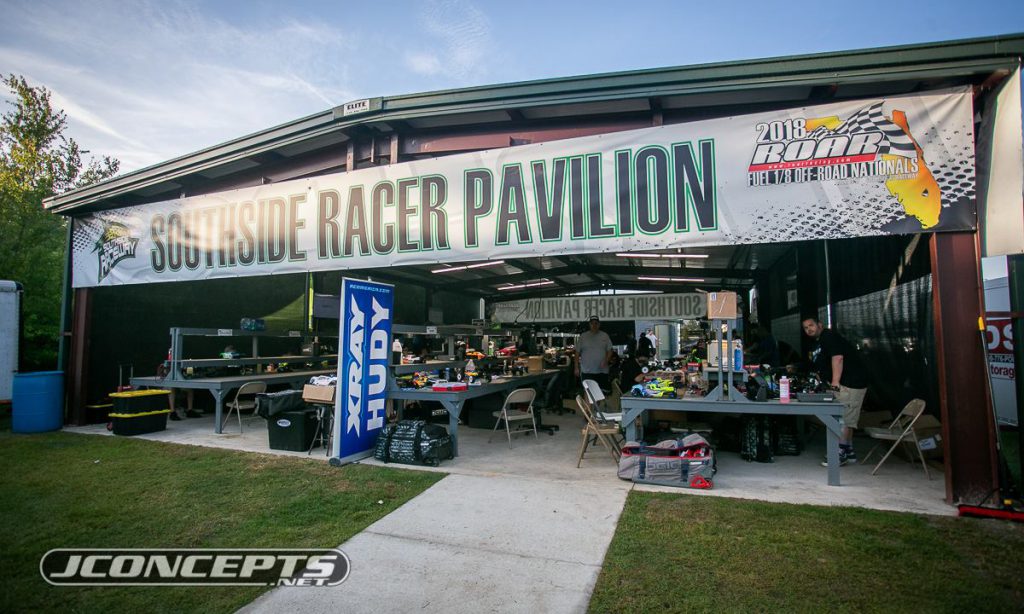 A brand new Racer Pavilion was constructed to keep the racers dry from the elements. It's always nicer to pit together under the same roof as it's just more fun with everyone in the same area.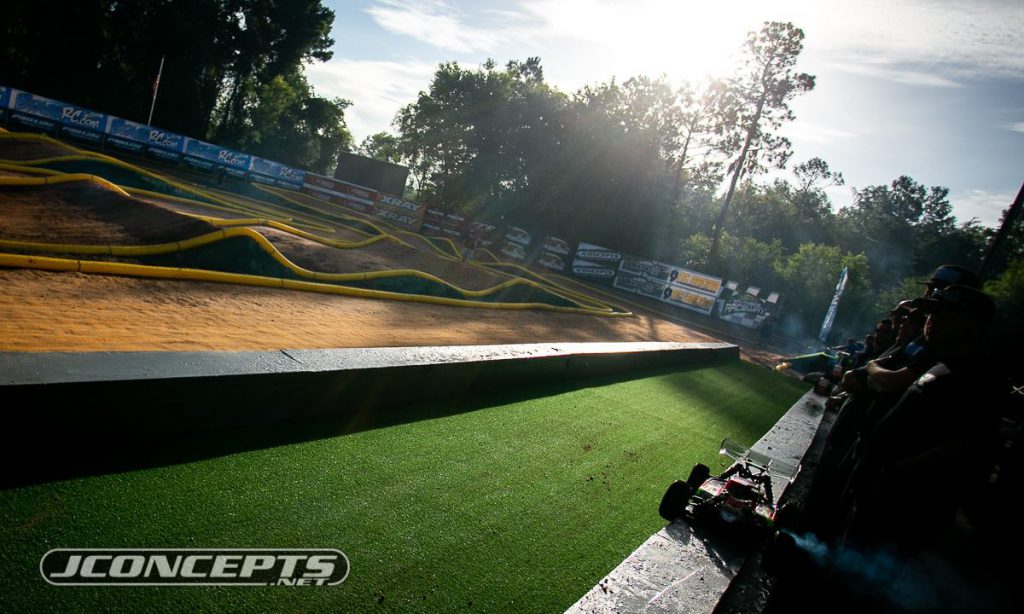 The new, nice and wide pitlane at Southside R/C with turf carpeting keeping it looking fresh.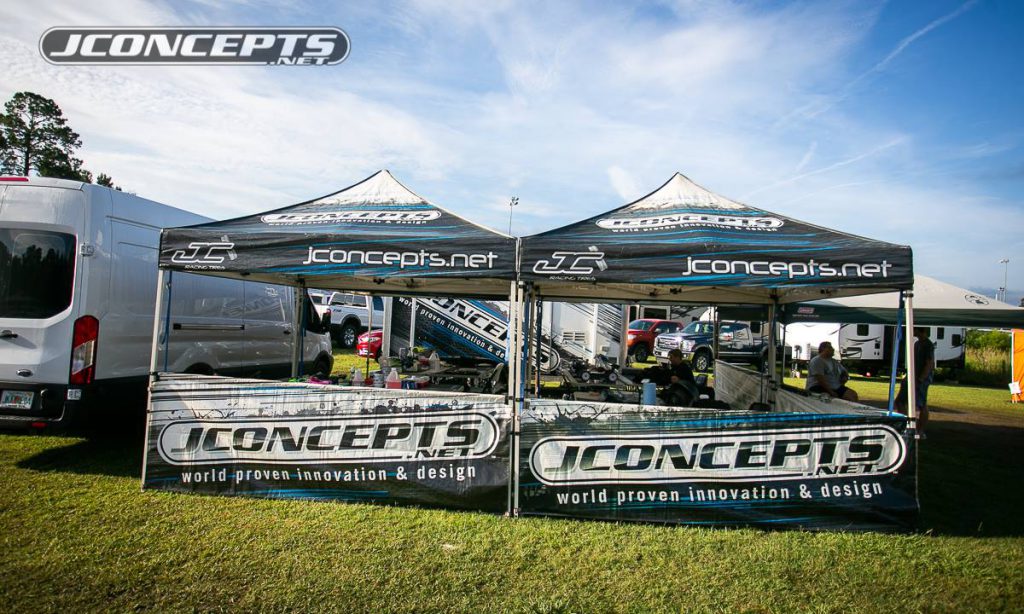 The JConcepts team was in full force helping team drivers with tire and accessory needs. It was a pleasure to help our drivers compete at the highest level. For some, this was their first nationals and for many, it won't be their last.

With over 10 inches of rain on the days set aside to build the track, the crew at Southside were up against Mother Nature and Father Time, but they never gave up and were able to complete the build literally hours before scheduled open practice.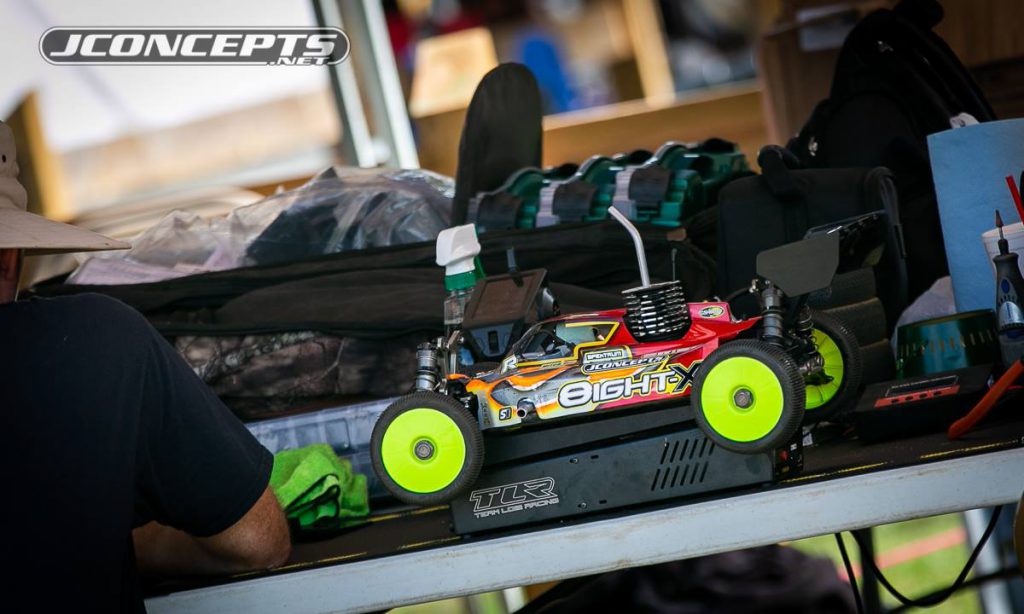 This weekend, we saw the debut of the new TLR 8ight X. A lot of people are excited about the release and will definitely be a popular car with updated features and metric screws. Receiving the car just hours before open practice, JR Mitch got everything switched over to start practice with the new, new.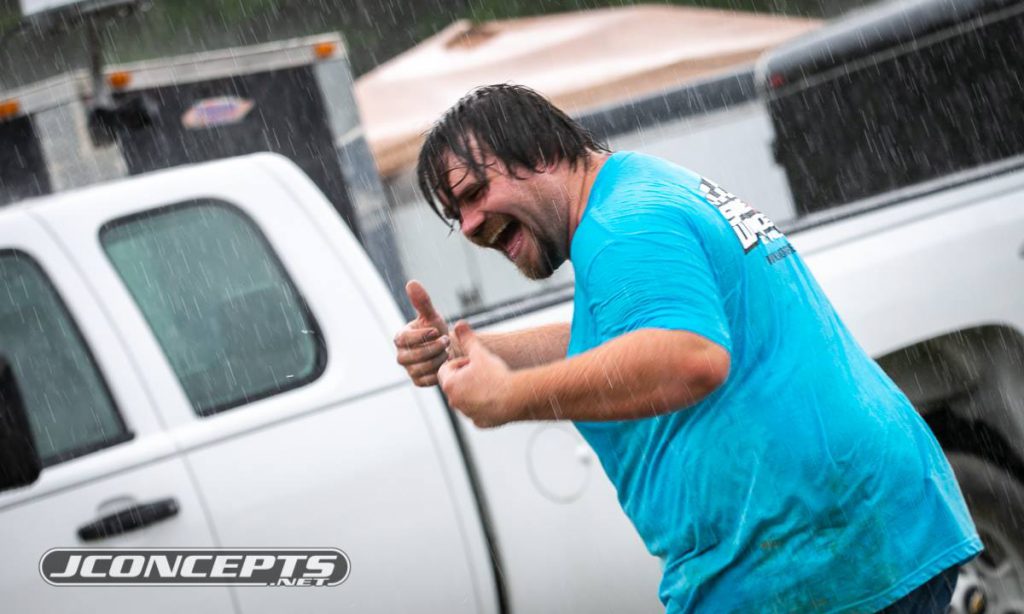 The weather was hot and humid. It rained every day, but thanks to the crew at Southside, we were racing shortly after the rain delays and the track stayed very similar to how it was before the rain. Michael Kuntz still able to have fun despite being soaking wet and keeping the positivity high.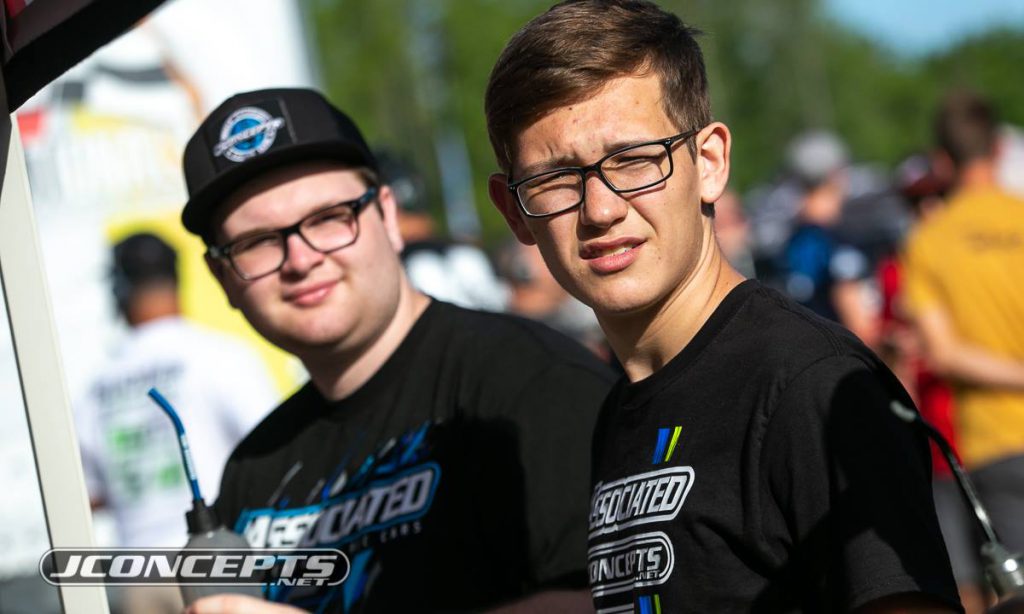 Racing is about performance and results, but often forgotten, it's also about hanging out with friends and having fun. Once just little kids running around at the track, now Alex Kosciuszek and Daimon Borkowicz are young men, best buds, but still having fun.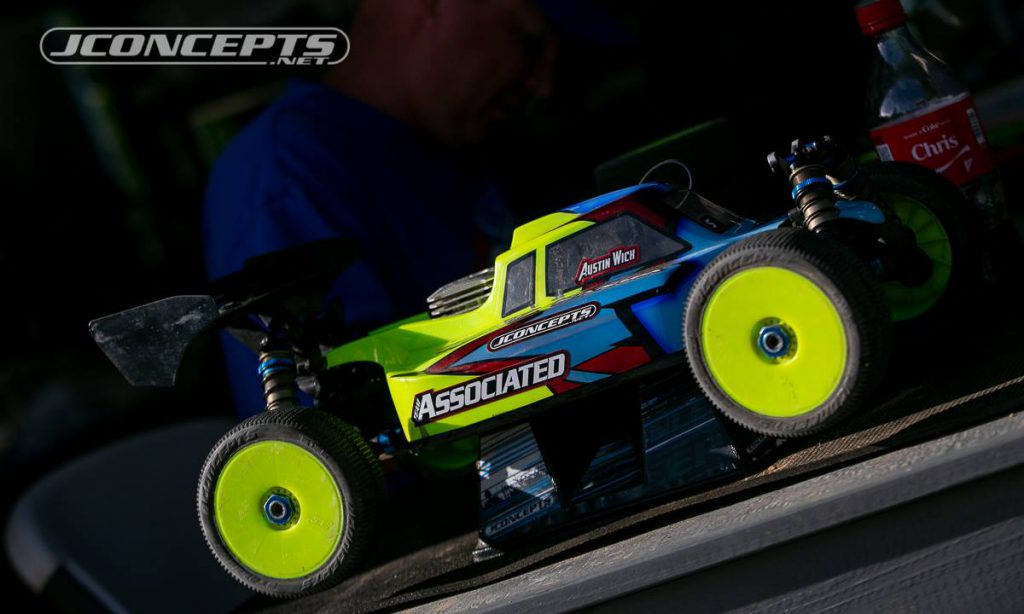 The talented young individual, Austin Wick from Illinois is getting very fast and we were able to get a glimpse of his speed this weekend in Lake City, Florida. Although there were some ups and downs, there was no giving up from Austin.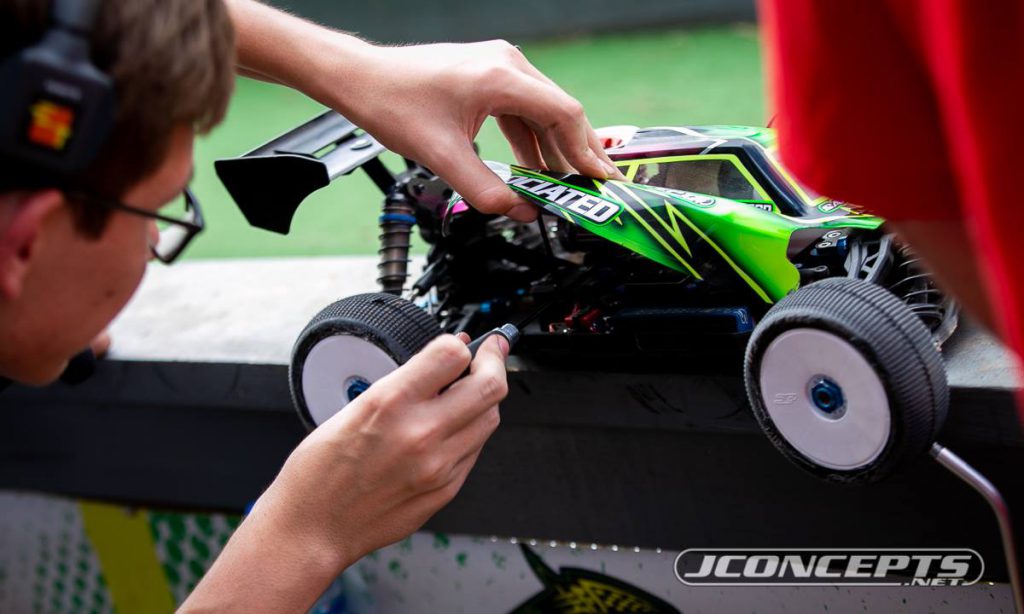 Getting the tune right was very crucial as the temperature, humidity, and sun all played a part in engine performance.  It seemed like idle was constantly fluctuating throughout the day and even during runs.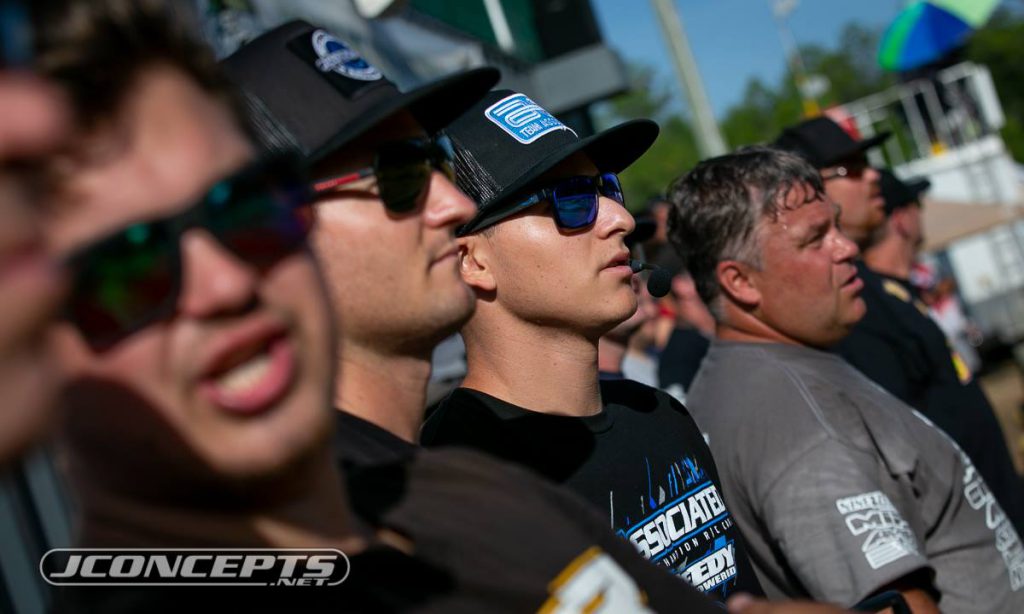 It was important to keep your eyes on the track as it changed numerous times throughout the day. It was definitely a tire game and you had to be ready, make the call and live with it. Spencer and Ryan were always watching the track and keeping tabs on guys that were running before them to help guide them to the right tire.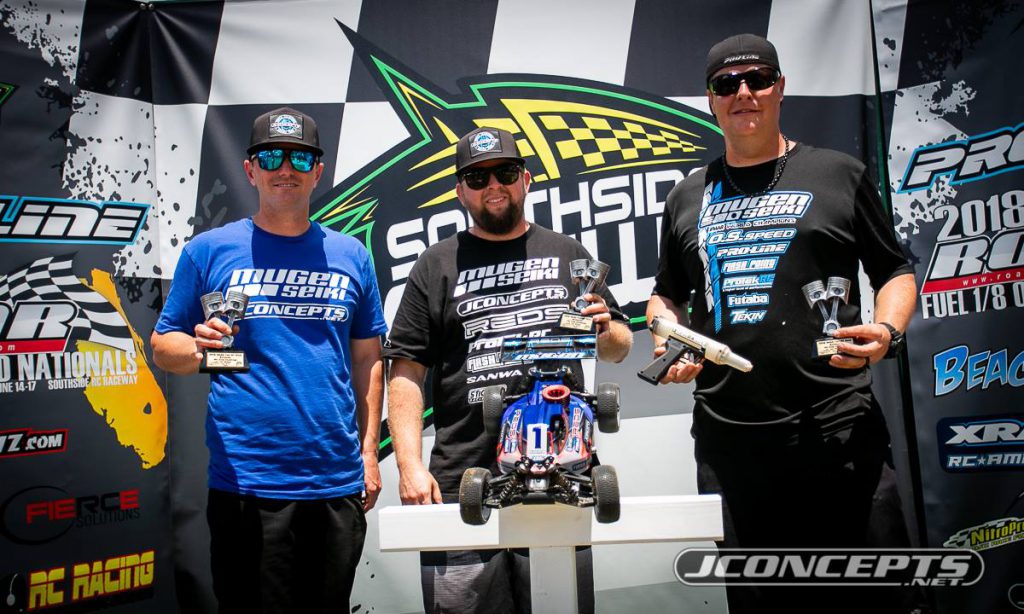 Ryan Maifield, Joe Pillars, and Adam Drake were able to set an impressive time of 4.3 seconds to take the Pit Stop Challenge. Definitely a fun event for the fans and racers as they got a glimpse of the ultra-fast Adam Drake on the gun and the precision perfect entry of Ryan Maifield to get it done as a team.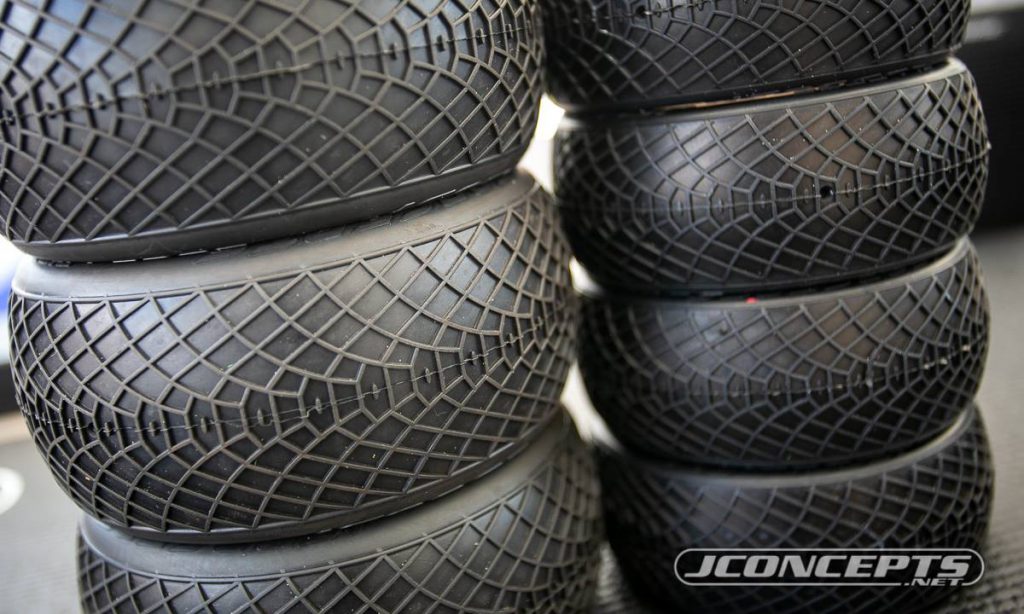 Pictured above was the new JConcepts Ellipse tires that made their 1/8th scale debut for both the truggy and buggy at the 1/8th Fuel Nationals. The feedback from the team has been great and will definitely be a great tire choice for the right situations.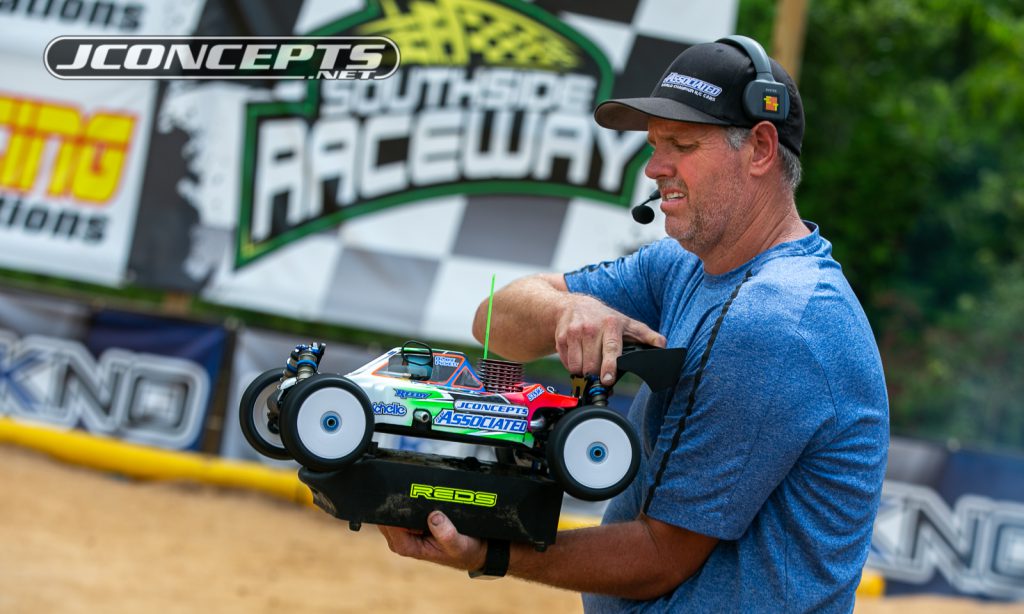 RC is quite unique in a way that it gives a chance for parents to be really involved with their sons and/or daughter's race program. Here's Richard Pickett pitting for his son, Blake Pickett, just before his 1/4 main event on Father's day. There are actually quite a few uber fast guys with parent pit crews like Ty Tessmann, Cole Tollard, Ryan Cavalieri, Spencer Heckert and even Jared Tebo has his dad pit for him when he's available.
Juniors Buggy A-Main
Xray's CJ Jelin has been coming on strong in 2018 with some great finishes from some of the bigtime races. Adding to his list of accomplishments is a Junior National title as he was able to deliver some impressive driving when it counted. AE's Aydin Horne is also improving on the daily, as he was able to capture TQ and finish 2nd overall. Perhaps the biggest charge was led by Serpent's Brandon Rose as he qualified 10th, but able to miraculously make the podium to finish 3rd.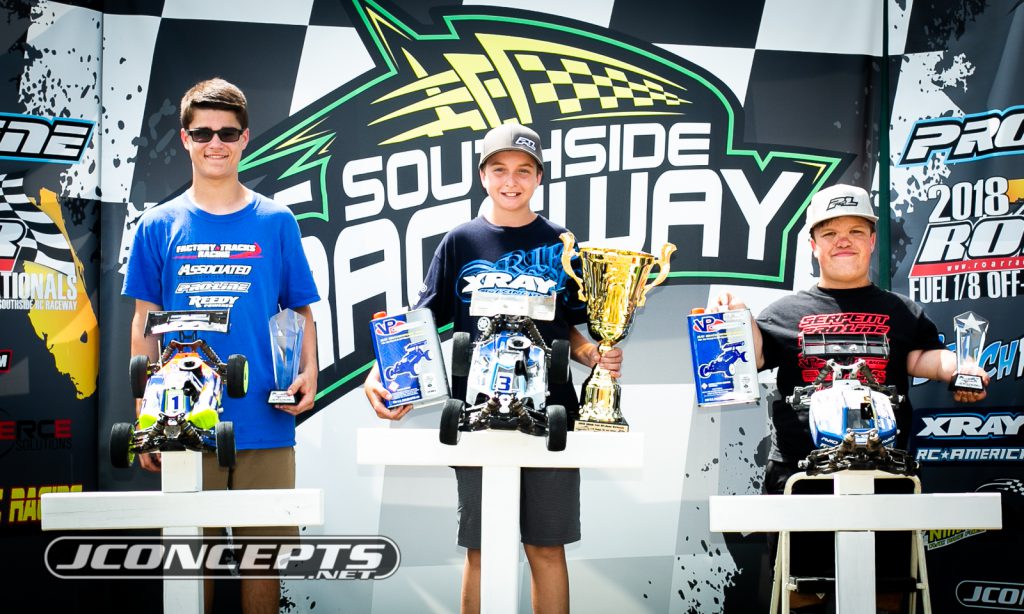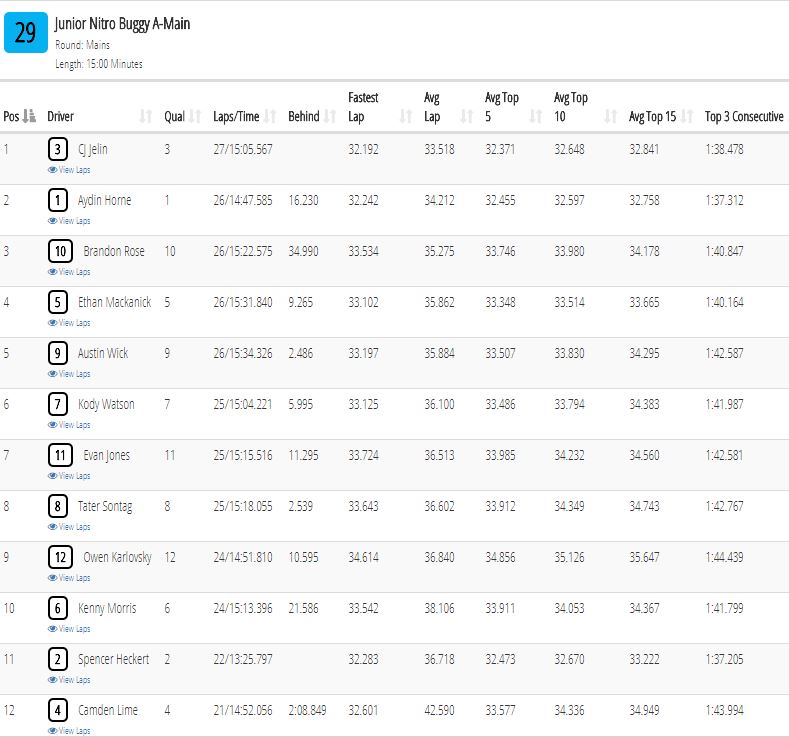 Nitro Truggy
All weekend long, Xray's Ty Tessmann had an extra gear over his competition as he TQ'd all 4 rounds of truggy and took the win in the shortened 30 minute A-Main. Tekno's Ryan Lutz was definitely in the hunt as he slowly worked his way to 2nd from starting 4th on the grid. Kyosho's Jared Tebo has definitely rekindled his love and motivation for racing as he's been hitting more podiums and was able to deliver a terrific drive to finish 3rd overall from starting 8th on the grid.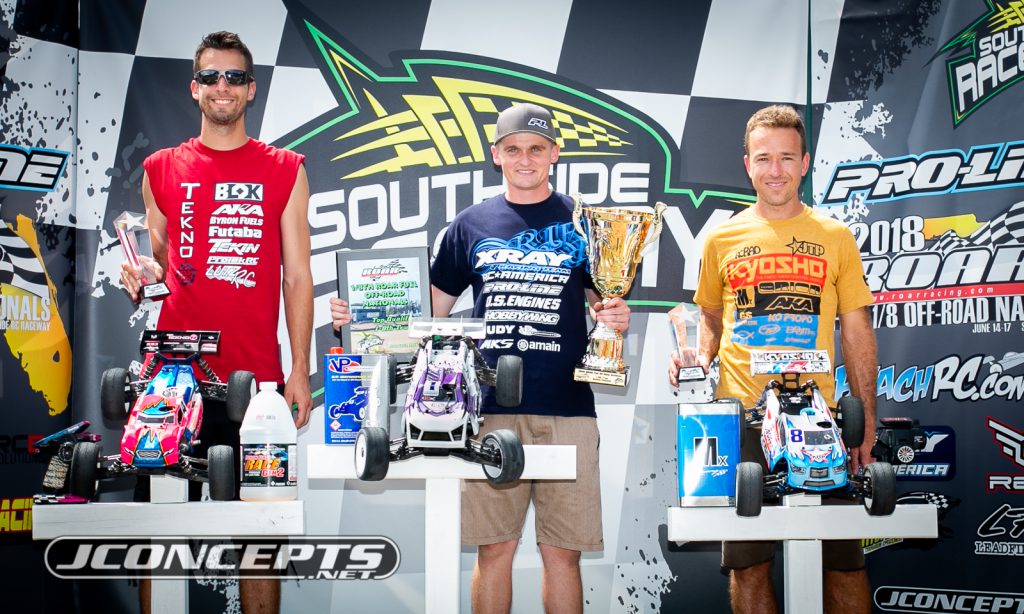 Nitro Buggy
1.738 seconds. That was the difference between 1st and 2nd place after 45 minutes all out driving by Xray's Ty Tessmann and AE/JConcepts' Spencer Rivkin. Spencer and his team decided to roll the dice and risk going 1 less pitstop to try and take the win with a different strategy instead of all-out speed and going pit for pit. Towards the end, Spencer's strategy worked brilliantly and he closed the gap within 1 second of Ty, but was unable to make the pass in the closing laps. Ty was able to fend of Spencer's late race charge and took the win and Spencer ran out of fuel just after crossing the finishing line! Finishing 3rd was AE/JConcepts' Ryan Cavalieri, who was able to match Ty's speed and pressured Ty for nearly two-thirds of the race until a mistake on the back straightaway caught the 2-time national buggy champion out of rhythm and ultimately out of touch with Tessmann.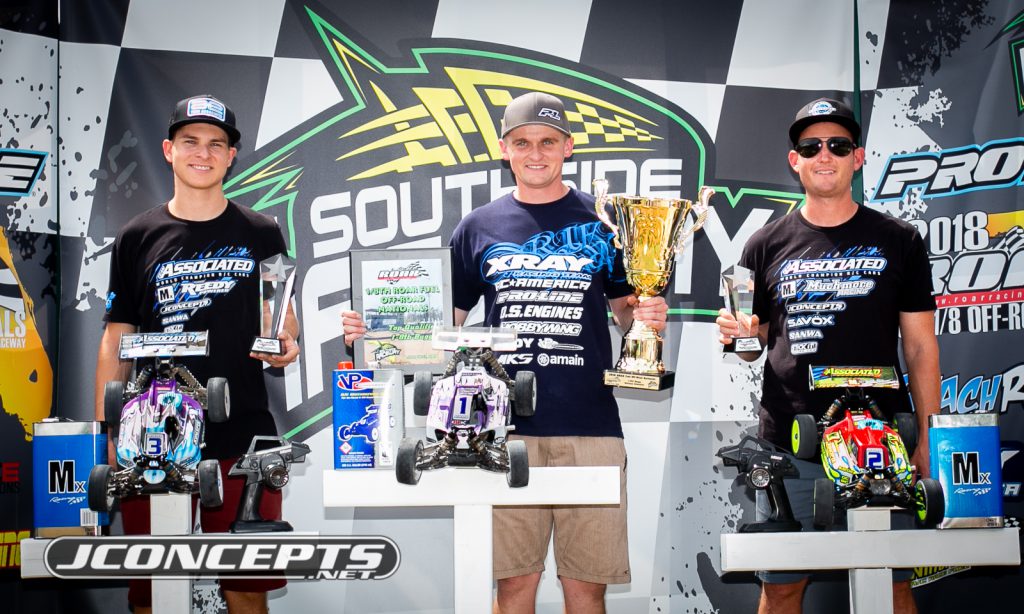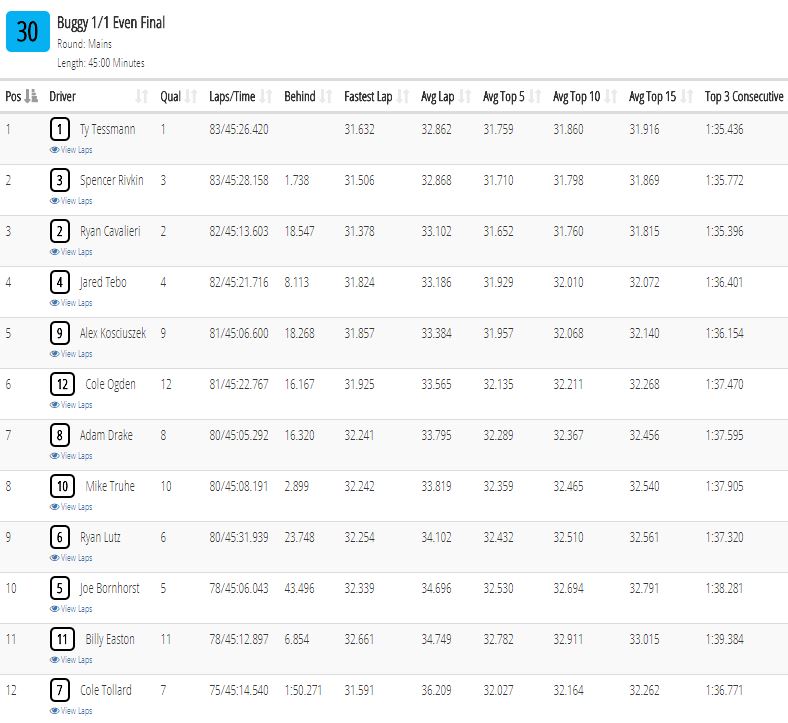 What a wicked 45 minutes of racing in some of the toughest conditions yet! Here is the A final of Nitro Buggy in HD for replay. #gojconcepts #1.7

Posted by JConcepts Inc on Monday, June 18, 2018