2018 1/8th European Championships Recap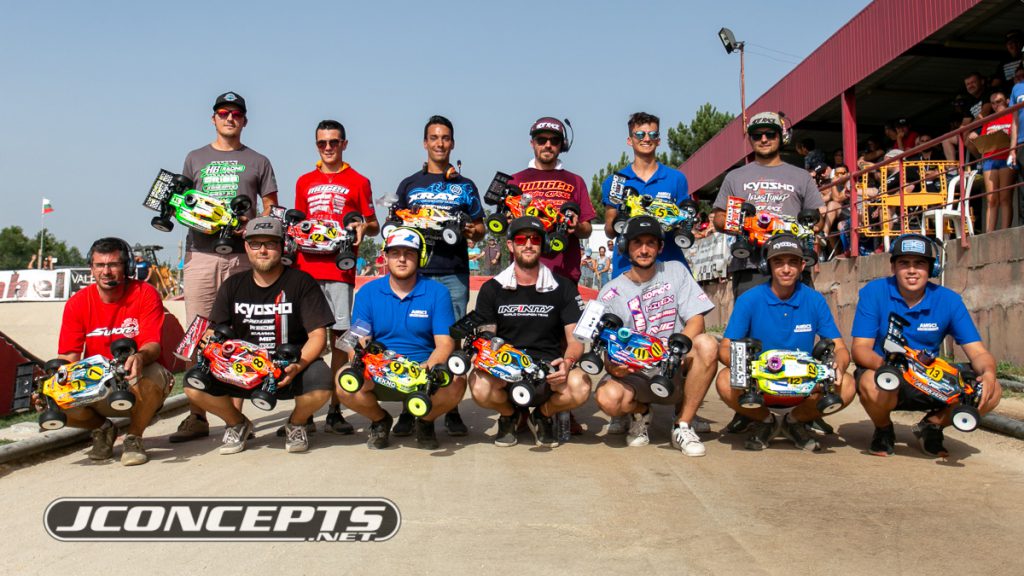 Every year, Europe's finest gather for the ultimate 1:8th nitro showdown, better known as the EFRA 1/8th European Championships. This year, the CRF track in Freixedas, Portugal played host to offer its challenging yet extremely fun layout to decide the victor and crown a new European Champion.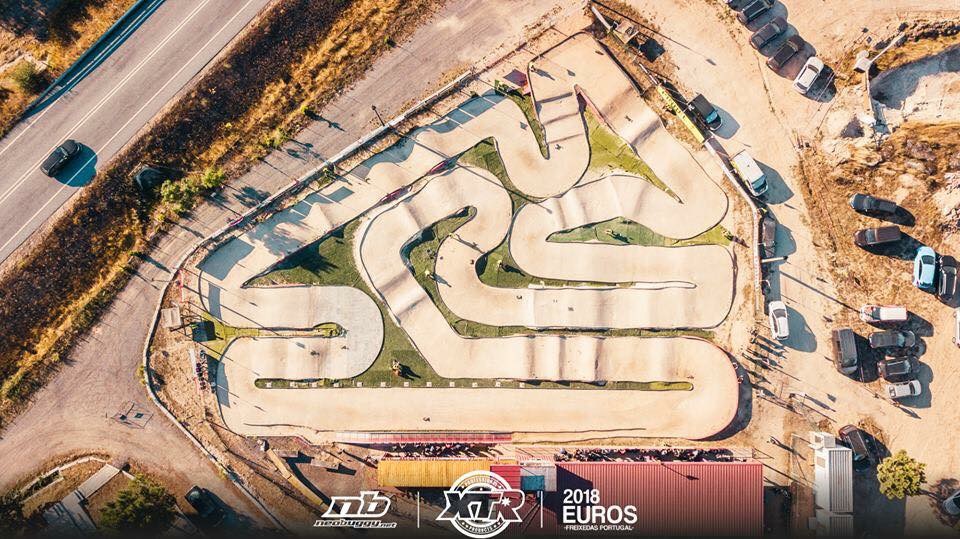 The CRF track is quite unique and extremely beautiful to look at. Some call it a work of art and in many ways, it does live up to the hype. The surface is unlike any track here in the US, as the white dirt is sealed with a glue/bonding agent to help keep the track together. The result is a very hard surface that's almost like sandpaper. However, the weight and sheer force of the 8th scale cars hitting the jumps, the faces would get massively deformed and practically unjumpable. The track crew worked hard each night as they patched the track with cement that's rolled onsite.

The layout is extremely fun and definitely very challenging. With the track being in a cool, triangular shape, it made for some interesting lanes and creative lines. Mix in the off cambers, banked turns, elevation changes, and tile turn, each lap is a blast! Since it's mid-summer in Europe, the temps reached near 105F making it very demanding on driver and equipment. Engine tune, tire selection, and oils all had to be carefully selected to make a fully competitive package.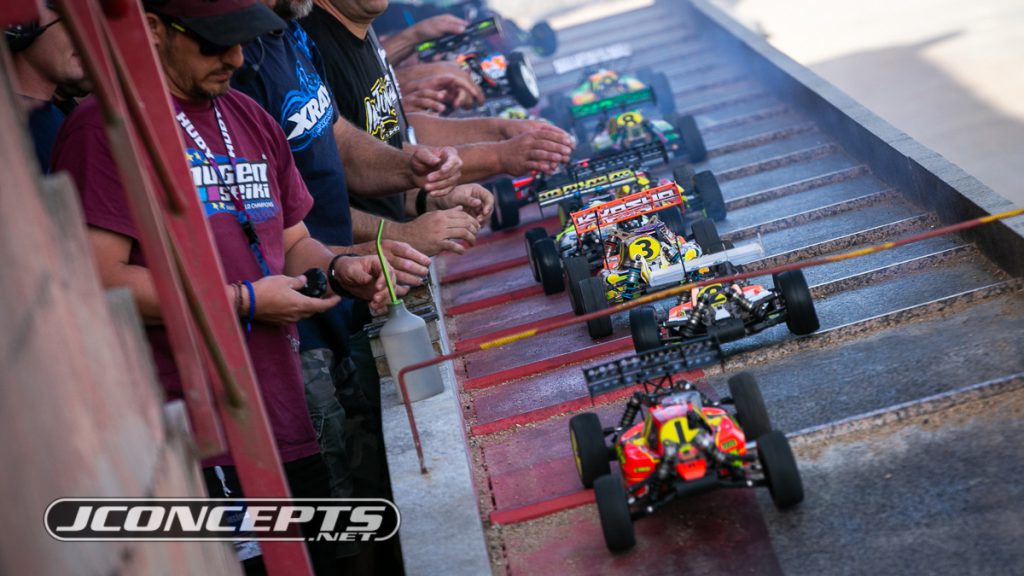 They definitely do things a bit differently here in Europe. Pit lane was lined with rebar to control pit speed and bar heights regulators were there to stop people from jumping the rebars and getting to much air. This is all done in the name of safety…… right?
It was controlled practice for the entire event with 5 rounds of free practice on Wednesday and 2 rounds of seeding practice on Thursday followed by 3 rounds of qualifying. Friday saw the final 2 rounds of qualifying and lower mains to make a shorter day on Saturday's main day. 13 cars hit the field for action-packed main events with lower cars moving up using the standard nitro ladder system of 1/128, 1/64, 1/32, 1/16, 1/8, 1/4, Semis and finals. Lower mains ran 15 minutes until 1/64th mains, which ran 20-minute finals and 45 minute A-Main.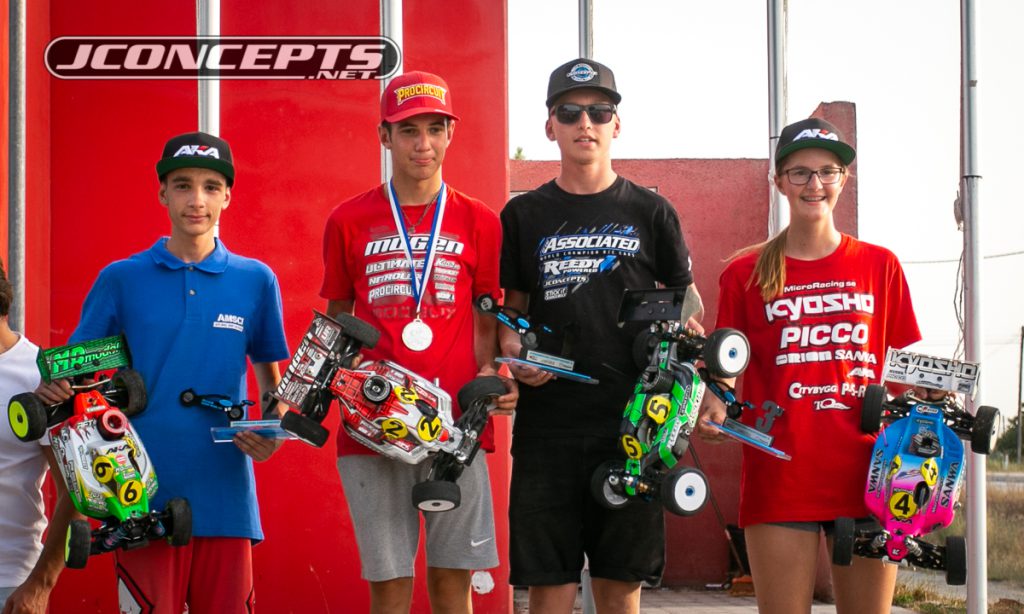 The Junior finals saw Europe's brightest stars battle it out for top honors on the challenging CRF track with Team Associated/JConcepts' Joona Haatanen peaking at the right moment. In the young field of talent, Joona's precision started to shine as the track picked up grip and his motor, car tuning, and driving all coming together for the main where he was able to win with a decent time margin back to 2nd. Leonardo Valente finished 2nd with Kyosho's Jessica Palsson 3rd. The highest finishing Junior was Juan Carlos Canas, who was also considered a Junior Champion and crowned with an olympic style medal.

It was a game of speed, reliability, and ultimately came down to smart driving. In qualifying, AE's Davide Ongaro didn't miss a beat. He TQ'd 5/5 rounds and looked absolutely unstoppable. However, the young Italian suffered from a mechanical in the semi-finals that played music to his competitor's ears. Having barely escaped through the LCQ, Davide started last in the main and remarkably worked his way up to finish 2nd overall. It was Xray's Bruno Coelho's day as he was able to take a hugely celebrated win on home soil. The Portuguese racers were definitely cheering for the hometown hero as he made laps while leading the race. Mugen's Juan Carlos Canas delivered a terrific drive to finish 3rd overall. After a huge mistake on the first lap, the TQ and current World Champion was on damage control as he was shuffled back t0 10th place after lap one. With some steady driving and fitness, David moved himself back into the top 5 to finish 4th overall in a hard fought race.