2017 Reedy Race Wrap up…… what a race!
Every year, the RC world awaits a special race that commemorates one of the industry's most influential individual. For those who knew Mike Reedy, their lives are forever touched by a man that helped shape RC and RC racing into what it is today. Each year, we celebrate Mike's birthday the only way he'd want it to be celebrated…. gathering the best drivers from all around the world in a 'race only' format, better known as the RROC.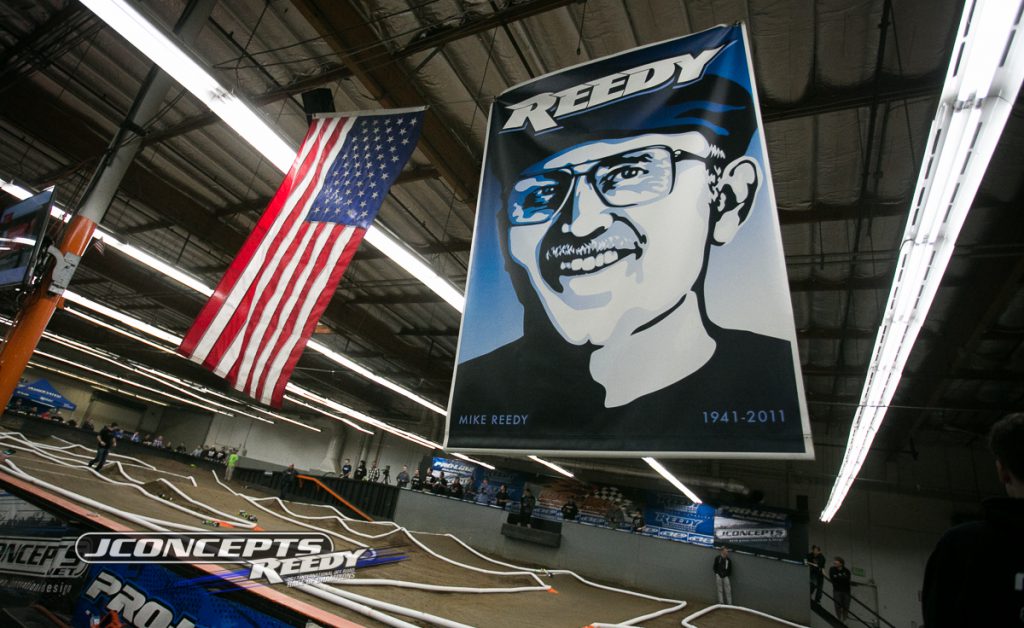 Upon arrival on Wednesday, the atmosphere was already electric as there was a line forming around the building just waiting for the doors to open at 3 pm. Once the clock struck 3, the eager drivers rushed in and got on the track as fast as possible. Within 5 minutes, drivers were already making laps maximizing track time and scrubbing in the green track surface.

OCRC is just one of those tracks that just gets it. They really know how to do track layouts and do them right. The crew is well experienced with the dirt that they have and they never disappoint on delivering a layout that is fun, flowy, and challenging all at the same time. With the overhead misting system, it's hard to beat a good clay experience at OCRC and with Scotty Ernst on the mic, it just adds to the world class feel.
Thursday was a dedicated controlled practice day for both Open and Invite with the last 2 rounds being seeding rounds for the open class. With a combined fastest 3 consecutive laps ranking the Open class drivers for Friday's qualifying heats, this gave us a sneak peak to everyone's early pace. With limited practice and quickly moving into the seeding rounds, the Reedy has an indescribable 'accelerated feel' as all drivers must rush to dial in their cars while simultaneously mastering the track layout. Those who can nail both in this high pressure situation, will find themselves further up the qualifying grid.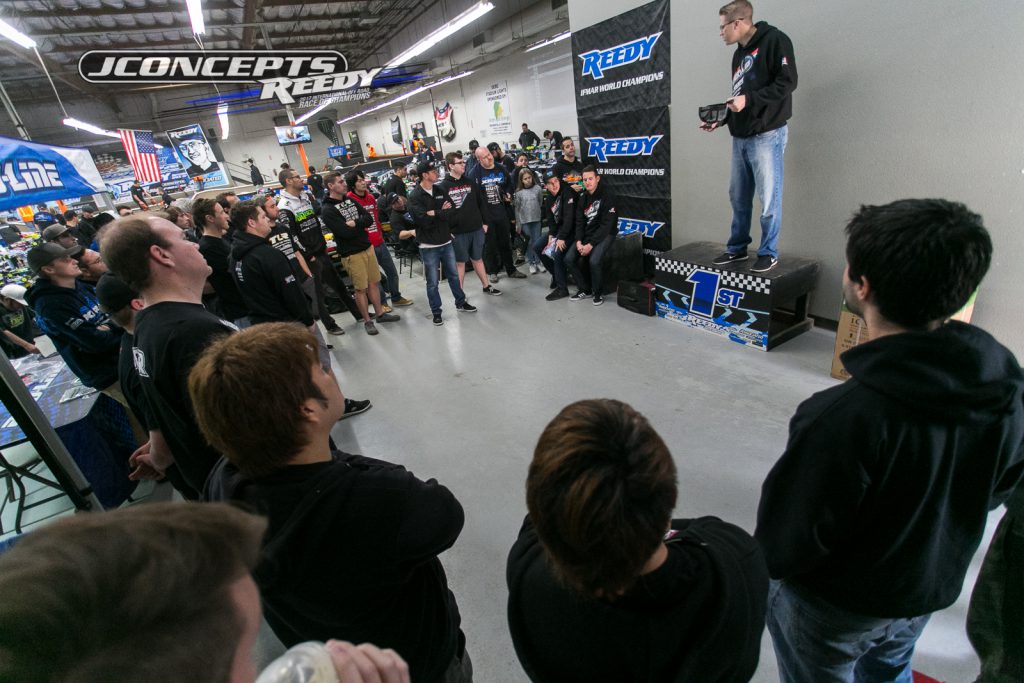 Once Friday hit, the compressed format of alternating 10 heats of open 2wd, 3 heats of invitational and then to 10 heats of open 4wd, ran like clockwork making the day go by fast and full of action. Stealing show with a final round TQ run in the 2wd Open division, TLR/JConcepts' Tyler Jones would take the overall TQ spot from JConcepts teammate, Broc Champlin, by way of tie-breaker. Florida native, AE/JConcepts' Daimon Borkowicz, would solidify the 3rd spot on the grid with a 3 and a 2 as his best 2 scores showing great pace all throughout qualifying. The entire JConcepts team did extremely well in qualifying to fill 9 out of the 10 spots in the 2wd Open A-main with Aydin Horne qualifying 4th, Brent Thielke 5th, Tommy Hinz 6th, Alex Vanderbeek 7th, Brian Strange 8th, and Austin Horne 10th.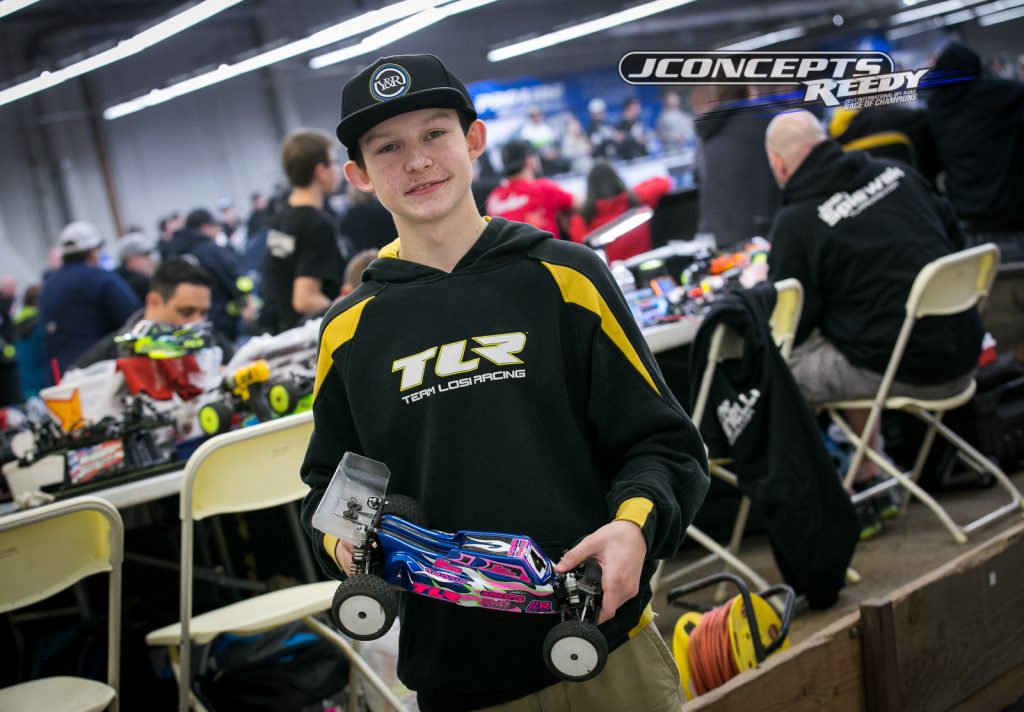 Here's how the mains went down courtesy of LiveRC.com.
What an amazing drive by the veteran Team Associated team manager, Brent Thielke, taking the young guys to school and defying the age debate that the older drivers can't hang with the young kids. After 20 years, Brent can now call himself the Reedy 2wd Open Champion. Go here for a full stats and datasheets in the Open Class.
In the 4wd Open, it was all AE/JConcepts Tommy Hinz in qualifying. With his worst score of 4th, Hinz showed a maturity in his driving that was once lacking. With focus, determination, and speed, Hinz set the bar in the final 2 rounds to take the overall TQ spot from an elite field of open class drivers.
After TQ'ing 4wd, Jason Ruona caught up with Tommy in the interview below.
Once again JConcepts drivers filled the 4wd A-main with Hinz starting from point, Broc Champlin 4th, Daimon Borkowicz 5th, Brent Thielke 7th, Brian Strange 8th, and Jake Thayer 10th making it 6 out of 10 JConcepts drivers in the A-main.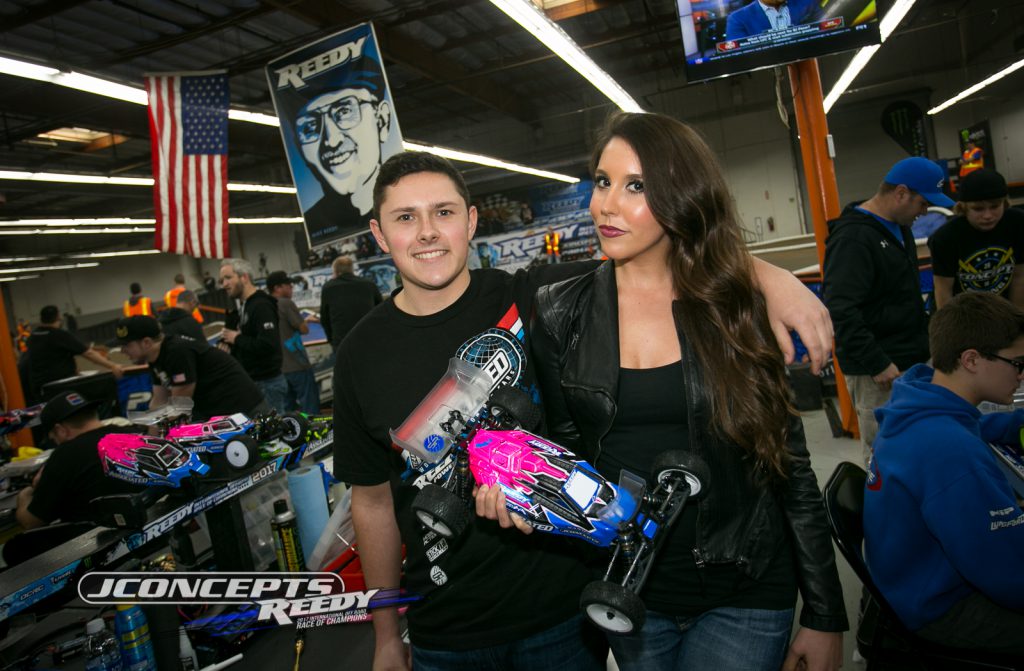 Once again, thanks to LiveRC for their awesome coverage and here are the double 10-minute A-main finals.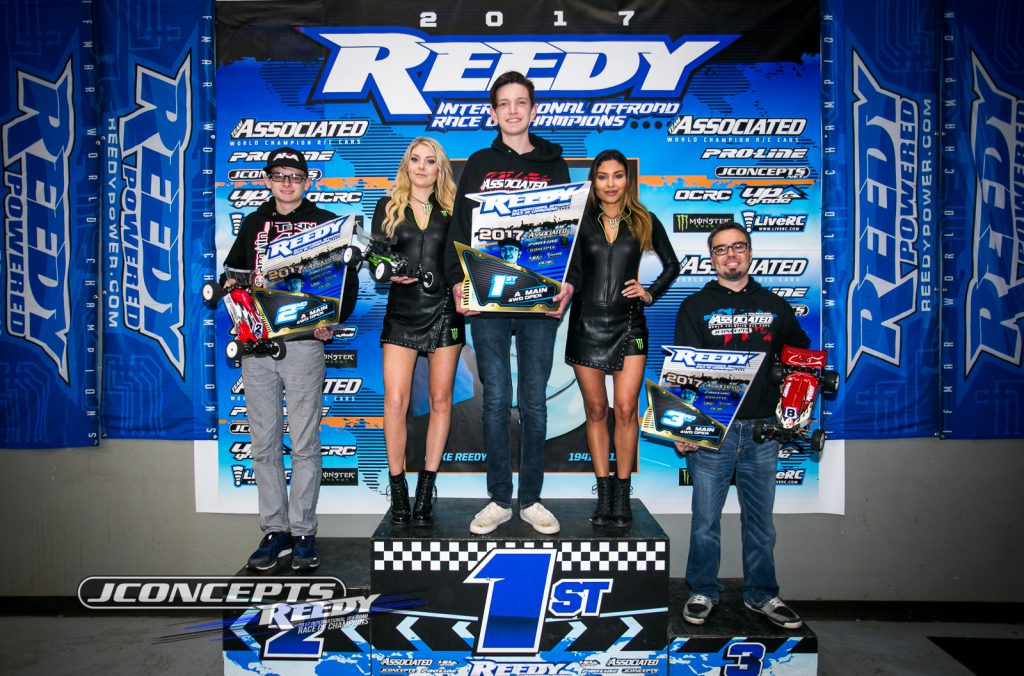 With already an outstanding performance in 2wd, Broc was able to take home the 4wd Open Class title and qualify himself for next year's invitational class and run with the best in the business! Congratulation to Broc and his supportive family for their awesome performance all weekend long.
The Invitational class is the highlight of the Reedy Race of Champions as the racers say it's the hardest race to win. This year, the decision was made to run 4wd Invite first saving the 2wd portion last. This made a lot of sense with the track being green early on and the 4wd cars having more grip in these conditions. If you'd like to watch all 6 rounds of 4wd, please go here and once again, thanks to LiveRC.com for doing what they do.
Click on this link to watch all invitational rounds of 2wd and 4wd.
Here's a video we did with the Finnish Phenom, JConcepts' Joona Haatanen, just after he won his first ever Invitational heat in 4wd against former WC, Ty Tessman.
Also, we caught up with Ryan Maifield after 2 rounds of 2wd.
The Reedy Race went according to plan as the final heat of 2wd would host a classic showdown between points leader, Ryan Maifield vs Ryan Cavalieri. Being 1 point behind, Cavalieri was in a must win situation to take the overall championship away from Maifield and he did exactly just that. Tied on points, Cavalieri would be crowned the 2017 Reedy Race Champion decided on the tie-breaker by having more wins with a perfect score in 2wd.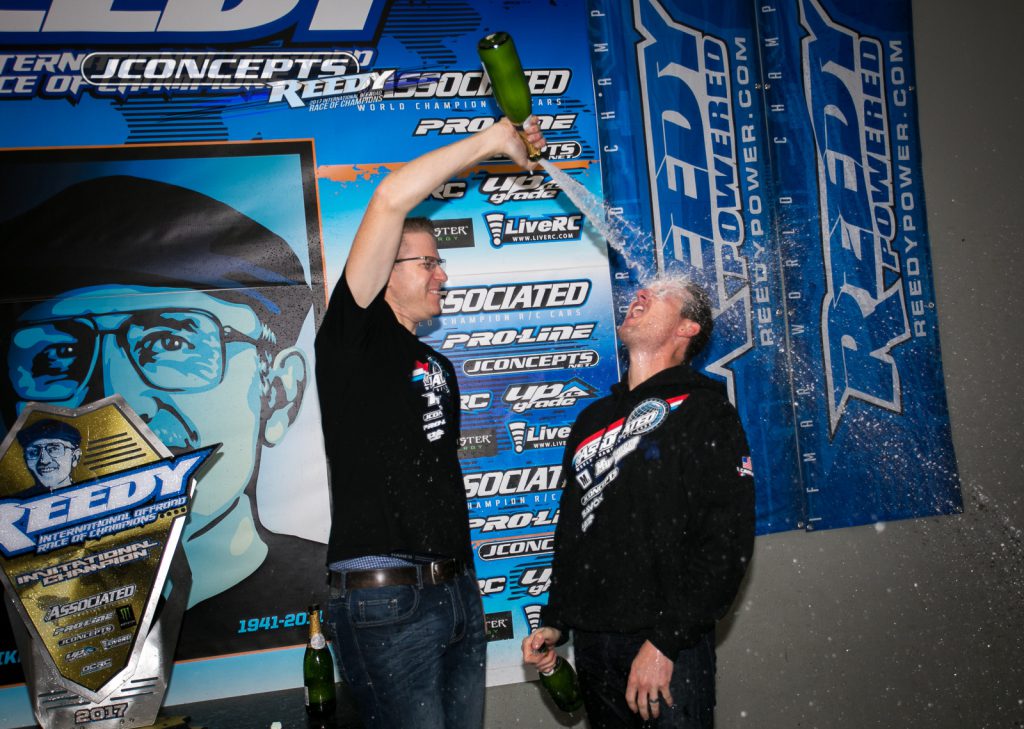 Congratulations to Ryan Cavalieri on his outstanding performance making it his 4th Reedy Race title and the most by any driver in history. Also congratulations to Ryan Maifield for finishing 2nd with a new car and new team and off to an excellent start for his 2017 campaign.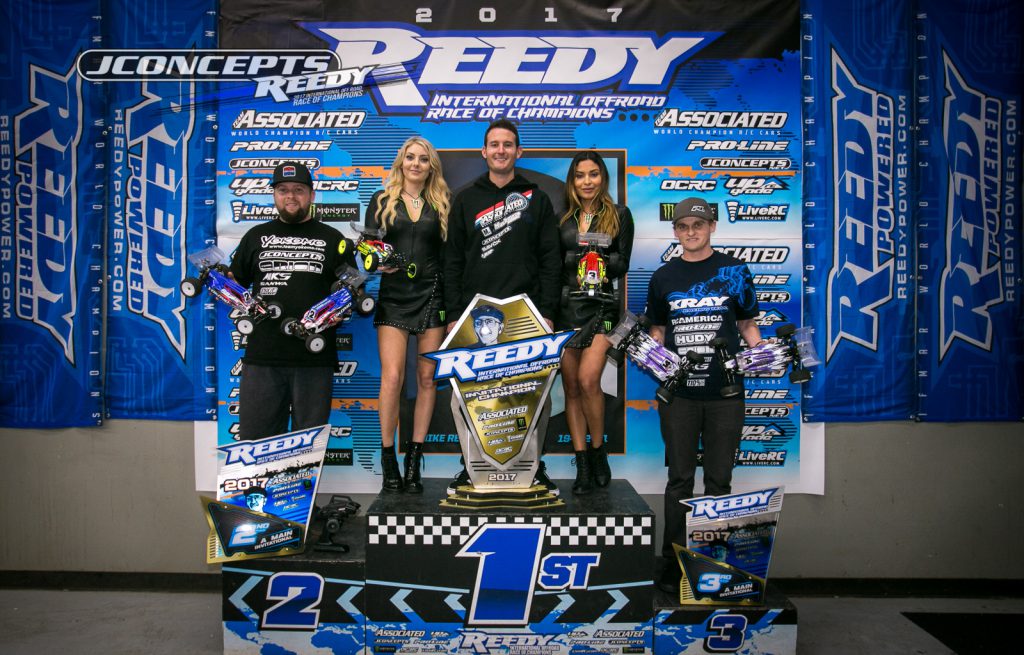 Just after winning his title, Ryan Cavalieri took the time to do an JConcepts interview with Jason Ruona. For full gallery check out the JConcepts Facebook Gallery here. Save, share, and tag as you like. We're all about spreading the love of RC's to friends and family. Thanks for stopping by and checking out the report. Hope to see you at the next race!