2015 Tasmanian State Titles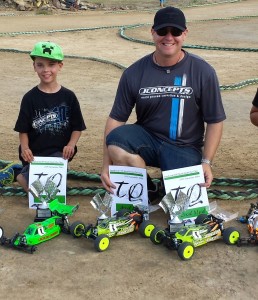 The Tasmanian 1/10 offroad state titles were held over the weekend of 20-22 February at the Goodwood club in Hobart, Tasmania. Racers were treated to a fun dirt track and hot summer weather.
The JConcepts Australia team had a successful weekend, taking 4 state titles and 5 TQs over the weekend.
Ray Munday (JC / AE / Reedy) took the double TQ in 2wd Modified (B5M) and 4wd Modified (B44.3). Ray narrowly missed the win in 2wd, but sealed the deal in 4wd modified for his 24th state title.
Keeping the success in the family, Rays 9 year old son Lachlan took TQ and won all 3 finals in the 17.5T Junior class with his B5M to win his first ever state title.

Ray and Lachlan used a range of JConcepts accessories on their buggies including Finnisher bodies, Hi-Clearance pre-cut wings, Mono wheels, Fin turnbuckles, titanium axles, chassis protectors and more. Control tires were used at the event, with Ray and Lachlan using JC front tires on their 2wd buggies.
Ash Peeler (JC / TLR / Tekin) reinforced his reputation as truck master by taking TQ and 1st in both SCT and Stadium truck classes using JConcepts front tires and accessories.
Thanks to the club for a great event!