2015 Super Cup Championship Series – Spring Round 1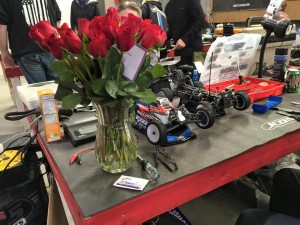 Valentines Day weekend kicked off the 2015 Super Cup Season at 301 Raceway in Wildwood FL. Friday night we celebrated the 2014 season with another great banquet, handing out over 215 awards and a pile of prizes from our amazing sponsors. On Saturday, Round 1 kicked off with 211 entries that would fill the indoor facility to near capacity. Racers enjoyed the spacious tables and comfortable area inside away from the morning cold winds. Track was new to many racers with a hybrid surface consisting of a clay base and wooden carpeted jumps. Tires were tricky to find as grip increased with every passing hour on Friday's practice. By Saturday morning racers came prepared with tires in hand that had been glued the night before. Qualifying would start with a delay as technology played its part of glitches and system bugs. Tech support would work hard as the racers patiently waited for quals to begin. Once quals began racers were ready and laid down crazy fast laps with times dropping heat after heat.

Novice would start off the 11 A mains for the event and set a exciting pace for the races to come. A group of 3 young lady's and 3 young men spent Valentines not looking for candy, but bragging rights with a win. Justin Barbera lead the field with his TQ time of 10 laps in 4 minutes 2 seconds. Birthday boy Trevor Schafer looked to spend his 9th birthday on top as he moved from 6th to 2nd, but Justin was able to slip away early and cruise to a win. Christina Aufiero drove hard to a 3rd place finish along with Hanna Gehrlich, whom was a HUGE help on the day with volunteer marshaling many times, came home 4th. Kiarra Hold took 5th and Collin Bunn 6th.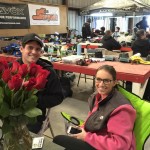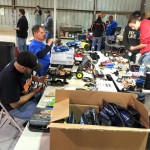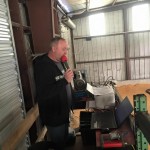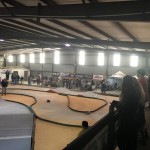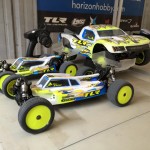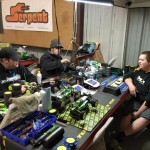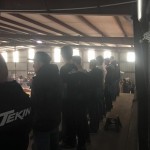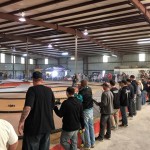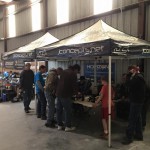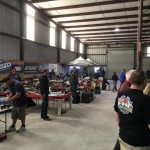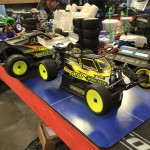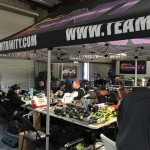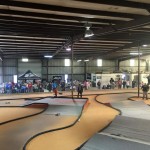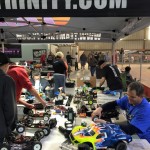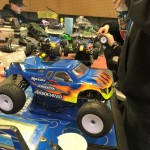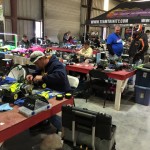 2wd Independent Stock Buggy reached to a full field in the D main with racers battling for every inch on the track. Joe Barbera took lessons from his son as he also took the TQ spot. As the A main started Barbera would stumble and fall to 9th. Tracey Proctor took over the lead which he held for 12 of the 15 total laps. Race winner CJ Hall made his move on lap 13 as Dylan Hall and Tracey would have a grudge match for second. In the end Dylan would hold off Tracey as the pair would finish 2 and 3. Joey Trautman charged up to 4th and Joe Barbera made a recovery back for 5th.
National Champion Jeremy Harris put his TLR 22 2.0 on the pole for the super close 2wd Expert Stock Buggy division. Ryan Rios would start P2, but had his eye on the prize just feet in front of him. Rios quickly took the lead on lap 2 and set sail for a win. AJ Marasco flowed closely to Rios for 2nd as Alan Wight and Jeremy Harris would battle for the final 6 laps to see who would take 3rd. As time ran down Alan edged Harris for 3rd and with Shon Harding 5th overall.
JConcepts team driver Tracy Carver threw down the fast time for TQ in 40 and Over Open 2wd Buggy. Fellow teammate Billy Bruce proved to have the car to beat however at the start of the A main along with Reuben Diaz and Rich Schafer. The trio would swap positions many times in the first 2 minutes until Billy and his JConcepts equipped Kyosho RB6 found the winning rhythm. Leaving 2nd for Schafer after falling as low as 10th during the 5 minute main. Diaz would finish P3. Tracy Carver to 4th and George Gatenby 5th.
JR Mitch Started the first race of his hat trick setting TQ with his TLR 22 2.0. Mitch would show his strength leading every lap from the tone. Max Fluer from N. Carolina made a charge from the B main to catch his JConcepts/TLR teammate but fell short of time for a 2nd place finish. Billy Easton would show crazy speed from his Serpert SRX-2MM as he finished 3rd. Brett Kingsbury edged Chris Viesins by 4 tenths for 4th as Viesins rounded out the top 5.
For Stock 2wd Truck, Landen Lewis set the bar high in qualifying taking TQ. He continued to show is speed nearly lapping the field for the win overall. Dan Borkowicz would take 2nd , along with Joe Barbera for 3rd. Reuben Diaz and Kevin Abbott round out the top 5.
With the announcements of new models of Stadium Truck to hit the market soon, Mod truck has seen a resurgence for round 1 with a nearly full field. Chris Viesins TQ'd qualifying, but his TLR/JConcepts teammate JR Mitch was looking for win #2 on the evening. JR took the lead on lap 2 and was not going to be denied as he strolled for the win. Paul Wynn debuted the new Team Associated T5M. Paul tested the brand new platform and had it dialed for the main, as he drove to a 2nd place finish. Viesins finished 3rd along with Daimon Borkowicz for 4th and Jader Lopez for 5th.
Kysoho sat atop the leader board after quals for Stock 2wd Short Course. P1 and P2 were held by fellow teammate Tilar Pollock and Landen Lewis (aka Beavis and Butthead). They would follow each other for the entire main and finish as they started, Aaron Sikes from the 7th starting stop raced to 3rd as Owen Watts was 4th and Robert Molina 5th.
In 4wd Open Short Course, the Tekno driven by Janos Lazar (Lazi) took TQ and the win on the day. Tom Allen had a great run to the 2nd spot and from the B main Dan Witkoski finished 3rd. Tony Nicotra took 4th and David Iler for 5th.
The very popular class of 4wd 13.5 Buggy saw Veteran Jim Anderson put on a clinic during the main, turning laps equal to the mod guys. Jim lead all 17 laps for the win, leaving 2nd for Owen Watts. Daniel Castaneda celebrated his birthday with a podium finish in 3rd. Aaron Sikes was 4th and Kory Ferguson took 5th.
JR Mitch was primed for his 3rd win on the day, starting 1st in 4wd Modified Buggy. However Daimon Borkowicz was not going to let JR walk away easily. Daimon would keep pace with JR for the entire race looking for a way around, but as time was running out the gap between 1st and 2nd slowly began to grow. In the end JR took the win with Daimon in a close 2nd. Jason Runoa, Brett Kingsbury and Leon McIntosh changed place so many times, it came down to the final lap. Ruona held off Kingsbury for 3rd as Kingsbury took 4th and McIntosh 5th.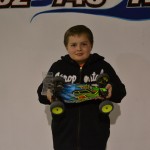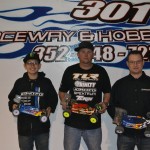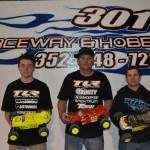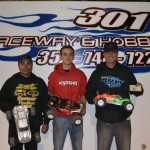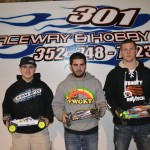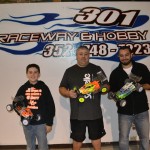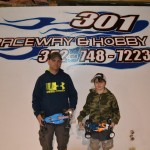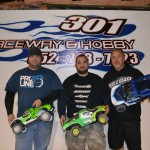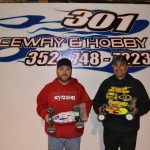 Thank you to Nelson Marsh and 301 Raceway for hosting round 1 of the JConcepts Super Cup Series. Thank you Justin Perry for the awesome job all day in tech. Thank you to all the racers and wives for joining us on Valentines day. We look forward to seeing everyone for round 2 at Coral Springs on March 7th.
A special thanks to our 2014 Series Sponsors for their support of the series. JConcepts, Team Associated, Team Losi Racing, Team Trinity, Reedy, LRP, MIP, Dirt Racing Products, Lunsford, Stickit1 Racing, EZ Customs, Kustom RC Graphics