2015 JConcepts Dirt Invert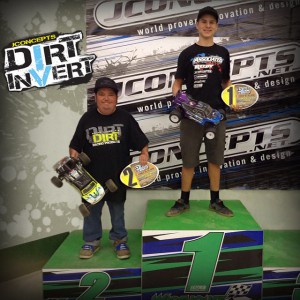 The JConcepts Dirt Invert hosted by Warehouse 3, in Peoria, Arizona is a unique race event. The format is simple, racers start the first A-main where they qualified and the mains after will be started in the inverse order of how you finished the main previous. Points from all 3 mains will be totaled together and used to determine the overall winner. Performance in each main is so very important. Speed and strategy is a must and the driver must keep it cool to score the best finish possible in each main. The invert format was developed and endorsed by IFMAR World Champion Brian "Dirt" Kinwald.

JConcepts drivers had a strong showing in the modified classes, with Spencer Rivkin leading the way taking the TQ in 3 of the 4 classes. In modified 4wd buggy, TQ Spencer Rivkin battled an inverted field to take the win. In modified Stadium Truck, Spencer also took victory, with Brian Kinwald taking 2nd place. In 2wd modified SC, Spencer once again TQed and took the overall championship. Modified buggy presented a challenge and TQ Spencer Rivkin attempted the most difficult victory. A mechanical problem in one of the A-mains cost him in the overall points and a chance for the complete sweep of the weekend. JConcepts / Team Associated Teammate Tanner Denney ran well all weekend and finished a well deserved 3rd place.
Thank you to the Warehouse 3 crew on fun event and Richard Lake on the race direction while keeping the flow going all day. Congratulations to all the winners at the 2015 Dirt Invert; see you next year.