2015 JConcepts Bash 4.0 Announcement
JConcepts in conjunction with NewRed Hobbies brings you the Bash 4.0. The event which draws entries from a multitude of genres is a one-of-kind R/C showcase. The Ocala, Florida, based facility offers an indoor off-road race track, outdoor Scaling | Trailing course and Chicago style monster truck racing circuit and each will be specifically built for the 4th edition of the unique event.

The Saturday portion of the event takes place on the indoor race track and consists of 1/10th off-road racing with a host of classes made popular on the Super Cup Championship Series. Two qualifiers plus triple main events in select classes and extended main events across all other classes will make for a full but exciting day of racing.
On the Chicago Style monster truck course, R/C monster trucks will race side-by-side showing off a unique but popular form of racing in a scale-like fashion. Solid axle and independent suspension separate the classes while drivers use Clod Buster, Axial and Traxxas Stampede vehicles and components to compete. Fred Reep will build and control events with traditional Christmas tree starting lights and official score keeping using the elimination bracket style formula.
Sunday is reserved for the Tuff Truck Competition which takes place on the custom Trailing Challenge course, mud pit and sled pulling courses which are setup around the NewRed Hobbies complex. Entered drivers will compete in 4 separately scored events to determine the overall Tuff Truck Champion. 2.2″ and 1.9 and 1.5″ classes will be available to appeal to an array of drivers looking to enter their rigs into competition. All entries are eligible for a great selection of prizes from event sponsors and awards will be given to the top 3 drivers in each class.
Save the date, book the trip and signup now via RCsignup.com or contact NewRed Hobbies directly for additional information.
Be sure to LIKE the official Bash Facebook page and visit JConcepts Events page for more details and updates.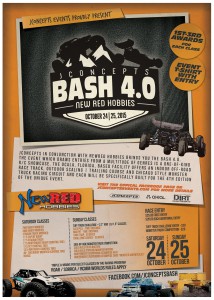 General Information
JConcepts Bash 4.0 – October 24-25, 2015
RCSignup Saturday
RCSignup Sunday
NewRed Hobbies
609 NW 4th Ave
Ocala, FL 34475
PH: 352-671-7302
 
Race entry – $25.00 first entry $20.00 each additional entry
Tuff Truck Challenge entry – $20
Monster Truck Competition – $20
JConcepts Events t-shirt with the first entry
Access to top factory racers
Triple A-mains for select classes in the racing program
Expert announcing and race direction
Expert courses and complex by NewRed Hobbies, one of Florida's nicest R/C facilities and hobby shop.
Awards given to 1st-3rd place in each class
Available Saturday Classes
2wd buggy modified
4wd buggy modified
Stadium truck modified
17.5 Expert buggy
17.5 Stadium truck
17.5 Independent buggy (control tire)
17.5 SCT (control tire)
13.5 4wd buggy (control tire)
40+ 2wd buggy modified (control tire)
Novice
Available Sunday Classes
Tuff Truck Challenge – 2.2" and 1.9 | 1.5" classes offered
Sled Pull, Time/Distance
Mud Pit, Time/Distance
Tank Trap, 20 gates
Challenge Course, 30 gates
*SORRCA rules will be utilized for the tank trap/challenge courses.
 
Side-by-Side Monster truck competition – 4 classes offered
Solid Axle (Clod Buster)
Solid Axle (chassis mounted motor)
Independent Suspension (Stampede 4×4)
Independent Suspension (Stampede 2wd) "Monster Jam Replicas"
*RCMM Worlds rules will be utilized for the monster truck competition
Chicago Style Monster Truck Racing course including a Freestyle competition. Monster truck racing will be side by side qualifying with the top 15 quickest trucks transferring to A-main bracket eliminations. The 16th spot will be left open for B-main bracket bump-up.
Local Airport
Orlando International Airport
Local Hotel Options
Holiday Inn
3600 SW 38th Avenue
Ocala FL, US 34474
PH: 844-879-4899
Super 8 Ocala
3924 W Silver Springs Blvd
Ocala, FL 34482
PH: (352) 629-8794
Days Inn Ocala West
3620 W Silver Springs Blvd
Ocala, FL 34475
PH: (352) 629-0091
 
JConcepts' Events – Where the powers explode and the fun begins