2015 January Jam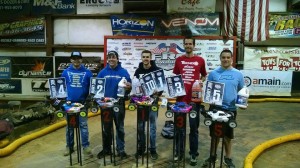 Cole Ogden takes the win at the 2015 January Jam with JConcepts.
The 2015 January Jam hosted by Flowood RC Indoor Park located in Flowood, Mississippi took place January 24-25, 2015. One of JConcepts' newest team drivers, Cole Ogden, was on hand running Pro 1/8 Nitro Buggy and Pro 1/8 Nitro Truggy.

Cole managed to TQ Pro Buggy with his JConcepts equipped TLR to take the overall win. Running the soon to be released JConcepts Diamond Bars in Super Soft green compound, Cole had some great battles with Ryan Lutz and Josh Glancy the entire buggy main. Closing in on the last laps, Cole had a comfortable lead up until he got caught up in some lap traffic only to let Josh pass him in the last turn. Josh pushed out wide and Cole pinned it to take home the overall win in Pro Buggy by .002 of a second.
Cole's JConcepts equipped TLR Truggy performed great as well, but a bad start in the Main gave Cole a solid 2nd place overall.