2014 Tennessee State Championship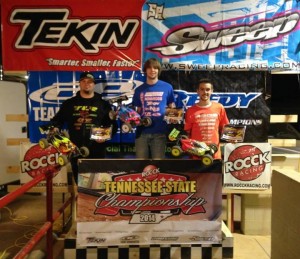 Shay Brand and Mark Moon are victorious in Tennessee with JConcepts
On March 15th ROCCK Raceway located in Knoxville, TN hosted the Tennessee State Championship bringing in over 150 entries from Ohio, Virginia, Kentucky and other surrounding states.
With some nice warm weather and a new layout the JConcepts team was ready for qualifying. Shay was able to TQ in Pro eBuggy with his JConcepts equipped Mugen MBX7-ECO running green Hybrids. In Pro Buggy Shay was able to finish up qualifying 2nd overall, behind Cole Ogden, running his JConcepts equipped MBX7 also on green Hybrids. Mark Moon was able to TQ in the Open 2wd Short Course class running JConcepts Bar Codes in green compound and qualified 3rd in the Open 2wd Buggy class on green Bro Codes.

For the main events, Shay was able to come away with the win in Pro eBuggy and 2nd overall in Pro Buggy. Mark Moon took his TQ spot to victory in SCT and finished 2nd overall in the Buggy class.