2014 Super Cup Championship Series – Fall Round 2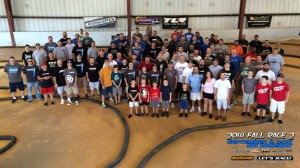 Round 2 of the 2014 Super Cup Championship Series headed to Wildwood Florida to the new 301 Raceway on September 6, 2014. Nelson and crew had a fresh layout in and prepared for another great Super Cup Event. Being indoors and having a great local racing crowd pushed the entry count to near record levels at 245. Starting a bit late due to the large turnout made for a very long day for all but it was a great day of racing! Check out a few of the mains on the new Super Cup YouTube channel…

Trey Roberts TQ's the Stock Short Course class but an early bobble lets Jonathan Paulk take the lead. Cody Wiles battles it out with Trey Roberts and Robert Molina as they try to keep up with Jonathan. A last minute charge by Cody is ended when he gets caught up in the pipe which allowed Jonathan to take the win but by only .124 seconds in front of Cody with David Whitesides in third.
A close battle in Mod 2wd Buggy ends with Daimon Borkowicz taking the win by .528 seconds after a last lap bobble by Jason Ruona with JR Mitch only .665 off the pace, taking the third spot.
Tilar Pollack dominates the Stock Truck class by taking the TQ and win. Walter Cruz and Jonathan Paulk did not make it easy for Tilar in the beginning but when Tilar catches a pipe, collecting Jonathan which allows Walter to take over the lead and Jonathan ended up breaking. Later in the race Walter catches a pipe and allows Tilar and Aaron Sikes to get by. With Tilar back in the lead, he breaks away with a comfortable victory lap in the end, Aaron in second, Walter in third.
JR Mitch TQ's the 4wd Mod Buggy class with his JConcepts equipped TLR22-4. JR went on to win the A main, the final race of a very long day of racing. Brett Kingsbury was a very close second and Chris Viesins finishes third.
Check out the full results HERE.