2014 Spring Classic *Updated*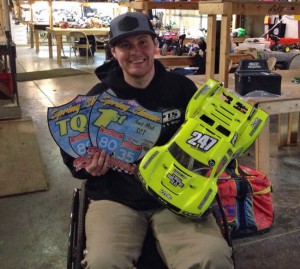 Mike Garrison wins at the 2014 Spring Classic
The winter months are over and that means the end of the indoor off-road season for many midwest racers, as they prepare to go outdoors. Finishing off the indoor off-road season is the annual "Spring Classic" event hosted by 80/35 Raceway in Grimes, Iowa.

This year's event attracted 160+ entries consisting of racers from all across the midwest including Iowa, Nebraska, Minnesota, Wisconsin, Missouri, and more!
TLR/JConcepts driver, Mike Garrison, made the trip for the "2014 Spring Classic" to race in the 4wd Modified SCT class. The technical track layout made for some very close racing in all classes. Garrison would capture the overall TQ spot in Saturday's qualifying, leading up to Sunday's triple A-Mains.
As the tone sounded for A1 on Sunday morning, the field stayed close several minutes into the race. Eventually the JConcepts equipped TLR SCTE 2.0 running JConcepts Pressure Points in Green compound of Garrison began to stretch out on the field, crossing the line for the win. A2 would be a mirror image of A1, as once again the field was tight. Garrison would once again take the win start to finish, crowning him the 2014 Spring Classic 4wd SCT Champion!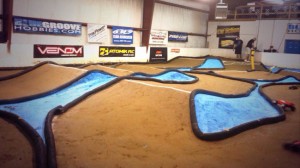 Update 4/15/14
Team Drivers Mack Vanderbeek, Chad "Rico" Karstens, James "Bubba" Boggs, Kendall Welch, Alex Vanderbeek, David Fast and Tom Rinderknecht were also in attendance…
The JConcepts Team brought home all 3 podium spots and TQ in Mod 2wd buggy and Mod 4wd Buggy. Mack Vanderbeek earned TQ honors while winning A1 and A2 to secure the win. His son Alex Vanderbeek earned 2nd place honors and Chad Karstens finished the podium in 3rd
Modified 4wd buggy found the same three racers on the podium again only with Chad Karstens earning the TQ and Win with Alex Vanderbeek and Mack Vanderbeek coming grabbing 2nd and 3rd respectively.
In Modified truck, David Fast earned the TQ after qualifying, and brought home 1st place after winning A1 and A2. Kendall Welch earned the 2nd spot after winning A3.
In Stock buggy Tom Rinderknecht earned 3rd place and also took TQ and 1st place for Pro Lite 2wd SCT.
Green Dirt Webs on the buggies and green Pressure Points on the trucks were dialed all weekend long. All in all it was a great weekend of very close racing!
Additional Photos can be found HERE.
Videos can be found HERE.