2014 Shortcourse Showdown Nationwide – Race 1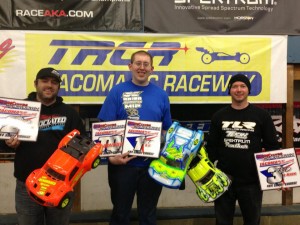 The 2014 Shortcourse Showdown Nationwide Tour kicked off in Tacoma, Washington February 7-9. Hosted by Tacoma RC Raceway, owned by long time racer Scott Brown. With a brand new layout just for the Showdown, practice kicked off on Friday.
Saturday started early with open practice at 7am. After a quick drivers meeting, Scotty Ernst got things going with the first qualifier on the track at 10am. The 2014 season has a few added classes including 2wd and 4wd Buggy, along with Stadium Truck. After 3 rounds of qualifying the JConcepts Team Drivers were on top in five of the classes. Micheal Schoetler in Mod 2wd and 4wd Buggy running JConcepts Bar Codes in Gold Compound. Chris Gould in 4wd SCT running Gold Pressure Points and Dave Duncan in stock 2wd Buggy and Short Course Buggy on Gold Dirt Webs.

Sunday started with a final round of qualifying, Michael, Chris and Dave were still on top in the same classes after Round 4. Mains went very well for Michael, taking the TQ in both 2wd and 4wd Mod Buggy classes, he cruised to victory in both. Dave didn't have any luck with his classes and finished 2nd in SCB and 3rd in both Stock Buggy and Stock Short Course. Chris had a hard battle in 4wd Short Course, after a few minutes in, he lost the lead but never gave up. He was able to catch back up to the leader and led the last few laps to take the win. In Mod 2wd Short Course, John Walentia started 2nd and was close to taking the lead at about the 2 minute mark but had some bad luck and broke. Chris Gould was able to take over 2nd place and would finish there.
It was a great race weekend for all the JConcepts team drivers. Special thanks to Scott Brown and the entire Tacoma RC Raceway crew and to Scotty Ernst and his crew for another great Showdown. We will be back for round 2 hosted by RC Excitement, March 21-23.